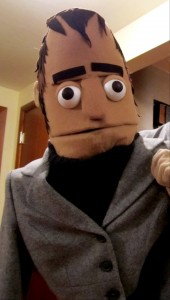 Welcome to Looking Closer's "Hi 5 to the Face," a unique expression of admiration and gratitude to all kinds of people on all kinds of websites.
In these posts (archived below), I'll keep a running diary of gratitude, with a little help from an army of imaginary friends.
Bookmark this page to keep up with recent entries.
Check it regularly. You'll find things that must be seen to be believed.
And someday, you just might get a Hi 5 to the Face yourself!
Be warned, though: Occasionally this "diary" will include a "Gnash of the Teeth," a "Furrow of the Brow," or a "Stare of Incredulity" instead of the much-coveted Hi 5 to the Face.
LATEST:
March 4, 2014: The Incredibles (and Other 10-Year-Old Films); Jesus Films; Matt Zoller Seitz; Scott Cairns
ARCHIVES:
November 11: Creativity in the Dark; Sam Phillips; Todd Fadel; Mike D'Angelo; Matt Zoller Seitz; John Sayles; and More.
September 26, 2013: Autumn Arrives, Eric Crissman Moves On
September 8, 2013: Hi 5: Why Criticism Matters; Alissa Wilkinson; William James Bookseller; Facebook Followers
September 5, 2013: Sam Phillips' "Push Any Button"; Sara Zarr's "The Lucy Variations;" Tasha Golden; Josh Wilson; Nick Olson; Alissa Wilkinson; and More.