Here is the current (but occasionally updated) list of my favorite films from 1982.
In order to understand the purpose and meaning of this list, please read my introduction to the Looking Closer Favorite Films lists here.
•
1982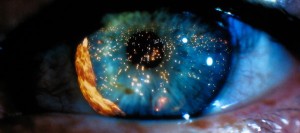 Blade Runner

E.T. The Extra-Terrestrial

The Dark Crystal

Tron

Tootsie

The Thing

Star Trek II: The Wrath of Khan

The Secret of NIMH

The Year of Living Dangerously

Dead Men Don't Wear Plaid
The Man from Snowy River

A Midsummer Night's Sex Comedy

Poltergeist

The Plague Dogs
As-yet Unseen or Unratable Films of 1982
48 HRS.
A Good Marriage
A Room in Town (Jacques Demy)
An Exercise in Discipline (Jane Campion)
An Officer and a Gentleman
Ana (Antonio Reis/Margarida Cordeiro)
Barbarosa (Fred Schepisi)
Batch '81 (Mike de Leon)
Boat People
Burden of Dreams
Cat People
Chambre 666 (Wim Wenders)
Chan is Missing (Wayne Wang)
Coup de Torchon
Creepshow (George A. Romero)
Dangerous Company (Lamont Johnson)
De Stilte rond Christine M.
Der Riese (Michael Klier)
Diary for My Children (Marta Meszaros)
Diner
Eating Raoul
Eternity (Raymond Red)
Fast Times at Ridgmont High
Fitzcarraldo
Forbidden Zone (Richard Elfman)
Gandhi
Gospel
Hammett
Home Sweet Home (Mike Leigh)
Honkytonk Man (Clint Eastwood)
Identification of a Woman (Michelangelo Antonioni)
Interrogation
La Balance
La Nuit de Varennes
La Traviata
La truite (Joseph Losey)
Le beau mariage (Eric Rohmer)
Leçons d'une université volante (Jean-Pierre and Luc Dardenne)
Les fantomes du chapelier (Claude Chabrol)
Lookin' to Get Out (Hal Ashby)
Made in Britain (Alan Clarke)
Miracle (Ishmael Bernal)*
Missing
Mommie Dearest (Frank Perry)
Montenegro (Dusan Makavejev)
Moonlighting (Jerzy Skolimowski)
My Favorite Year
My Friend Ivan Lapshin (Alexei Gherman)
Night of the Shooting Stars (Paolo and Vittorio Taviani)
On Top of the Whale (Raul Ruiz)
One from the Heart (Francis Ford Coppola)
Parsifal (Hans-Jurgen Syberberg)
Passion (Jean-Luc Godard)
Personal Best
Pink Floyd The Wall
Q (Larry Cohen)
Sans soleil (Chris Marker)
Say Amen, Somebody
Shock Treatment (Jim Sharman)
Smithereens (Susan Seidelman)
Sophie's Choice
Straight to the Heart (Gianni Amelio)
Tenebre (Dario Argento)
Tex (Tim Hunter)
The Affair (Ishmael Bernal)
The Draughtsman's Contract (Peter Greenaway)
The Eyes, the Mouth (Marco Bellocchio)
The Green, Green Grass of Home (Hou Hsiao-hsien)
The Grey Fox (Phillip Borsos)
The Horse (Ali Ozgenturk)
The Hunger Artist (John Strysik)
The Legend of Suram Fortress (Dodo Abashidze/Sergei Paradjanov)
The Marathon Family (Slobodan Sijan)
The Return of Martin Guerre
The Slumber Party Massacre (Amy Holden Jones)
The State of Things (Wim Wenders)
The Verdict
The Weavers: Wasn't That a Time
The World According to Garp
Time Stands Still (Peter Gothar)
Too Early, Too Late (Jean-Marie Straub/Daniele Huillet)
Transes–Rider on a Dead Horse (Clemens Klopfenstein)
Utopia (Sohrab Shahid Saless)
Verdammte Stadt (Lothar Lambert)
Veronika Voss (Rainer Werner Fassbinder)
Victor/Victoria (Blake Edwards)
White Dog (Samuel Fuller)
Yol (Yilmaz Guney/Serif Goran)