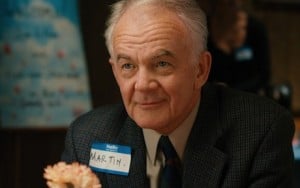 It's time to publish my list of the movies that inspired, impressed, and moved me most in 2013.
Annual Disclaimer: Notice, I didn't say "the best films of 2012." Nobody, not even the most experienced and devoted film scholar, can claim to report that. We experience, interpret, and remember art as individuals with particular strengths, weaknesses, memories, loves, and fears. When we share what moves, inspires, challenges, discomforts, and offends us, we reveal a lot about ourselves. I share this list so you know what meant the most to me in 2013. And if you want to understand why these films made an impression… well, that's why I write reviews.
There are a lot of important films I have yet to see.
The first list is the World Premieres Edition: Films that played anywhere in the world for the first time in 2013.
The second list is the American Release Edition: This list includes only films that had their first commercial releases in the U.S. in 2013.
One more thing: If you want to understand the color-coding of the titles, as well as what this list really represents, read my introduction to the Looking Closer Favorite Films lists.
So, here they are: The films that inspired, moved, challenged, and intrigued me in 2012.
Red = Treasures,

Purple = Favorites,

Blue = Achievements,

Gray = Decent/Noteworthy,

Green = Unseen or Undecided



2013
FAVORITE FILMS: WORLD PREMIERES
(Movies that played for audiences for the first time in 2013, festivals and foreign countries included, according to IMDB.)
This Is Martin Bonner (Chad Hartigan)

Before Midnight (Richard Linklater)

Upstream Color (Shane Carruth)

The Wolf of Wall Street (Martin Scorsese)

Short Term 12 (Destin Cretton)

Her (Spike Jonze)

The World's End (Edgar Wright)

Inside Llewyn Davis (Joel and Ethan Coen)

12 Years a Slave (Steve McQueen)

The Kings of Summer (Jordan Vogt-Roberts)

Captain Phillips (Paul Greengrass)

All is Lost (J. C. Chandor)

The Counselor (Ridley Scott)

Computer Chess (Andrew Bujalski)

American Hustle (David O. Russell)

The Hunger Games: Catching Fire (Francis Lawrence)

The Great Gatsby (Baz Luhrmann)

Anchorman 2: The Legend Continues (Adam McKay)

Stoker (Chan-wook Park)

The Way, Way Back (Nat Faxon, Jim Rash)

20 Feet from Stardom (Morgan Neville)

Monsters University (Dan Scanlon)

Byzantium (Neil Jordan)

The Lone Ranger (Gore Verbinski)

The Grandmaster (Kar Wai Wong)

Prince Avalanche (David Gordon Green)

The Spectacular Now (James Ponsoldt)

Closure (Bryan Tucker)

Prisoners (Denis Villeneuve)

Ain't Them Bodies Saints (David Lowery)

Warm Bodies (Jonathan Levine)
FAVORITE FILMS: AMERICAN RELEASES
This Is Martin Bonner

Museum Hours

Before Midnight

Upstream Color

Leviathan

Like Someone in Love

The Wolf of Wall Street

Short Term 12

Her

The World's End

The Act of Killing

Frances Ha

To the Wonder

Stories We Tell

12 Years a Slave

Inside Llewyn Davis

The Kings of Summer

A Hijacking

Captain Phillips

The Counselor

The Great Beauty

Wrestling for Jesus: The Tale of T-Money*

All is Lost

Wolf Children

Mud

Fill the Void

Lore

Computer Chess

American Hustle

The Hunger Games: Catching Fire

The Great Gatsby

Stoker

The Way, Way Back

20 Feet from Stardom

Much Ado About Nothing

From Up on Poppy Hill 2011

Monsters University

Byzantium

The Lone Ranger

The Grandmaster

Prince Avalanche

The Spectacular Now

Prisoners

Philomena

Ain't Them Bodies Saints

Anchorman 2: The Legend Continues

Warm Bodies