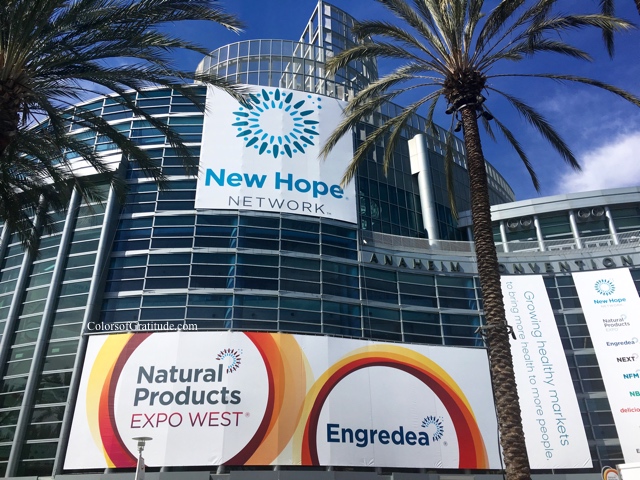 I had the privilege of attending Expo West this year where some of the newest and coolest natural products — food, supplements, beauty, green living — are showcased. Oftentimes, the founders themselves man the booths which is incredibly exciting as one gets to really feel their passion and drive. Of course, just because this is the Natural Products Expo doesn't mean that everything is awesome. I saw far too many fruit juice this, soy that, nut this, jerky that… as well as personal care items and cosmeceuticals that didn't meet my standards. But don't fret, the truffle pig's at your service. Enjoy my curated recommendations: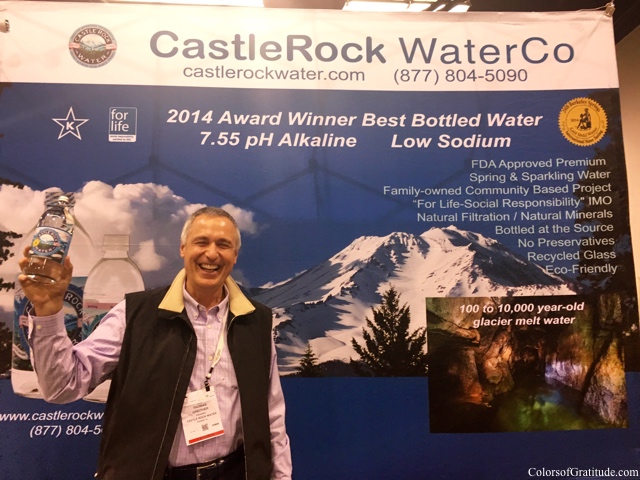 CASTLE ROCK WATER
I'm a water snob. I only drink plastic water (water in plastic bottles) if I absolutely have to, like at the airport. There's a beautiful array of spring water in glass bottles available and I enjoy many of them. My first choice, though, is Castle Rock Water. It's got a vibe that's unmatched. Is that because the water comes from the pristine springs around Mt. Shasta; or because of the fact that founder Thomas Greither circles 100% of the proceeds back into the community where the water comes from; or from the blessings on the label? Is probably a blend of all of the above. Definitely get yourself some Castle Rock Water when you're in CA, and also request it at your local store. This beauty needs to reach far and wide: http://castlerockwatercompany.com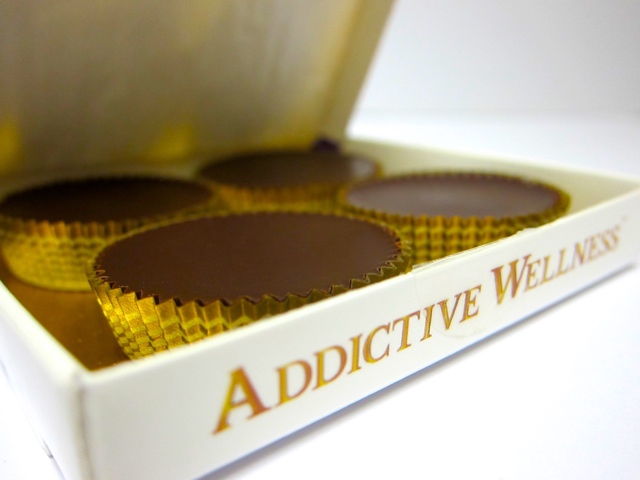 ADDICTIVE WELLNESS
Ah, where to begin! Addictive Wellness make the best chocolate in the universe. Why? Because it's both absolutely scrumptious and truly healthy. Let me explain: Addictive Wellness make raw, sugar-free chocolate chock-full of tonic herbs, medicinal mushrooms, and superfoods. It's organic, vegan, sweetened with non-gmo birch xylitol + organic non-bitter stevia, and hand-poured with love in a dedicated facility in Los Angeles, CA. Of course it's free of soy, dairy, gluten, wheat. Three new functions — Focus, Love, and She — launched at the Expo joining the classics Beauty, Energy, and Tranquility. Now that's an indulgent way to eat your herbs! I'm so in love with Addictive Wellness that I've come on board as an affiliate and independent sales representative. Use code "Colors" to get 5% off your order. You'll thank me later :)  http://www.colorsofgratitude.com/shop/
The 'funguys' from Finland have reinvented and massively expanded the superfood mushroom category. Who knew one could drink mushrooms, and enjoy it? That's the secret sauce of Four Sigmatic. Their super-portable instant blends pack a serious dose of medicinal mushroom power, and the sachets fit in even the tiniest clutch. I adore their Reishi and Chaga blends; they're a godsend during air travel and brilliant for high-vibe maintenance in intense places (hey, NYC!). That's Markus, Head of Marketing, in the picture whipping up Chaga glory to keep me humming at the Expo. http://www.us.foursigmatic.com/collections/mushroom-beverages/products/instant-chaga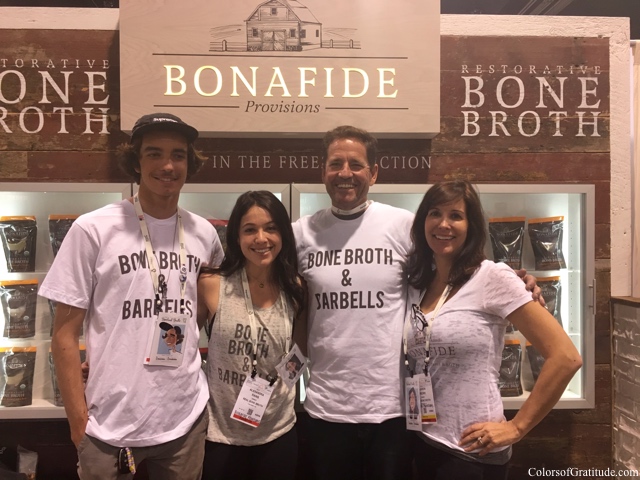 BONAFIDE PROVISIONS
This happy family from Carlsbad, CA is the brains and hearts behind Bonafide Provisions. Their bone broth is exceptional and accessible which is the best of both worlds. If the gut-restorative benefits of top quality bone broth speak to you, check them out. Bonafide broth is organic, grass-fed, pasture-raised, non-gmo, and handcrafted. The company's family-owned, the packaging is BPA-free. The way it should be. I'm grateful for the pit stops I got to make at their booth. Find Bonafide Provisions nationwide in the frozen aisle at Whole Foods. http://www.bonafideprovisions.com/bone-broth-where-to-buy/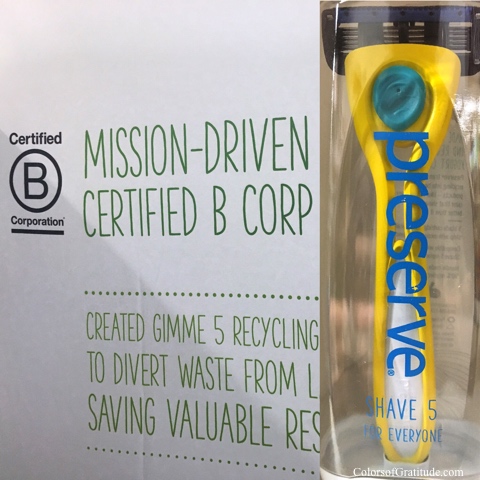 PRESERVE
Putting your recycled materials to good use, Preserve create sustainable + functional products such as razors, reusable tableware for parties, and kitchenware such as colanders. They're a Certified B Corp which means they meet the highest standard of transparency, accountability, and social/environmental performance. I got my hands on their latest launch, the 5-blade razor, in my chartreuse brand color (yes, I know the one in the pic is yellow). I love that the blades and > 90% of the handle are made in the USA (cartridge assembled in Mexico); that the recycled plastic handle is recyclable through the Gimme 5 program (keeping the clean energy flowing); that of course I can replace the ceramic coated blades; and that the strip is lubricated with cacao butter and aloe instead of chemical garbage. It gets the job done in a pleasurable way. Preserve's BPA-free and of course not tested on animals. https://www.preserveproducts.com/products/120/shave-5-razor-system-handle-1-blade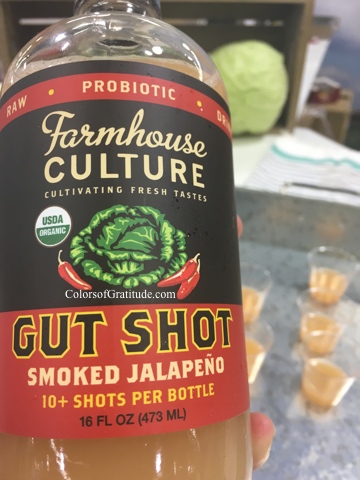 FARMHOUSE CULTURE
Go get your Gut Shot. These delectable fermented liquids will not only make your gut happy, they'll tickle your taste buds too. All flavors are delicious and my fave's the Smoked Jalapeño. Just look at the colors! I also love that they're housed in gorgeous glass bottles. Requesting single-serve shots for office, travel, and beyond. http://farmhouseculture.com/gutshot/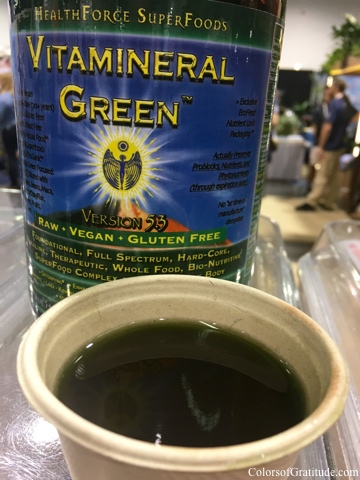 HEALTHFORCE
A staple in the health and wellness community, Healthforce deliver premium products that truly nourish the body and nurture the mind. I love their Vitamineral Green, a green powder that combines the best of both land and sea vegetables with enzymes and probiotics. It's vegan, raw, and beyond organic ("truganic"). They just launch Earthbiotics, a consortium of soil-derived probiotics cultured in a particular manner, that I cannot wait to try: https://healthforce.com/longevity-immunity/earthbiotics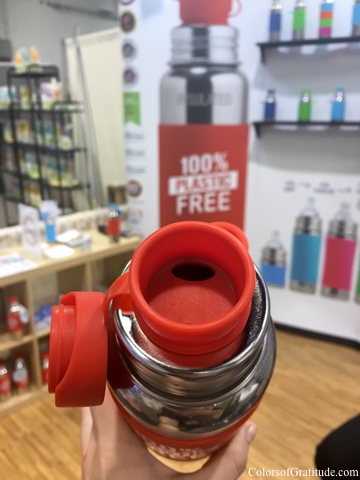 PURA STAINLESS
Pura Stainless is a seriously cool company, not only because its founder's name is Roger Moore. Pura's bottles are the only bottles on the global market to achieve Nontoxic Certified status (check www.madesafe.org). You'll have to visit their website to take in all the impressive details but let me share this: Pura's made from unbreakable #304 steel, features internal volume markings (no more guessing), easy-clean wide mouths, and a huge variety of spouts and nipples that fit on all bottles interchangeably. That means one bottle can go from your yoga class, to your kid's play date, do your hubby's evening run just by switching up the 100% medical grade silicone lids. Fashion detail: the colorful sleeves can easily be removed and replaced so you're never stuck with just one color. For us hot beverage lovers, insulated options are available too.  http://www.purastainless.com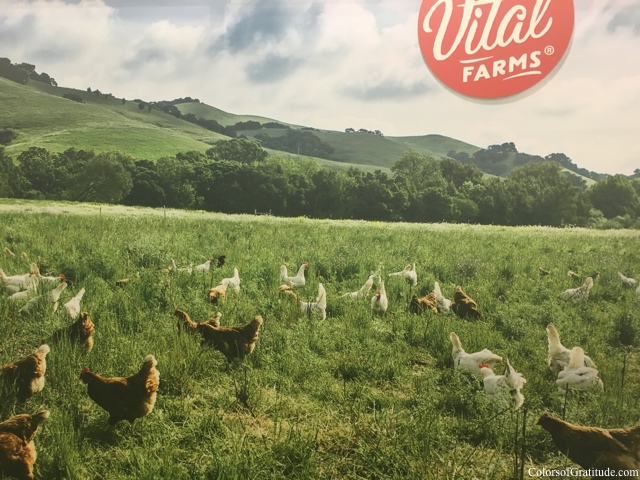 VITAL FARMS
The notion that farm animals would live in any other way than happily on a pasture and in a cozy barn are outrageous to me. The brutal reality, though, is that farm animals are systematically abused for maximum profit. We — that's you, your family, friends, community, and I — have the power to change that through the choices we make every day. If you eat eggs, who do you buy them from? If you get them at them supermarket, check the label. Anything below pasture-raised is phony marketing. The picture below, provided by Vital Farms who let their hens roam in their natural habitat, gives you an eye-opening visual. The smallest circle equals caged space (67 square inches); the medium circle shows the space allotted to one hen that's raised cage-free (< 1 square foot); the largest circle indicates free-range (< 2 square feet). What you (and the hens) want is pasture-raised (> 108 square feet). Anything less is unacceptable. http://vitalfarms.com/pasture-raised-eggs/what-is-pasture-raising/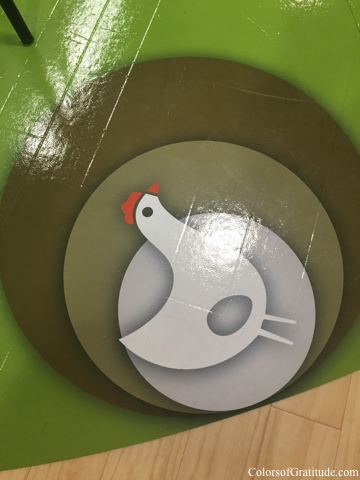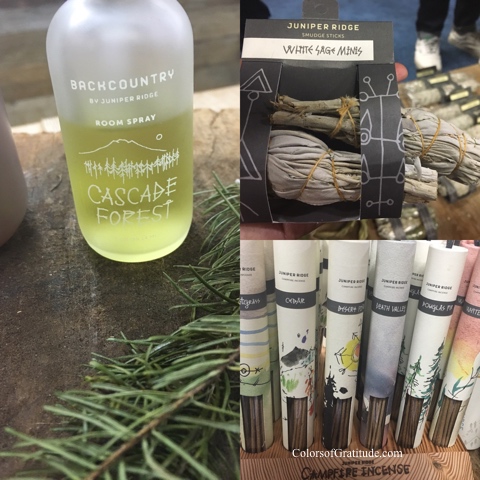 JUNIPER RIDGE
I had been aware of Juniper Ridge for a while but never experienced their products until Expo West. It's not at all surprising that people who smell and touch their shower gels, smudge sticks, and cabin sprays for the first time are blown away (and open) by their aliveness. Juniper Ridge wild-harvest (legally and sustainably, of course) and hand-distill their own all natural fragrances. It's an extraordinarily cool and practical way to bring the magic of the outdoors into your home, office, car… https://juniperridge.com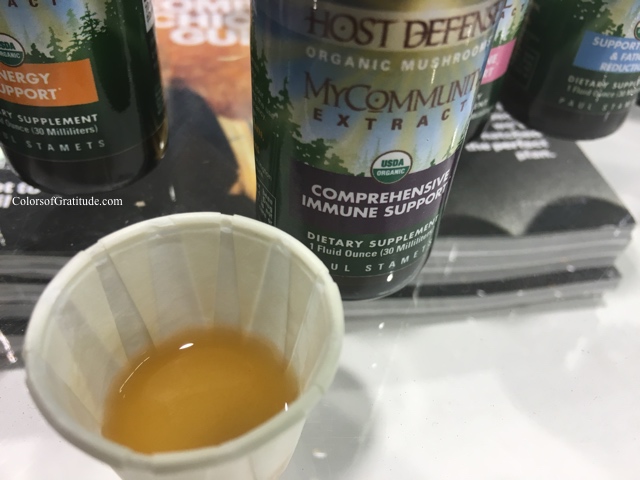 HOST DEFENSE
Yes, shrooms again! The power of medicinal mushrooms is extraordinary and Host Defense's Certified Organic, USA-grown concoctions are sublime (they're the best-documented + longest standing Certified Organic mushroom company in the US). They also maintain the chain of custody, meaning founder Paul Stamets and his team grow every mushroom in every product. Thus they have complete control over the raw materials. Their mushrooms are genetic matches to species found in the wild (samples are sustainably cultivated by leaving the original habitats of the wild mushrooms intact) which ensures that the active constituents are at a very high level for exceptional strength and integrity. What's more, their extracts as well as the freeze-dried powders in their capsules contain probiotics. That's why Host Defense's the #1 bestselling mushroom company in the USA. I've used Host Defense's Myco Shield Spray for years (great on the plane, subway, in crowds…) to keep my immune system strong. The Comprehensive Immune Support formula I got to sample totally revived me after the first one and a half days of Expo flurry. Learn more about this amazing company here: http://www.hostdefense.com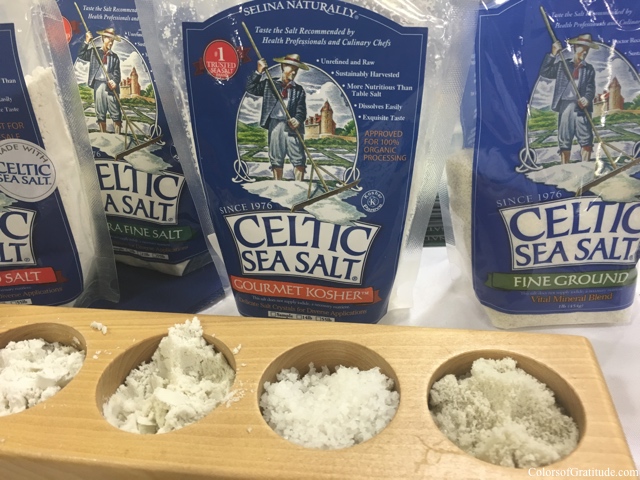 SELINA NATURALLY: CELTIC SEA SALT
Selina Naturally is the home of many beautiful products. Celtic Sea Salt is a magnificent, mineral-rich choice for all your culinary adventures. It's unrefined, kosher, and hand-harvested. You may choose from a variety of options. I enjoy the Light Grey Celtic is my cooked meals, smoothies, superfood hot chocolates, and filtered water. Real sea salt is good for you (and should you still be using those refined conventional "salt" powders that have been stripped of all nutrients, consider this your sign to switch to a company with integrity). http://www.selinanaturally.com/celtic-sea-salt-products/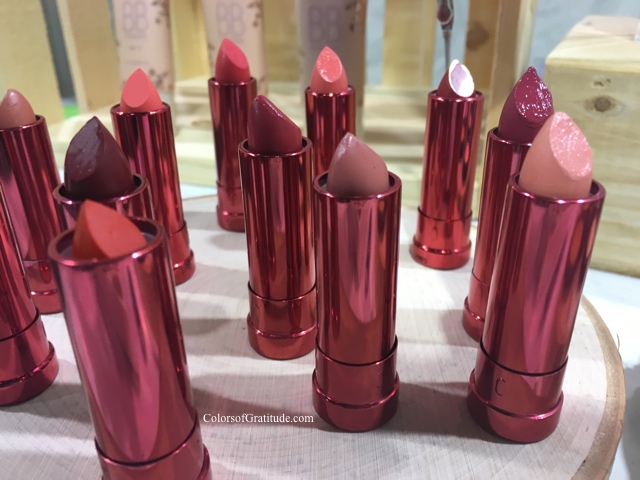 100% PURE
One of my favorite companies for so many reasons. One of them being that they've got patents on using fruit pigments to color their cosmetics. Imagine, a red lipstick that's got berries in it for color. It makes sense, doesn't it?! Everything's organic, of course, and aside from creating supreme quality products right here in beautiful California, 100% Pure are very charitable toward animal rescue organizations. Their ingredients and final products are NEVER tested on animals. It's beauty you can feel fantastic about! And their new tag line rings true because it is: It's better to wear than not to wear —  meaning you'll nourish your skin while enhancing your gorgeousness. What cosmetics company can say that?! Savor the delicious colors of their new releases here: https://www.100percentpure.com/collections/whats-new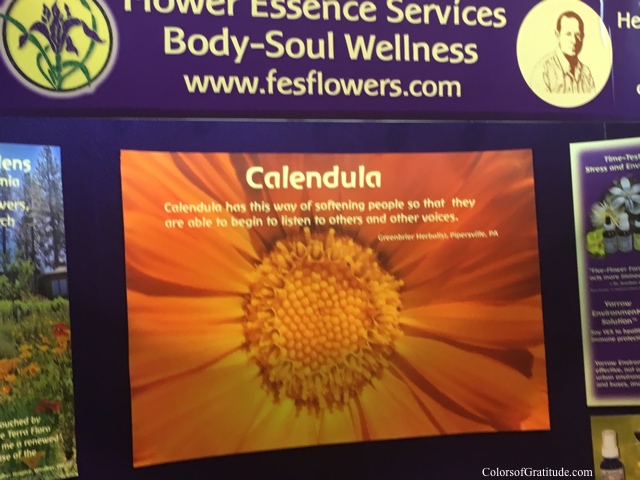 FLOWER ESSENCE SERVICES
I was so enamored with FES that I forgot to take more pictures. I've used their products and can attest to the healing attributes of the compositions (I particularly adore their Seasons of the Soul oil collection). All FES creations are dual-certified organic + Demeter biodynamic. The packaging reflects their eco-friendly practices and their composting program is indicative of FES' commitment to Mother Earth. Many of the plant species in their flower essences come from Terra Flora, the wild flower preserve + garden sanctuary in the foothills of California's Sierra Nevada that doubles as their HQ and location of their Flower Essence Society where you can take classes. I got to chat with FES founder Richard Katz; look for more flower essence brilliance in the future. http://www.fesflowers.com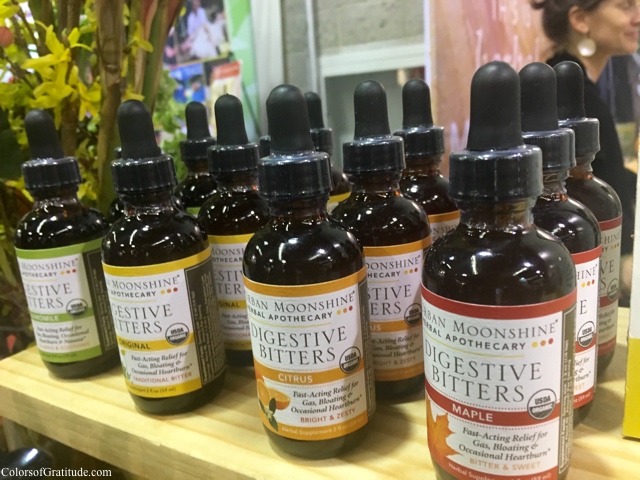 URBAN MOONSHINE
I'm a fan of their Digestive Bitters, especially the original and citrus options, that are made from certified organic herbs and roots. Before or after a meal I like to spray a few spritzes in my mouth as the bitters support digestion, which is particularly important when I'm traveling. I keep a large bottle at home and hit the road with the refillable mini size. Try it. Your tummy might just love it. https://www.urbanmoonshine.com/product-category/digestive-bitters/
NATUREZWAY
Ever thought that it'd be better for the planet if the dog poop bags where made of compostable material instead of plastic? Ever wondered that your own eliminations might be better served by bathroom tissue that's more sustainable than chopping down trees? Ever considered ditching that swif*er nightmare in favor of a clean, sustainable option? Well, now you can. Bamboo to the rescue! I've found NatureZway's booth to be both smart and practical. Finally you can let the dog poop bag compost with its content; finally you can wipe your butt without wiping out the rainforest; finally you can clean the floor without polluting the planet or your lungs. Check out their offerings: http://naturezway.com/index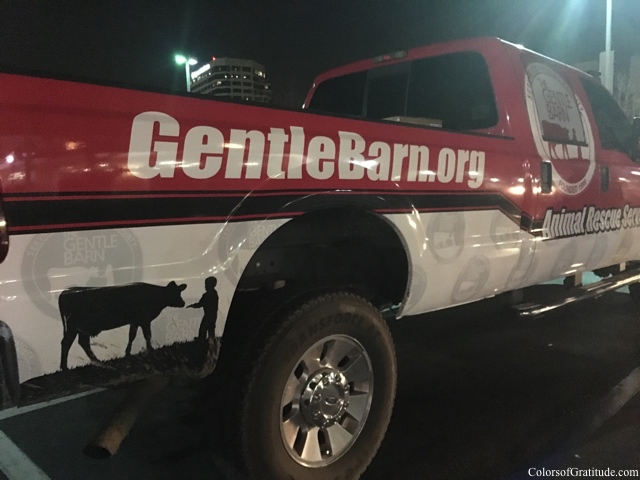 THE GENTLE BARN
I got to attend the Gentle 52 fund raiser for The Gentle Barn, the amazing animal rescue organization, where I met lots of lovely people but they coolest thing was spotting The Gentle Barn's massive truck outside of Mother's Market the first night of the Expo. Built for duty! If you aren't familiar with The Gentle Barn, read my interview with founder Ellie Laks and look forward to more exciting things in the near future. You can also visit The Gentle Barn. You, your kids, and the sweet animals will have a ball! http://www.gentlebarn.org
Follow me on Instagram @ColorsofGratitude to see more behind-the-scenes moments from Expo West and my adventures in sunny Cali.