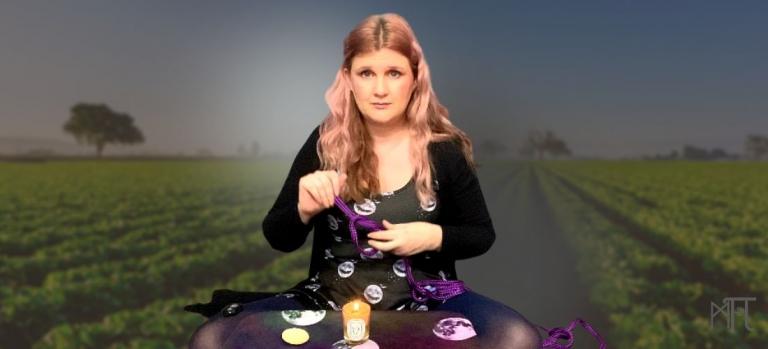 It's the February Full Moon, and I wrote last week about the way I'm changing my witchcraft and Reinventing the (Pagan) Wheel (of the year).
Today I'm planning my ritual work for tonight and the next six weeks.
As I'm now working more of a gardener's or agricultural cycle, this is the Hungry time. It's the point when the crops in the ground are starting to run out. As are the stocks put aside for winter.
When the final frosts are clearing, and the ground is ready to be dug up and raked over before the planting of the first seeds start. The earth warms up quicker where I live than in much of the rest of the UK. Yet I'll still wait a few weeks before I start sowing seeds into the ground.
There's a lot of tidying to do however, last year's beds are full of dead stalks and the strawberry runners which planted themselves where they chose need digging out and moving.
Whilst I'm doing the groundwork in my garden, I'll be using this to inspire my magical work. This season is all about digging up and popping in the compost heap.
The lockdown has given me plenty of time to mull over my hopes and expectations. But it's also given me food for thought when it comes to limiting beliefs and blockages. There are a fair few things for me to compost this year if I want to achieve my harvest later.
Tonight is going to be all about knot magic.
A few days ago I psychically knotted some of my limiting beliefs into a cord and slept with it under my pillow. Tonight I'll cast a circle and release and neutralise them, allowing the energy to dissipate and be released.
Change theory says however, to properly change, anything you lose from your life needs to be replaced with something else.
Therefore I'll spend a bit of time meditating on my hagstone (by using it as a psychic gateway) and finding new beliefs to tie into the cord as knots. These will replace the old belief structure which no longer serves me.
As a life coach I work with the subconscious and with goal setting, but as a witch I embed my changes of behaviour with magical structure.
Both aspects work hand in hand. The witchcraft giving an additional shift and turbo charge to the work I'm doing in the mundane world.
That in many ways is the basis of all good magic, and it's something I always taught along with spellcraft – the importance of creating space in the mundane for changes enacted in the magical.
As I work through the Hungry month I'll be focused on other ways I can cleanse and clear and tidy. Along with making plans and towards the end of the month planting seeds, both physically and metaphorically.