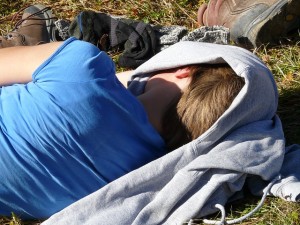 I think one of the hardest things about working at home is keeping myself motivated, particularly those days when I feel completely UN-motivated. It's even harder on the days when everybody's at work or school and I'm the only one at home.
It's oh-so easy to become distracted or procrastinate. Or, God forbid, get lost in one (or all) of my social media accounts.
I've been working on a strategy that's been helping me to get motivated and stay motivated. I didn't get it from time management experts or self-help books – although there are some amazing ones out there – but rather from prayer, self-examination, and invoking the Holy Spirit.
Through that, I've discovered five essentials for getting and staying motivated.
Morning Consecration: Consecrating myself to God is a non-negotiable, even when I'm stuck in an ugly pattern of complete un-motivation. Whether it's a formula prayer or a brief spontaneous prayer, giving myself and my day up to God first thing gets me started on the right foot. Or at least it gets me to start at all.
Patience with myself and others: I have to understand and accept my limitations and tendencies. Above all, I have to avoid comparing myself to others. It's easy to become resentful and chastise myself for not being more productive. When I do that, it only makes things worse. That doesn't mean I sit back and let the day go by; it means taking what is and making the best I can of it.
Start small. When I'm feeling unmotivated, looking at the whole picture and be overwhelming. So, I have to break it down into manageable steps. Instead of trying to push through a huge project -or even a lesser one that I don't particularly want to do – I choose one small part of it to accomplish. When that's done, I choose and complete another small part and so on. It works.
Give thanks to God. I often forget to do this; I think most of us do. I take a break after each small step to thank God for giving me the grace to have gotten thus far. Then I implore his grace for the next step.
Look to the future: I think it's as important to end the day right as it is to start it right. Okay, so I had a rough day, motivation-wise. It's just one day. When I say my evening prayers, I give God thanks again for all the grace and gifts he gave me throughout that day, (even if it was a truly bad day) and then I ask for his grace and gifts for the next. I ask our Blessed Mother to accompany me throughout the morrow, and to intercede for me so that all I say and do gives glory to God. I ask our Lord to give me the strength and wisdom I'll need to fulfill God's will to the very best of my ability (through his grace and goodness.). Then I entrust my tomorrow to God's goodness.
These five essentials have become my mainstay for keeping myself on track, even on those days when I'm prone to derailment. The key, I believe is in realizing that trying to power my way through un-motivation is fruitless because it's by God's grace that I'm able to do anything at all.
Image: Pixabay, CC