If you are a metal fan you've already heard the news: David Brockie, the lead singer of the band Gwar, has died. It happened some days ago. I have some thoughts about his passing, and they were not articulated until today – so I share them a bit late.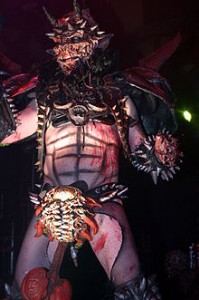 This is the statement released by the band manager:
It is with a saddened heart, that I confirm my dear friend Dave Brockie, artist, musician, and lead singer of GWAR passed away at approximately 6:50 PM EST Sunday March 23,2014. His body was found Sunday by his band mate at his home in Richmond, VA. Richmond authorities have confirmed his death and next of kin has been notified. A full autopsy will be performed. He was 50 years old, born August 30, 1963.

My main focus right now is to look after my band mates and his family. More information regarding his death shall be released as the details are confirmed.
Here, you can read touching tributes from other musicians.
This news made me think. I was deeply affected by the news and very saddened, but that's strange, I would never think I would be.
This news taught me again a very important lesson about life, and that is that sometimes only death reminds you how much you love someone. I would never mention Gwar as one of my favorite bands, but they were always on my harddrive and mobile phone and I always listened, I have to confess I didn't even know David Brockie's name before his death. But suddenly I realized how much I really appreciate their music, and his death affected me.
Also, I realized that how much metal singers seem immortal to me. When a celebrity I love dies I get sad – but the death of metal musicians always takes me by shock and surprise and devastation, and that's true about Dio and Jeff Hanneman as well. I think that really reflects the spirit of metal – these musicians live so fully and their art reflects living in such audacious and passionate ways that one tends to forget that they age and die.
To me, David Brockie was not David Brocki but his character, Oderus Urungus. I was never aware of the man behind the sound until his passing – before that he was the sound, he was a symbol, he was music. And the same is true about Hannenman and Dio – I loved them both, and I'd name both among my favorites, but ultimately they were too synonymous with music and youthful energy for me and I had taken them for granted.
And ultimately, that's what distinguishes metal. That's what makes me identify as a metalhead although I enjoy all genres of music. Metal is still not contaminated by the idea of "author", of a conscious creator carefully designing a masterwork, it has remained spontaneous and genuine, metal is about the sound, the anger, the excitement, the show – metal is alive.
Decades past the time that Black Sabbath released the first album and officially started the genre, metal has evolved into numerous sub-genres and has found a new voice with every passing age, has learned from other genres and has taught them. It hasn't become a museum piece, it has not become the safe music, it hasn't become conservative and self-aware  – it's alive.
David Brockie symbolized metal, like all great metal bands do. They together form a community of creative rebels. Atheists all have different ways to fill the gaps left by religion – metal fills that gap for me. It gives me the sense of community, it gives me all the spirituality I need.
I leave you with my favorite Gwar song.