So today the 2014 Cannes line-up is announced, and while you have Venice and Berlin and Oscars and BAFTAs and other awards, let's face it, if you want the best of cinema each year, usually your best shot is looking at Cannes line-up.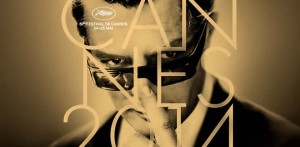 Via Rope of Silicon, these are the films in competition and other categories:
Official Competition
Captives [Canada] (dir. Atom Egoyan)
Foxcatcher [U.S.A.] (dir. Bennett Miller)
Goodbye To Language [France] (dir. Jean-Luc Godard)
The Homesman [U.S.A./France] (dir. Tommy Lee Jones)
Jimmy's Hall [U.K] (dir. Ken Loach)
Leviathan [Russia] (dir. Andrey Zvyagintsev)
Maps to the Stars [Canada] (dir. David Cronenberg)
The Marvel [Italy] (dir. Alice Rohrwacher)
Mommy [Canada] (dir. Xavier Dolan)
Mr. Turner [U.K] (dir. Mike Leigh)
Saint Laurent [France] (dir. Bertrand Bonello)
The Search [France] (dir. Michel Hazavanicius)
Sils Maria [France] (dir. Olivier Assayas)
Still The Water [Japan] (dir. Naomi Kawase)
Timbuktu (dir. Abderrahmane Sissako)
Two Days One Night [Belgium] (dir. Jean-Pierre & Luc Dardennes)
Wild Tales [Argentina] (dir. Damian Szifron)
Winter Sleep [Turkey] (dir. Nuri Bilge Ceylan)
Opening Film
Grace of Monaco [U.S.A./France] (dir. Olivier Dahan)
Out Of Competition
Coming Home [China] (dir. Zhang Yimou)
How to Train Your Dragon 2 [U.S.A.] (dir. Dean DeBlois)
Un Certain Regard
Amour Fou (dir. Jessica Hausner)
Bird People (dir. Pascale Ferran)
The Blue Room (dir. Mathieu Amalric)
Charlie's Country (dir. Rolf De Heer)
Eleanor Rigby (dir. Ned Benson)
Fantasia (dir. Wang Chao)
A Girl at My Door (dir. July Jung)
Harcheck mi Headro (dir. Keren Yedaya)
Jauja (dir. Lisandro Alonso)
Lost River (dir. Ryan Gosling)
The Misunderstood (dir. Asia Argento)
Party Girl (dir. Marie Amachoukeli, Claire Burger and Samuel Theis)
Run (dir. Philippe Lacote)
Salt of the Earth (dir. Wim Wenders & Juliano Ribeiro Salgado)
Snow in Paradise (dir. Andrew Hulme)
Titli (dir. Kanu Behl)
Tourist (dir. Ruben Ostlund)m
Unhappy Youth (dir. Jaime Rosales)
Xenia (dir. Panos Koutras)
Midnight Screenings
The Rover (dir. David Michod)
The Salvation (dir. Kristian Levring)
The Target (dir. Chang)
Special Screenings
Bridges of Sarajevo (anthology film)
Caricaturists: Fantasies Of Democracy (dir. Stephanie Valloatto)
Eau Argentee (dir. Mohammed Ossana)
Les Gens du Monde (dir. Yves Yeuland)
Maidan (dir. Sergei Loznitsa)
Red Army (dir. Polsky Gabe)
The competition is filled with familiar names, which is a good thing, in my opinion, but I always look forward to the new names as well as it is very possible to find new gems and future familiar names among them. Of course, this year doesn't seem to be as exciting and as riveting as years like 2009 or 2011, but still, it's a very good year.
The film that I'm most excited about is Map to the Stars. Cronenberg is the most exciting director in my opinion, and this film loops like it is right up his alley and the trailer looks amazing. Mike Leigh is another awesome director whose Mr. Turner is ought to be amazing as well. Sils Maria by Olivier Assayas also sounds very amazing – and it has an amazing cast too. The Dardenne brothers have not made a movie that I've seen which has not been a masterpiece – so Two Days One Night is definitely on the to-watch list. And . Nuri Bilge Ceylan is actually my favorite Turkish director, so I'm adding his movie to the list too.
I don't like the recent career of Godard which seems increasingly meaningless. therefore as a rule I'm not looking forward to his new film as well. I find Kawase a bit unbearable too, and finding her movies is so damn hard, so I guess that's a pass for me. I wasn't a fan of The Artist as well, so I don't know whether or not to look forward to Hazavanicius's new movie or not – guess I'll wait for the reviews.
From outside the main competition, The Blue Room stands out.
I'm currently neutral about most other movies. Loach is a great director but not all of his films are equally great, and Egoyan's previous film was decidedly horrible. I guess I will wait for more news and reviews.
What do you think? Does any movie stand out to you? Any movie you're excited about?