Cannes Film Festival is the most important cinema event of every year and it is the time when you can decide what are the best films to put on your to-watch list. This is my list. Obviously, I have not watched any of them, so I link to reviews that explain why these movies have piqued my interest. These are ordered from the most excited downwards.
Winter Sleep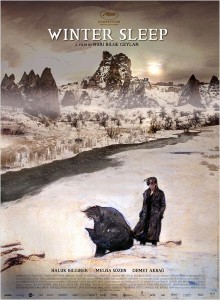 Of course the Palme d'Or winner is going to be at the top of the list. Nuri Bilge Ceylan is one of my most favorite directors. He is internationally famous for Three Monkeys (a masterpiece) and Once Upon a Time in Anatolia (a good film). But my favorite is Climates which is much less known. Now critics are calling it more similar in style to Climates than his other films, and I'm very excited.
IndieWire Review: "Simply put, Nuri Bilge Ceylan is a badass. His new 3.25-hour film Winter Sleep doesn't unfold so much as unspool, and despite presenting a few challenges to jet-lagged journalists, it manages not only to sustain interest but to mesmerize. […] That these personal issues may well represent larger issues in today's Turkey and beyond goes without saying. But in the end, Winter Sleep is perhaps simply a not-so-simple love story between two people still looking for themselves, and their ability to be together."
Mr. Turner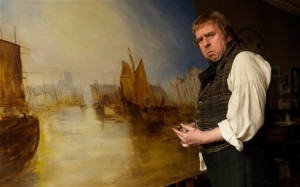 Mike Leigh is another great director who has a unique and personal style and craps one masterpiece after another. Secrets and Lies and Vera Drake are both masterpieces and Another Year is also a great movie. Timothy Spall was phenomenal in Secrets and Lies and now that he has won best actor one can only get excited. The movie is about  J. M. W. Turner. Add Leigh's masterful visuals and it sounds like a recipe for greatness.
Telegraph Review: "Leigh has come to Cannes with this supremely enjoyable biopic of the English artist known as "the painter of light" — someone whose canvases, which revelled in the possibilities of colour and movement, could almost be early forerunners of cinema. […] Spall's repertoire of grunts, each one with its own distinct meaning, comfortably extends past a hundred, and you wonder if he went Method for the role, living for years in a sty until he got the voice, posture and smell just right."
The Wonders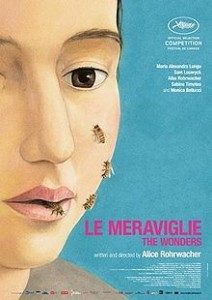 Now I have never watched Alice Rohrwacher's previous movie, Heavenly Body, and this is her second film. But all signs point to exactly the things I love, and it's always more fun to discover a great newcomer and that is what these festivals are good for.
Telegraph Review: "A mesmerising coming-of-age tale: small and sweet in every good way, but alive with a power that seems to surge up from deep beneath its sun-roughened landscape. […] 
So much is encircled by this film's seemingly modest reach: the slow onset of adulthood, but also the fading of the old ways, and the slight jarringness of incomers such as Gelsomina and her family being their last and keenest practitioners. The film was photographed not on digital cameras, but Super-16 film stock: a dying way of seeing dying things, and yet everything it captures seems to flare and crackle with life. There's so much here to remind you of the Italian neorealist pictures."
Foxcatcher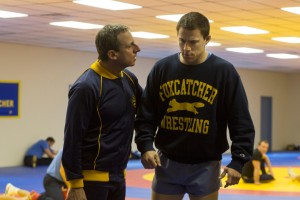 I am not a sports fan, also not a fan of sport movies. But the buzz has gotten to me as well and has me excited. Plus I really love it when comedians get serious roles and show off their serious acting abilities. It helps that I have loved Capote and Moneyball too.
Irish Times Review: "The director really hits his stride with a stunning portrayal of psychopathy and moral decadence in the unlikely environment of Olympic wrestling."
White God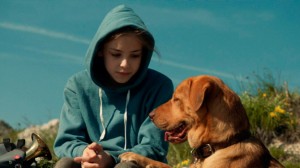 I'm usually highly skeptical of Un Certain Regard entries as they tend to be overtly artsy films made only for festivals. But this one sounds all kinds of interesting. They had me at "It's like Hitchcock's The Birds but with dogs". I haven't seen anything by Kornél Mundruczó so this might turn out a new discovery as well.
Variety Review: "A thrillingly strange update of the Lassie Come Home formula in which one lost mutt's incredible journey to sanctuary evolves into a full-scale man-vs.-beast revolution. The sixth and best feature to date from distinctive Hungarian stylist Kornel Mundruczo, White God initially looks to be a sizable departure from his previous work, with its appealingly naive adventure narrative, until the story's mythic proportions, not to mention its visceral violence, reveal themselves. Arguably shortchanged with an Un Certain Regard slot at Cannes, this moving, technically masterful film reps a marketing challenge to distributors, but should continue to accrue word of mouth from astonished festival auds worldwide. "
Clouds of Sils Maria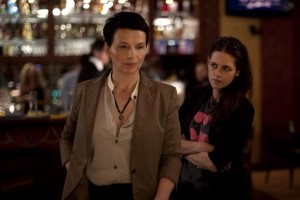 First, I love Oliver Assayas. Second, I love Juliette Binoche who is a great actress with many historic roles and made for such films. Third, the story seems right up my valley. Fourth, the title. It sounds so appealing. Fifth, I hope Kristen Stewart acts well in this one like in Into the Wild and On the Road and gets away from that Twilight shit. Sixth, it has divided critics and I usually love movies that divide critics.
New York Times review/interview: "There's a scene in Clouds of Sils Maria in which a young American played by Kristen Stewart delivers a beautifully sincere defense of blockbusters to a French star played by Juliette Binoche. They're talking about movies in a multilayered film from the French director Olivier Assayas that is itself partly an inquiry into cinema. The star, Maria Enders, has become famous in big movies, yet she also voices contempt for them. Given how closely Mr. Assayas cuts to a central tension that plays out yearly at the Cannes Film Festival — a temple of auteurist worship that rolls out the red carpet for industrial cinema — it isn't surprising that "Sils Maria" wasn't wholly embraced here."
Maps to the Stars
Unlike most people, I haven't disliked Cronenberg's recent films. He is and will be one of the greatest directors who ever lived if you crop out the last decade, but I still think his recent movies are all good. So I'm not bemused that this films seems to continue the same tradition. Plus, Best Actress is serious recognition at Cannes, better take the film serious. Plus, if you know your own taste you know people reacting negatively can be a good sign.
Telegraph Review: "Cronenberg's film takes place in a kind of pharmaceutically heightened hyper-reality of its own: it's not so much a twisted dream of making it in show-business, as a writhing, hissing, Hollywood waking nightmare. […] Cronenberg has made a film that you want to unsee – and then see and unsee again."
Two Nights, One Day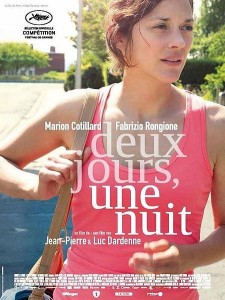 Dardenne Brothers + Marion Cotillard = must see
IndieWire Review: "An unfeasibly gripping social realist parable that provides a gravitational showcase for one of Marion Cotillard's finest performances (and yes, we know that's saying something), the Dardenne brothers' "Two Days, One Night" sees the two-time Palme d'Or winners put in a serious bid for a third (though probably, Cannes rules being what they are, a Best Actress trophy for Cotillard is more likely). It's a deeply lovable film, satisfying, nourishing and accessible, and bar the odd stumble toward melodrama (more on that later) we were completely immersed in its plain-spoken yet impossibly resonant rhythms practically from the first frame."
Honorable Mentions
Mommy: Another newcomer discovery? This is Xavier Dolan's 5th film and he is only 25, and I haven't seen anything by him. But the reviews are too rave.
Timbuktu: Well I'm an ex-Muslim atheist and this is a film about the horrors of radical Islam… watching it sounds mandatory.
Leviathan: I love many of  Zvyagintsev's films, this one is a must watch too.
Jimmy's Hall: I don't find this movie much appealing, but since it's Loach I'll watch it anyway.