The tensions between Rouhani and extremists over internal policy has been escalated even more. Today Rouhani used his strongest language up to now and harshly slammed conservatives.
For a brief history to those who don't know: There was a protest in front of the Ministry of Interior asking for further and harsher restrictions on hijab, and then some young people were arrested over an internet video, and Rouhani reacted negatively. Since then the tension has escalated between Rouhani and conservatives who ask for further restrictions.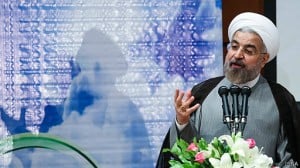 But there were more things I haven't mentioned in blogs. Last week Rouhani escalated things himself. He said in a speech (via Al-Monitor):
"Do not interfere in people's lives so much, even if it is out of compassion," Rouhani said at a health insurance conference on May 24 arranged by the administration. "Let people pick their own path to heaven. One cannot take people to heaven through force and a whip. The Prophet [Mohammad] did not have a whip in his hand."
This caused regime supporters to react negatively to him. Now the venue of reactions is very important here, Friday Prayers. Friday Prayer speeches are considered the go-to place to know the real message of the regime. They take place in all cities, are coordinated, and always send a strong message which makes us certain what's the final stance of the regime is. Sadly this venue is taken by some of the worst intolerant people. Ahmad Jannati who is also the head of the Guardian Council is probably the most hated regime official in Iran, and Ahmad Khatami is a notorious hard-liner, and they are Friday Prayer speakers for Tehran. Friday Prayer speakers of Mashhad, a holy city, is Mehdi Alamolhoda, who has called reformists goats and things like that. This venue was used to attack Rouhani this Friday. Via the same article:
Ayatollah Ahmad Khatami responded, "They say let people be and don't take them to heaven by force." He addressed "the administration" rather than Rouhani specifically.

He added sarcastically, "Fine, we'll suspend [the religious duty of] commanding the good and forbidding evil. To the thief, and to the girl and guy with bad veiling, we'll say, 'Be a good child.' Is this Islam, is this having the concern of implementing religion?"

"We have to protect our Islamic system," Khatami continued. "We do not want to send anyone to heaven by force, but with your statements, do not straighten the path to hell for anyone."
Of course, leave it to Alamolhoda to say the most stupid thing. Via another Al-Monitor article:
Conservative Ayatollah Ahmad Alamolhoda, who is Friday prayer leader of Mashhad, also used May 30 Friday prayers to criticize the president, saying, "The whip is easy, we will stand with all of our might in front of people who want to prevent people from going to heaven."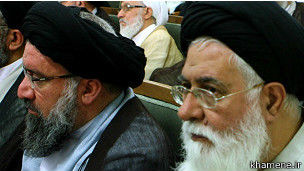 Conventional wisdom would say that Rouhani would back down and try to mellow things a bit – but no, he doubled down and then some. Every Iranian I met today was like "what the fuck" and very happy about the things he said. This is what he said (via the same article):
"Some people seriously have nothing better to do," Rouhani said May 31 during a speech in front of environmental officials, without addressing his critics by name. "They have no work, no profession, they are with delusions. [Kaveh: They are delusional is a better translation]. They are incessantly worried about people's religion and the afterlife. They know neither what religion is nor the afterlife, but they're always worried," Rouhani added to applause.

[…]

He joked that when Iran's traditional-style public baths were eliminated in favor of showers, many clerics argued that "half of religion would be destroyed." He laughed, and said he was in Qom during this change and remembers the commotion over it.

In continuing his attacks, laughing intermittently at his own comments, Rouhani said, "There were two great events in Qom during those years. One was the bath becoming a shower, a tragic event in the minds of some, and the other was when they wanted to change the time, winter and summer hours. They said that this was to 'eliminate religion.' They said, 'How will we know noon prayers?' Well, how did we know until then? We used to pray at 12:15, now we pray at 1:15, will something happen?"

Rouhani also made it clear that he would not use his administration to promote religious activities but rather would facilitate religious activities that are initiatives of the people. "A religious government is a very good thing, but a governmental religion, I don't know, we need to discuss that," Rouhani said. "We must not give religion to the administration, religion is in the hands of experts themselves, the clerics, the seminaries, the specialists. It is them who have to propagate religion, the administration must support them, help them, all of this is right."
The emphasis is mine, and holy fuck. This is dangerously approaching secularism. Which is the biggest political taboo. I lived the whole 8 years of Mohammad Khatami and he never said something like that. Rouhani is really fighting in a way he didn't.
Holy fuck. Many pundits have said that Rouhani is not like Khatami and if he is attacked he will fight back, but I didn't believe that. Now paint me a believer.
And there's more. He's not only fighting against Friday Prayers people (who are connected to the Supreme Leader), he is fighting the good fight against the Judiciary as well (also connected to the Supreme Leader).
Via another Al-Monitor article: [That site is awesome, and I'm too lazy to translate from Persian myself]:
Conflicts over Internet filtering and citizen involvement online has once again reached the highest levels of power in Iran. The president, head of the judiciary, the prosecutor-general and a number of right-wing media outlets have openly addressed the situation, with most of the criticism aimed at President Hassan Rouhani

The recent round of disagreement over the presence of Iranians online began May 17 during the National Communications and Information Technology Festival. Rouhani defended the Iranian people's online activity and criticized the harsh policies of imposing limitations on the Internet. "In this country, we recognize our citizens' right to connect to the World Wide Web," he said. "We do not actually come face-to-face with other people. Yet, the effects of cyberspace are quite visible on society and the country. It even influences people's lifestyle."

The presence of Iranians online and Internet censorship were issues heavily discussed by Rouhani while campaigning for the presidency. On June 6, 2013, he said, "The current Internet bandwidth [available] is not what the Iranian people deserve," adding, "Today we live in a world of communication. Unfortunately, however, some people think they are living in the 19th century."

[…]

"The era of dictatorship and delivering messages from one-sided megaphones, one-sided pulpits, one-sided and traditional tribunes is over."

The word "pulpit" was a direct criticism of the conservative clerics of Iran. It is therefore not surprising that only four days later the head of the judiciary, Ayatollah Sadegh Amoli Larijani, in a meeting with high-ranking judiciary officials, questioned Rouhani's position on the Internet. Although he did not mention the president by name, he chose to remind the "officials," in an advising tone, to "use logical and acceptable words when talking about the Internet, cyberspace and other cultural issues and not to get overexcited and emotional so that a proper solution can be formulated." He added, "Those who do not agree about the poison of the Internet do not know cyberspace."

The conflict between the judiciary and the executive branch of the government went beyond words when Rouhani's Communication Minister Mahmoud Vaezi refused to block the social media website WhatsApp. Gholam-Hossein Mohseni-Eje'i, the spokesman for the judiciary, directly accused Rouhani and Vaezi of having acted "unlawfully" by refusing to carry out the February 2014 ruling by the Committee for Determining Criminal Web Content (CDCWC) to block WhatsApp. The CDCWC is headed by Mohseni-Eje'i, who is also the prosecutor general.
It feels good. We have a president who fights back. But why? Let's turn to our own Ed Brayton for another piece of news:
issued a report saying that Iran has complied with the requirements of a negotiated arrangement and is now nowhere near being able to produce even a single nuclear weapon.

Iran has neutralized most of its stockpile of higher-grade enriched uranium that could be turned quickly into the core of a nuclear weapon, the U.N. nuclear agency said Friday, leaving the country with only about a fifth of what it would need for such a purpose.

The International Atomic Energy Agency (IAEA) said in a in a quarterly report that Iran now has less than 90 pounds of the material.

The report also said Tehran was meeting all other obligations under an agreement reached four months ago in Geneva that serves as a prelude to a comprehensive deal now being negotiated.

The findings are likely to be welcomed by the six powers trying to negotiate an end to the decade-old dispute over Iran's nuclear program. Iran has consistently denied any interest in obtaining atomic weapons, saying it is only interested in civilian nuclear power, something allowed under the terms of the Non-Proliferation Treaty (NPT).
As many on the right and within Israel continue to beat the drums of war and want an invasion of Iran, the International Atomic Energy Agency (IAEA) has 
I still don't know if the negotiations will succeed, but I'm certain the regime has abandoned its nuclear ambitions. So there you have it: most likely, the moderates have already won the battle over foreign policy. Unless there's a very surprising turn of events or revelation, (something you can never rule out in Iran), the foreign policy will become more and more moderate.
Now, the moderates are clearly moving in to take their share of internal policy too.
What gives him the courage? It's true that he is not the opposition leader but the president, so he should know it's reasonable to act out. I don't know.
But I'm proud to support Rouhani. Look at him now and tell me why I shouldn't support him.
EDIT:
You all have known Ahmad Khatami in this post. I can't let you go without showing his face which permenantly looks as if he's having a demonic orgasm.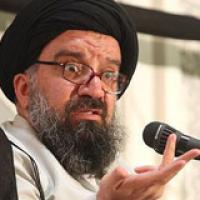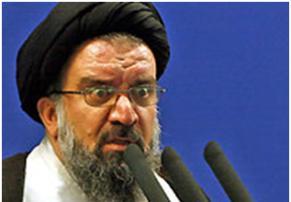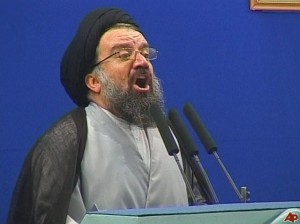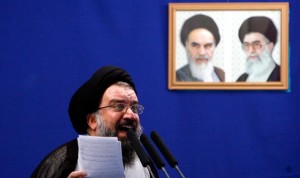 Goodbye.