I have a proxy software on my computer – it's a Kerio VPN. It starts automatically when Windows is booted, and it immediately connect me to a server somewhere which enables me to bypass Iranian internet censorship. I have another software on my android tablet – Open VPN, which helps me bypass filtering too. These are not the first anti-filer proxies that I have used, I have used many less sophisticated programs, and different ways to bypass filtering, softwares like FreeGate or Psiphone. I have used Tor as well which is painfully slow. The battle between filtering and anti-filtering has been slow and never ending, as filtering becomes sophisticated and it closes access to many simpler ways of bypassing it, people move on and use more sophisticated methods. It's a cat and mouse game, it's a game that defines every tyrannical country.
But ultimately the bypassers have always been a step ahead of the censors, and therefore it has been years since I have had to deal with the Iranian internet myself. I usually stop using internet completely – except visiting a few conservative or reformist Iranian news websites.
But many Iranians do not have access to these proxies. What would they do?
When you try to access Iran's internet, this is the page you will see: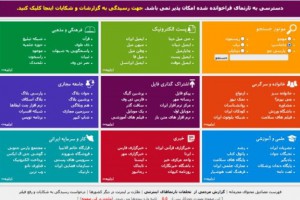 Which includes a list of unfiltered sites as "recommendation".
So one thing is clear. Almost all the pornographic sites are filtered, because sex is a sin, and of course since the whole point of filtering is banning access to free flow of information, almost all the websites that can give access to news are filtered, especially Persian ones, including BBC (in all languages), VOA (ditto), CNN, FoxNews, ABC, MSNBC, HuffingtonPost, Deutsche Welle (ditto), Euronews (ditto), and France24 (ditto). Most papers are also filtered, from WashingtonPost to Al Jazeera is not filtered, which I guess is because of their anti-Israel attitude, and also New Yorker and New York Times, which I don't why have been spared filtering, but it can said with confidence that 90% of Western news outlets and 100% of Iranian dissident, activist, and human rights sites are also filtered.
Of course, social media is also a very powerful tool for news, as I'm sure you've heard their role in Arab Spring, and the main use for many people in tyrannical regimes is political. So Facebook, Twitter, Google Plus, Reddit, Instagram, SnapChat, all are filtered.
Of course all atheist networks are filtered too. FTB, Richard Dawkins Foundation, and Science Blogs are filtered. Funny enough Skeptic Ink is not – but I think they just don't know it exists. (I guess FTB wouldn't be filtered either if not for the presence of Maryam Namazie).
Also all weblogs with WordPress, Blogger, Tumblr, or other famous blog platforms in their URL are also filtered. I guess the fact that everyone can start a blog on them has been enough reason to block them with this scorched earth policy.
But so far the filtering makes sense. It will cease to make sense from now on. All movie sites are filtered, Hollywood Reporter, IndieWire, Rope of Silicon, etc. All gaming sites are also filtered, IGN, GameSpot, Kotaku, GameFAQs, all of them. Even many of literary sites are filtered, although that is a bit rarer. Generally it seems entertainment sites are all filtered, and I found no famous website to be free.
So, what can an Iranian do with internet? They have to be content with email services, Wikipedia, New York Times, and regime-approved websites. Or they can do what I do, which is to bypass.
Ahmad Shaheed is UN's special envoy on human rights issues in Iran, and he has a short but thorough report on the situation of internet censorship in Iran (and most other issues as well). This is the important part of his report:
Millions of websites are blocked in Iran. In 2013, a study found that a wide range of websites, including sites related to health, science, sports, news, and even shopping are blocked. Almost 50% of the top five-hundred visited websites in the world are blocked, including Facebook, Twitter, and Google Plus.

A separate study concluded that Internet speed is intentionally reduced to frustrate users and limit communication. For example, Internet traffic and speeds dropped significantly in the days following the 2009 Iranian presidential election and in the weeks leading up to the 2013 election. Throttling has also been noticeable during times of international political upheaval, including during the Arab Spring.

The employment of blocking, filtering and throttling technologies by governments frequently occurs in violation of their obligation to guarantee the right to freedom of expression. As the Special Rapporteur on the promotion and protection of the right to freedom of opinion and expression, Frank LaRue, notes in his May 2011 report:

"…blocking measures constitute an unnecessary or disproportionate means to achieve the purported aim, as they are often not sufficiently targeted and render a wide range of content inaccessible beyond that which has been deemed illegal..[and] Lastly, content is frequently blocked without the intervention of or possibility for review by a judicial or independent body."
That "intentionally dropping the speed of internet" thing seems to have gotten better in Rouhani's administration, but that's the only change.