One of the ongoing battles between the Rouhani administration and the conservative establishment of the regime is internet freedom. Rouhani administration has attempted unsuccessfully to unblock Facebook and Twitter. Before Rouhani the speed of internet was slowed down intentionally, but that changed a lot during his time, the minimum speed people could but was increased and the obstacles were removed, and 3G internet was introduced. Now a conservative cleric has taken it upon himself to battle this and has issued a fatwa against 3G.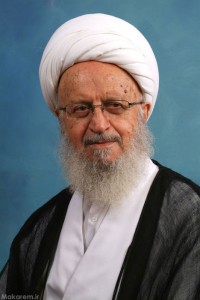 Via The Jerusalem Post:
Ayatollah Makarem Shirazi, a prominent Shia scholar, made the remarks in response to a question put to him by cyber activists, via his website.

Although Iran has the highest total number of internet users in the Middle East, its average data speed is about a tenth of the global average.

However, Shirazi said 3G — third generation mobile communications technology — and broadband internet were morally wrong, and that there needed to be standards to prevent users from dangers such as "immoral and inhumane" videos and photos, rumors, and espionage.

The Grand Ayatollah's comments come after one of Iran's largest mobile operators, Irancell, announced this month that it would test 3G services to universities and government offices, and after Iranian President Hassan Rouhani said earlier this year that Iran should upgrade its internet services.
The "cyber activists" mentioned here are regime goons who hack websites and expose anti-regime bloggers and monitor internet activity, the same people whose activities led to the murder of Sattar Beheshti, so they should actually be behind bars.
The news is also inaccurate, 3G internet is not only available to offices and universities, it's available to all citizens. All my friends have already purchased it and use it.
But more importantly, "rumors and espionage" is actually unbiased and uncensored news and dissident opinion. What Makarem Shirazi is really worried about is information going in and out of Iran, and he is wrong because that war is already over, you can't keep Iranian people inside an iron curtain anymore.
Read more: How Does Internet Look to An Iranian?