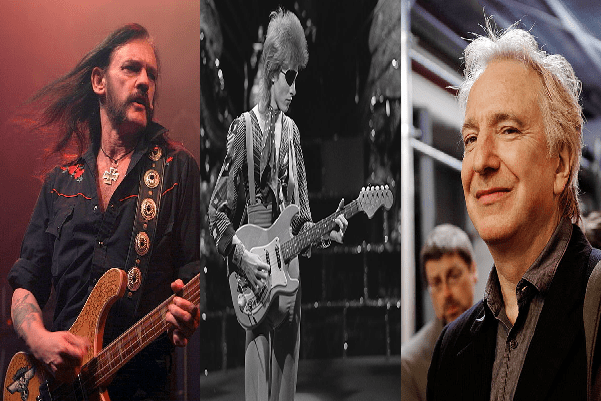 In a very short span of time, three of my favorite men died one after another, losing their lives to cancer. Lemmy's death hit me the hardest: while he was a lesser artist than David Bowie, I loved him, as a man, more. David Bowie, undoubtedly, will be among the musical giants whose name one day represent our era. And now Alan Rickman! Death is such a cruel fact, such an absurd joke, such an ugly thing. Ugh.
I have always struggled with masculinity. I've always struggled with conforming with the norms of masculinity in my life. I don't like masculinity. I'm more comfortable in the company of women than men.
But, what if, masculinity didn't have to be toxic? What would a man be, what would an ideal man look like?
In some ways, Lemmy might look to be the idol of toxic masculinity – having sex with more than a thousand women, drinking a bottle of whisky every day, gambling, partying, and singing in his ruffled voice about all this to a a background of heavy metal music. Of course, there is nothing toxic about Lemmy. He is rebellious, free, living life at extreme, gambling with the unluckiest of hands even though gambling is for fools. Lemmy is about extremes. Lemmy is about loud noises. Lemmy is to be respected.
David Bowie is a chameleon. He is fluid, he is bisexual, he changes shapes, he is always performing, and he is always evolving. One day he is a neo-Nazi white supremacist and another day he is a queer alien – the stylish extravaganza the only apparent and obvious similarity, the more implied similarity the subtle humor, the dramatic irony of a performer whose performance is primarily concerned with the act of performing itself. David Bowie is to be respected.
Lemmy and Bowie represent such polar opposites as artists – one is blunt and violent and the other is slick and subtle, one is life bared into its most animalistic sense of indulgence and id and the other is all about subtlety and wit and refinement.
And what about Alan Rickman? Well, for most people, he will be Professor Snape in  Harry Potter movies or Hans Gruber in Die Hard, a great villain/anti-hero to most, but to me he was the quintessential romantic lead.
Sense and Sensibility is my favorite romantic novel, and Alan Rickman is Colonel Brandon – to me that adaptation is a success solely because of the greatness of its cast, Kate Winslet and Alan Rickman, and how greatly Rickman embodies Austen's masterful creation. A man who's the anti-thesis of Heathcliffes and Rochesters of British romance. Colonel Brandon's love is tender, rational, kind, realistic, it's a subtle flame, but it burns forever. It's so beautiful. And Alan Rickman is so beautiful in portraying it.
Alan Rickman was a great actor. He portrayed villains with mastery, with menace, and yet you couldn't help rooting for them, and he was also a great comedian, playing comedic roles in Dogma and Galaxy Quest perfectly, but I think in portraying Colonel Brandon the lover he wasn't simply relying on his acting prowess, but also on the contents of his own heart. And all the tributes pouring in from his friends are a testimony to that. The man was tender, with a kind and big heart.
I turned away from the roles society defined for me. I sought to be a man whose masculinity was not toxic. And these great men were all such men. They were all exemplary men.
Rebel like Lemmy. Perform like David Bowie. Love like Alan Rickman. These were all mortal men, as we were so cruelly reminded recently. But they all walked their own path relentlessly, and their individuality was unique, and each perfected his craft in his own way. And this is how aspire to be live my life as a man.
Goodbye, Lemmy, Bowie, and Rickman. You made life beautiful for many. You will be missed. Goodbye, and may the light of your legacy forever shine.
Photo credits:
Lemmy:  Mark Marek Photography via Wikipedia
David Bowie: Licentie afbeeldingen Beeld en Geluidwiki via Wikipedia
Alan Rickman: Marie-Lan Nguyen via Flickr