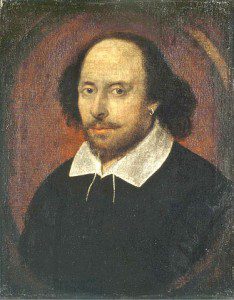 Yeah, it's weird to wish someone a happy deathday, but I'm happy to celebrate William Shakespeare at every opportunity, and since 400 years have passed since his death, I'm here to offer some interesting links for you to get your Shakespeare needs fulfilled. It's gonna be fun!
First off, no one can overstate the influence of Willy Shakes on English language. Here are 10 phrases he came up with that we still use today. Here are some words he invented, more or less.
Willy Shakes was a master of insults.
Shakespeare used food for sexual euphemism. A lot.
Now the fun stuff is over, for some great literary analysis. Stephen Greenblatt is possibly the best living Shakespeare critic, and this article he wrote is simply fantastic. It provides a history of how Shakespeare was read, and closes with his role in today's world, with a powerful retelling of a story of an Afghan theater group.
This is a great BBC series on Shakespeare. I recommend watching all episodes.
Finally, let's close with a section of this beautiful poem Jonson wrote to eulogize Shakespeare upon his death:
My Shakespeare, rise! I will not lodge thee by

Chaucer, or Spenser, or bid Beaumont lie

A little further, to make thee a room:

Thou art a monument without a tomb,

And art alive still while thy book doth live

And we have wits to read and praise to give.

That I not mix thee so, my brain excuses,

I mean with great, but disproportion'd Muses,

For if I thought my judgment were of years,

I should commit thee surely with thy peers,

And tell how far thou didst our Lyly outshine,

Or sporting Kyd, or Marlowe's mighty line.

And though thou hadst small Latin and less Greek,

From thence to honour thee, I would not seek

For names; but call forth thund'ring Aeschylus,

Euripides and Sophocles to us;

Pacuvius, Accius, him of Cordova dead,

To life again, to hear thy buskin tread,

And shake a stage; or, when thy socks were on,

Leave thee alone for the comparison

Of all that insolent Greece or haughty Rome

Sent forth, or since did from their ashes come.
I love you, Willy Shakes! Live forever in your masterpieces.