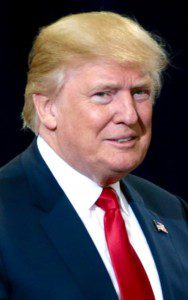 Today, Arash Sadeghi, a political prisoner, ended a hunger strike that had lasted more than 71 days. That is because the Iranian regime bent to his will and released his wife, also a political prisoner, from prison on bail. And that happened because Iranians were genuinely worried that he might die, so they took to social media to voice their concern. It became a top trending hashtag on Twitter, and the day after, some people had gathered in front of prison to protest it.
Without Twitter, it would have never happened.
Longtime readers of this blog know that I think the best comparison for Donald Trump in history is Mahmoud Ahmadinejad. Now there are many people who are suggesting ways to fight Trump, for example, John Cassidy of the New Yorker. However, I thought Americans can learn some tactics from Iranians who were fighting Ahmadinejad too.
And the most important lesson you can learn from your Iranian friend is this: don't underestimate social media.
The post-2009 election protests were all possible because of Facebook and Twitter. I'm going to assume US will not be embroiled in massive riots, but you have access to social media, so don't underestimate. Need I remind you, we were effective. Ultimately, we made Ahmadinejad's life extremely difficult, we caused the most number of people to defect from conservative to reformist/anti-regime, we completely eroded his legitimacy, and we raised the price of fraudulent elections so much that four years later a reformist won the presidency.
And, we did all that despite heavy censorship, political prisoners, and violent crackdown. These tools must be much easier to use for Americans who will not face such obstacles.
As long as American liberals/progressives stick to the destructive myth that social media is not "real" and activism on it is useless, they will be played by their opponents. Whether you like it or not, Donald Trump would have never won without social media, from the way he used Twitter, to fake news which was more shared on Facebook than real news, to armies of online right-wing trolls. But in 2009 the opposition to the regime and Ahmadinejad's administration were the ones who weaponized social media against their powerful opponent.
We had no access to the official media. Social media was our way to spread the real news of what was happening in Iran, both to other Iranians, and to the outside world. Facebook, Twitter, and YouTube helped us destroy the media monopoly of the regime, and basically make free press possible in an underground way. Our tactics were very similar to the tactics of the alt-right, except we spread real news instead of fake news.
We also used social media to organize. We used social media to come to consensus regarding the next move. We used it to storm the pages of pro-regime websites and show that there is no monopoly of views in Iran. We communicated and organized everything. Without the social media, there would be no 2009 post-election protests, no Green Movement, no President Rouhani, and no reformist-controlled parliament. We won all of those fronts through social media.
I see many liberals ridiculing Trump himself for using Twitter to do his stuff. But he does it because it works. The basket of deplorables who support Trump are not a majority, and they are geographically spread, so they need a rallying point on social media. Trump didn't win in spite of his Twitter, he won because of it.
The very fact that Trump has created multiple international crises must clue you in that this is a very powerful and important platform in the today's world.
Stop making fun of Trump for using Twitter and get on it yourself, and use it for change.