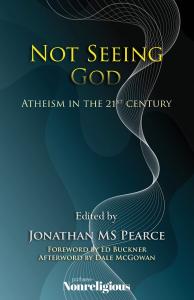 I'm pleased and honored to announce that I have contributed one article to the book Not Seeing God: Atheism in the 21st Century, edited by my friend and fantastic skeptic Jonathan MS Pearce of A Tippling Philosopher. This is what the book is about, according to Pearce:
There are some 24 writers from the ranks of Patheos Nonreligious and they have all done their bit to make this project a really good looking, good feeling, and intellectually stimulating affair.

There is a great variety of writing and subject matter on offer, here, with the first section (Part One: DECONSTRUCTING GOD) dealing with philosophical, moral and theological issues with the God concept. The second section (Part Two: REFLECTING ON GODLESSNESS IN MODERN SOCIETY), deals with atheism within various contexts in modern society, from cinema to the military, politics to education. The final piece of the puzzle (Part Three: LOOKING TOWARD A FUTURE IN A GODLESS WORLD) asks the reader where we go from here, and seeks to give a few answers.
Among the writers there are many great ones that I'm honored to call friends, such as Matthew Facciani, Jeana Jorgensen, Dan Fincke, Andrew Hall, Galen Broaddus, Andrew Spitznas, Stephanie Savage, and of course the eminent and great Dale McGowan who has contributed the afterword.
Obviously, my article deals with Islam and is titled "Politics and Religion: Not Seeing God in the Islamic Republic". In my article, I want to show that how for someone like me who lives in Iran, politics and religion are too inseparable things. Get the book to read it!
Here is the Amazon link.