Exploring the Favorites is a series of posts on this blog which will explore my favorite pieces of media, from books, films, games, music, etc. It's not meant to be a review of criticism, but simply state how I connected with the work on a personal level. Be warned that there will be spoilers. The third episode is on Philip Roth's novel, American Pastoral. Read the previous installments, on Blood Meridian and Easter 1916.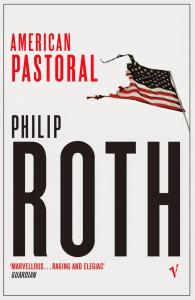 When I first finished reading Philip Roth's American Pastoral, I thought that this might be the greatest novel ever written. It is a novel you can't describe with one word or epithet, as it covers a vast range of subject matters, emotions, and truths. It is at the same time a family tragedy, a history of the United States and the world, and a book about writing. It is at the same time personal and historical and political and literary. And it can be sad and enraging and comical, it can move you or make you sad or make you shake your head at what goes on in the world. Each chapter could be analyzed as a separate entity, and as a force together they are a compelling and crippling novel.
The back cover of the book describes it thus:
In American Pastoral, Philip Roth gives us a novel of unqualified greatness that is an elegy for all the twentieth century's promises of prosperity, civic order, and domestic bliss. Roth's protagonist is Seymour 'Swede' Levov – a legendary high school athlete, a devoted family man, a hard worker, the prosperous inheritor of his father's Newark glove factory – comes of age in thriving, triumphant post-war America. And then one day in 1968, Swede's beautiful American luck deserts him.

For Swede's adored daughter, Merry, has grown from a loving, quick-witted girl into a sullen, fanatical teenager – a teenager capable of an outlandishly savage act of political terrorism. And overnight Swede is wrenched out of the longed-for American pastoral and into the indigenous American berserk. Compulsively readable, propelled by sorrow, rage, and a deep compassion for its characters, this is Roth's masterpiece.
I said the novel can be emotional. At one particular instance I cried so hard that I had to stop reading the book.
This is a ruthless book which deconstructs (even decimates) the political and cultural background of America in that era. It is a book about trauma and terrorism, about the aspects and the consequences of political inaction and extremism we rarely see but they are the real consequence. The book is cruel in condemning everyone, and it shows a nation brought to a haul. It's written before 9/11 but it can be read as the ultimate 9/11 novel. It must have been shocking to Roth to see his book coming to flesh in front of his eyes. This books is seriously a downer and if you're looking for solace, you've come to the wrong place, as it uncovers all ugliness uncensored, its unflinching objectivity and truthfulness gives the novel a force you can barely cope with.
But despite its cruelty, the book is sympathetic to all its character, from the terrorist daughter to the mourning father to the traumatized mother, from the overbearing idealistic grandfather to the bitter disillusioned uncle. No one is good, or great, or right, everyone is trapped by the severity of the situation and yet everyone is someone to be cared for and sympathized with too. Ultimately it is in this humanity that the real strength of the novel resides — in this brutal honesty of dealing with human emotions.
And the writer character – Nathan Zuckerman – reminds us of how the novel came to about, so there is another layer of commentary about literature and its characteristics. It reminds us of the unreliability of narration, of the reconstruction of a fiction. In that sense, it is a great postmodern book too.
Everything you love about Roth is here – everything you love about literature is here. This is what I think separates this book from all others and makes it such a fascinating masterpiece: it's a counter-culture rebellious book, similar to George Orwell or early Roth novels such as Portnoy's Complaint, it's a family drama with deep emotional intensity and complex human relations like a Henry James novel or Roth's Sabbath's Theater, and it's a postmodern meta-fiction masterpiece like Margaret Atwood's The Blind Assassin.
So if someone tells me you have to give one book, and only one book, to an alien to read, I'll choose this one, because it seems to condense most of varied literary greatness into one deeply moving novel.
Also read: my obituary on Philip Roth