Ask yourself the question: Are you truly thankful for Jesus? If you're anything like me, this question draws a somewhat suspicious auto-response. It goes something along these lines. "Yes, of course I'm thankful for Jesus. He died on the cross for my sins. He gave me new life. Jesus is the reason for the season. How could I not be thankful?"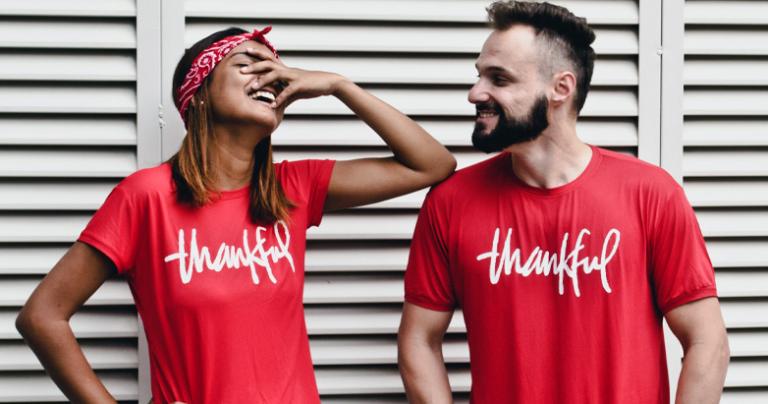 My new book The Art of Marketing Jesus is all about being totally genuine, so instead of just assuming we're thankful for Jesus, let's measure our gratitude against a real-life biblical example. I encourage you to read the story of the woman with the alabaster jar of perfume located in Luke 7:37-47 and then keep reading this article.
The story shows a woman who did not merely wear thankfulness on the outside like a trendy fashion gimmick. She embodied gratitude in ways that can be visibly seen. The following three indicators from her example can help believers today take a closer look at their own level of thankfulness.
#1: Thankful People Are Not Afraid to Take Chances
"A woman in that town who lived a sinful life learned that Jesus was eating at the Pharisee's house, so she came there with an alabaster jar of perfume" (Luke 7:37, NIV).
It's hard to describe the level of risk this woman took by merely showing up at the Pharisee's house. The fact that she was a well-known sinner (likely a prostitute or harlot) would keep most people away from attending a "church" party. It didn't take a rocket scientist to know that she would be harshly judged by some of the people in attendance. Regardless, she came to the house anyway to worship Jesus.
Thankful people are not afraid to step out of their comfort zone when it comes to drawing closer to Jesus. They don't allow the awkward stage of visiting a new church, joining a small group, or volunteering to serve keep them from being courageous. Are you willing to take chances for Jesus?
#2: Thankful People Don't Care What Others Think
"As she stood behind him at his feet weeping, she began to wet his feet with her tears" (Luke 7:38(a), NIV).
It was one thing for the woman to attend the dinner party, but what she did next was outright embarrassing. As the religious men (including Jesus) reclined at the table, she began to wet Jesus' feet with her tears. Imagine being at a private party and having a woman cry all over one of the important people in attendance. This was an awkward moment to say the least. Regardless, she did not hold back her tears of gratitude.
Thankful people don't care what others think when it comes to expressing their love for Jesus. They raise their hands high during service, lift their voices in worship and even bust into a full-blown ugly cry when the Spirit moves on their heart. Thankful people care more about what Jesus thinks than what others may think. Are you willing to look foolish for Jesus?
#3: Thankful People Are Willing to Make Great Sacrifices
"Then she wiped them with her hair, kissed them and poured perfume on them" (Luke 7:38(b), NIV).
After crying over Jesus, the woman then poured the entire jar of expensive perfume on His feet. This really made the religious people upset. Theologians estimate the perfume was worth somewhere between $50,000 to $100,000 in value. That money could have been used to feed thousands of hungry children or fund an important missionary work. Not to mention it was likely the 0nly thing of material value the woman possessed.
Thankful people are willing to make great sacrifices to honor Jesus with their lives. They don't hold back their time, talents and treasure from the Lord. They understand that every good thing comes from God, so they give generously. Are you willing to adjust your life for Jesus?
How to Be More Thankful for Jesus
"Therefore, I tell you, her many sins have been forgiven—as her great love has shown. But whoever has been forgiven little loves little" (Luke 7:47, NIV).
The woman showed enormous gratitude because she knew her sins were many. The Pharisee, on the other hand, did not recognize his need for a Savior. Thankfulness only comes after we receive God's love into our hearts.
If you want to be more thankful for Jesus, begin the process of grasping how wide and long and high and deep is the love of Christ. Develop an unwavering focus on God's love for you (not the other way around). The more you discover the strength of God's love for you, the more thankful you will become. Need encouragement? Watch my message on being Thankful for Jesus.
Do you feel burnt out trying to perform better to please God? Learn how to live spiritually free and attract people to Jesus. Sign up for Robert's free, 3-part video series today, derived from the book The Art of Marketing Jesus.