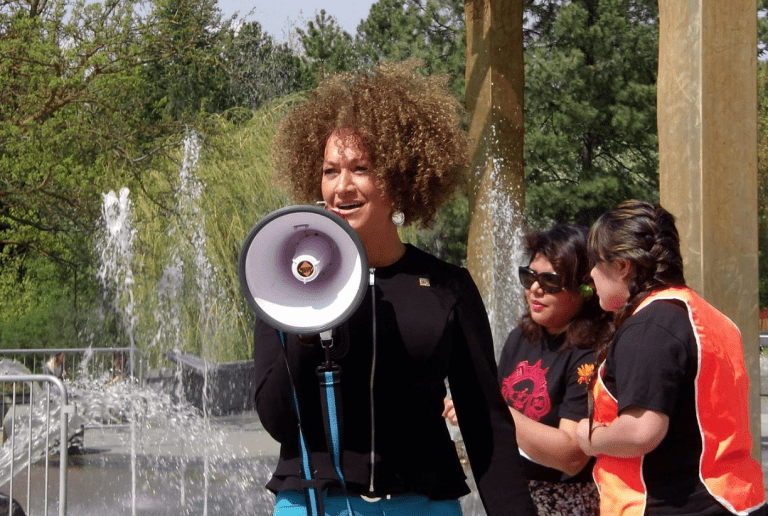 You might want to sit down for this.  
Rachel Dolezal, who-posed-as-a-black-woman-even-though-she-is-as-white-as-the-driven-snow, has been charged with welfare fraud and perjury:
Former Spokane Chapter NAACP President Rachel Dolezal is now facing legal trouble that could land her behind bars. KHQ has confirmed that Dolezal, who legally changed her name to Nkechi Diallo in 2016, is accused of 1st Degree Theft by Welfare Fraud, Perjury in the 2nd Degree, and False Verification for Public Assistance. Her potential punishment under RCW 74.08.331 could include up to 15 years in prison.

Because Dolezal changed her name, we'll be referring to her as Nkechi Diallo. According to court documents, Diallo illegally received $8,747 in food assistance, and illegally received $100 in childcare assistance. Total restitution, according to the documents, is $8,847, allegedly stolen from August 2015 through November 2017.
Wait, what?  So, this reporter is telling us that Dolezal isn't what she says she is?  Say it ain't so.
The investigation into Diallo's alleged theft started in March 2017 when a DSHS Office of Fraud and Accountability investigator received information that Diallo had written a book that got published. The investigator said he'd heard Diallo say she was getting public assistance, but also knew that a typical publishing contract included payments of $10,000 to $20,000.

The investigator conducted a review of Diallo's records and found she'd been reporting her income was usually less than $500 per month, in child support payments. At one point when asked as to how she was paying her bills, she reported, "Barely! With help from friends and gifts."
When a subpoena for her financial records, the truth was revealed. Dolezal had deposited about $83,924 into her bank account in several smaller installments between August 2015 and September 2017.  Of course, she didn't report this income to the Department of Social and Health Services. The money came from her book, speaking engagements, soap making, doll making, and art.
Doll making?  I just looked up her doll, which come in a variety of skin tones.  I guess if Rachel was getting one for herself, she'd get one of the white ones.
Anyway, this is just another sad chapter in the life of a troubled, deceptive soul. Hopefully, it's a wake up call for her to start facing the realities of her life.
Image Credit: By Aaron Robert Kathman [CC BY-SA 4.0 (https://creativecommons.org/licenses/by-sa/4.0)], from Wikimedia Commons
Hat Tip: KHQ