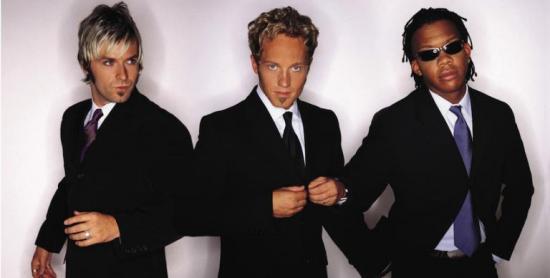 "They were The Beatles of Christian music."
Talk to anyone who grew up in '90s Christian subculture and you're likely to hear this phrase when you mention dc Talk. There's some truth to it. The trio of Toby McKeehan, Michael Tait and Kevin Max — formed while the three were students at Liberty University — was the closest thing the contemporary Christian music (CCM) industry had to a superband.
Where Jars of Clay was esoteric, dc Talk was mainstream. Where switchfoot was content for its spirituality to be subtle, dc Talk boasted "explicit Christian lyrics." Where Audio Adrenaline and countless other bands were often derivative of "secular' radio, dc Talk's "Rap-Rock-and-Soul" was a novel combination for CCM. Unlike other groups, which continue today under changing lineups, dc Talk was in and out in less than 10 years. Like the Beatles, who altered the course of rock and roll in a decade and then disbanded, dc Talk changed the face of Christian music and then went their separate ways. The band was one of the few Christian groups to play MTV and receive positive notices in publications such as Entertainment Weekly. So it only makes sense that when you talk Christian music, you start with the biggest band.
Early Days — CCM's Nu Thang
dc Talk was like nothing I'd ever heard before — then again, I was 10 and I hadn't heard much.
My aunt and mother, sensing that their children would be exposed to music outside of Disney or Alvin and Chipmunks, decided to indoctrinate us into the world of CCM one Christmas. My brother got a VHS cassette of music videos featuring Michael W. Smith. I got a collection of videos from Degarmo and Key, CCM's answer to Hall and Oates. I wasn't exactly thrilled, but I still played the video out of curiosity. Several songs deep, however,I was stunned by a song from another group, featuring a white rapper and two singers. From those first keyboard blasts of "Heavenbound," I knew I was listening to something special.
It's hard to state what a blast of energy dc talk was to the Christian music scene. The style of most CCM at the time, from what I remember, wasn't aimed at youth but at their parents. Michael W. Smith and Amy Grant were singers you could listen to with Mom and Dad. Petra was billed as rock and roll, but it was dad rock all the way. I suppose there was Stryper, but that was still pointed toward the heavy metal lovers, not kids listening to Run DMC.
dc Talk was the first Christian group doing music that I liked — and, as is the case with any good band, it was music my parents hated. They were unsure about the whole rap thing in general (I hate to be cynical, but part of me wonders how many parents felt better about buying the CD knowing Toby was white). When I asked for a dc Talk CD, my father actually bought me a Glad acapella album so I'd have something a bit more Christian-sounding to listen to. But they were fine so long as we kept the volume down. The parental annoyance was probably a badge of honor.
Listening to the self-titled debut album nearly 30 years on (and about 25 years after my last listen), I cringed. Aside from the energetic "Heavenbound" and the beat-box-backed "Time Ta Jam," the album is rough. The vocal mixtures of Tait and Max — the "secret sauce" that made dc Talk more than just a Christian rap band — had not been perfected yet. Sure, Tait belts out the chorus on "Praise Him" and Max delivers one heck of an "Allelujah" elsewhere, but this is McKeehan's project through and through. Unfortunately, Toby hadn't quite mastered his delivery, and the result is a brash, shrill rapper who comes across as more obnoxious than confident, far from the talented entertainer McKeehan would later prove to be. The album isn't terrible, but its dated stylings and the grating rap prove why the trio abandoned mentions of this album almost immediately.
Christian music didn't quite know what it was doing in its early days, and it shows here. There's always been the push-pull between worship, entertainment and evangelism. Like young seminary students, dc Talk leans hard into preachiness, delivering rhythmic sermons instead of spiritual contemplation. Every song is either centered around the mistake of being a nonbeliever ("Spinnin' Round," "Final Days"), a flat-out altar call ("Gah Ta Be"), or pious boasting ("Time Ta Jam"). The album closes with "Jesus Loves Me," which boasts a killer gospel chorus by Tait but also features one of McKeehan's most ill-advised raps. The album has slight hints of what the group would become, but overall it suffers from that CCM problem of sounding like preachers trying to be cool with the kids of the day.
The group's second album, "Nu Thang," was released just a year later, and is responsible for the greatest thing ever put on the internet.
"Nu Thang" is not great, but you can see dc Talk emerging as the group's "Rap, Rock and Soul" aesthetic begins to coalesce. There's still rap on every song, but it's more often used as an accent, not the main event. The group drives into rock on "No More" and "Walls," the latter being the first of their many attempts to address racism. "Children Can Live (Without It)" gives Tait a chance to shine and "Can I Get a Witness" is a fun gospel-flavored number that hints at the standout title track on the group's next album. McKeehan has also honed his skills, bursting out with a more confident, powerful voice that anchors the ensemble instead of overshadowing it.
Lyrically, the group still hasn't learned embraced subtlety (to be fair, they never did). The opening track "When dc Talks," is fun, but the electronic voice chirping "We Got Some Nonbelievers Out There" tips its hand at the proselytizing to come. In "He Works," McKeehan brags about how now that he's a Christian he doesn't smoke pot or hang with his non-Christian friends. It comes off condescending and self-righteous. "Things of This World" is an anti-materialism sermon that gets by on a haunting melody, and "Talk it Out" might be the nadir of dc Talk's library. A song about talking to your parents if you're having problems, it feels like pandering to Christian helicopter parents. That said, there are far more hits this time. "Walls" is on the nose, but its attempts to address racism are admirable. I've already talked about "Can I get a Witness," and the title track is great fun. Playfulness fuels the album's standout track, "I Luv Rap Music," which seems designed to placate skeptical adults, but still holds up as a Fresh Prince-inspired jam.
Two albums in, dc Talk was starting to make a stir in the CCM scene. As Forefront Records began to sign groups like Audio Adrenaline and make its mark, dc Talk was touring with some of Christian music's biggest acts. Christian music was making a shift that would change the music world … at least for many '90s youth group kids. But its biggest moment was still to come.