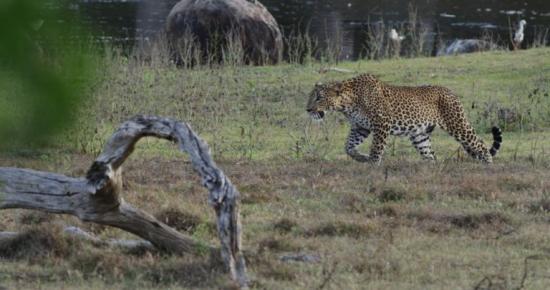 I will be completely honest: I wasn't expecting much with "The Riot and the Dance." A nature documentary featuring a regular contributor to Answers in Genesis, I worried it would be a lecture set to visuals, an argument instead of a celebration. As someone who doesn't share all of the views of its main contributor, I thought I'd have an antagonistic response and would be unable to judge it fairly.
Instead, I found myself wishing I was watching it on something bigger than a laptop, where I could see the gorgeous visuals in crystal clarity. I wished I wasn't alone on my couch but in a theater with friends. I was not annoyed but moved to worship and in awe of the creativity of our great creator.
Audiences will have the chance to see it as intended — on the big screen, with fellow audience members — when "The Riot and the Dance" premieres at a one-night-only special event hosted by Fathom Events at select theaters March 19. Whatever your view on the origins of the universe, it's an experience you shouldn't miss.
Can you believe this exists?
The film takes its title from a textbook authored by Gordon Wilson, Ph.D., a biologist and professor at New Saint Andrews University (the film is directed by popular fantasy author N.D. Wilson, Gordon's nephew). Wilson is a devout Christian who regularly writes for Answers in Genesis. At a few moments in the film, he talks about professors who told him he'd never be able to call himself a biologist if he continued his anti-evolution stances. In interviews* he talks about his frustration with "secularists" and his problems with Darwinism.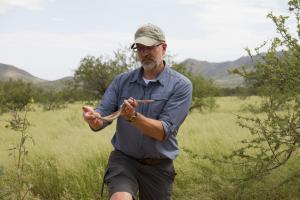 But aside from a few brief comments near the start, Wilson isn't here as an apologetics teacher (the film is not produced by Answers in Genesis). And while he has several opportunities to put his scientific knowledge of reptiles and various other species to work throughout the documentary, the overall tone is that Wilson also isn't here as a teacher. Instead, he wades into the bogs of Idaho, the Sedona Desert of Arizona and the jungles of Sri Lanka as an admirer of God's handiwork. "The Riot and the Dance" takes it cues not from the scientific information inside Wilson's text but from the poetry of its title, stopping to marvel at the oddity and majesty of nature and be humble before its danger and strangeness.
"The Riot and the Dance" is less "here's why everything's here" and more "Can you believe this exists," as Wilson exhibits a childlike wonder at giant lizards, tiny frogs and treefuls of bats. We often think of scientists as reserved and aloof, but Wilson's nearly giddy as he treks around the world, eagerly taking it all in. He's energized by creation. After all, he says, "To be bored in this world is to be boring in this world."
And "The Riot and the Dance" is never boring.
Magnificently wasteful
"The Riot and the Dance" starts out in Wilson's own backyard, follows him as he trapses through bogs and swamps, and then takes off to the other side of the globe. Wilson fishes tadpoles out of a backyard pond, marvels over rare snakes in Arizona, and takes a long-desired trip to Sri Lanka get an up-close look at incredible creatures in the jungles.
The film captures these moments in crystal-clear photography, taking time to admire the blue turquoise hues on a lizard's scales or stand back in respectful fear of a lunging cobra. Rather than deliver a sermon or underline every moment with a doctrinal dissertation, N.D. Wilson refers to this as a tour of "God's museum," simply standing back to admire what a creative and inventive creator has made. The diversity and beauty captured is simply astonishing. Many times, I wished that I was watching the film with no narration and simply a classical music score, not because Gordon Wilson's narration is bad (it's minimal and often humorous) but because I wanted to be caught up in the moment and lost in worship. It's rare for a film to provoke such a visceral response from me, and I'm someone who spent 13 years reviewing films.
What "The Riot and the Dance" brings to mind is what I've heard called the magnificent wastefulness of God. God could have created a perfectly utilitarian universe. He didn't need to make the sky a beautiful blue or make food taste so good. He didn't need to give lizards intricate scales, fill our forests with teeming wildlife or make each species of snakes so diverse. But he did. Why? We may never know; perhaps just to make us stare at it with wide eyes and open mouths, our hearts amazed that the world is full of such creative, entertaining and astonishing sights.
Genesis and Job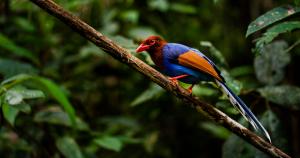 The title "The Riot and the Dance" speaks not only to the beauty and wonder of creation but also its danger and unpredictability. Wilson is in awe of lizards, but he's also well-aware of the dangers posed by venomous snakes and other creatures, as well as the contentious biblical history between humans and serpents. "The Riot and the Dance" acknowledges the way beauty and danger kiss, and how unsafe we sometimes are in a world awaiting redemption.
It's perhaps easy to assume that a faith-based film about nature would draw our minds back to the Bible's creation accounts. But more often than not, "The Riot and the Dance" brings to mind the final passages of Job. We live in a fallen world under the curse of sin. Amazing animals can be breathtaking but also dangerous. Creation is full of beauty but it also groans under the weight of sin, crying out for redemption. We can take a moment and sit in wonder inside a theater, but we might leave to return to lives fraught with sickness, pain and conflict. Where is God in all this, we might ask, only for him to draw our eyes to the wonders of the world and remind us who is in control of it all.
Those passages were front of mind for N.D. Wilson, who was diagnosed with a brain tumor during filming. He said he recovered from surgery while writing the narration, and said his mindset was definitely changed. The result is awe and respect of the beauty and unpredictability of nature, tempered with a reverence for the one who holds it all together.
This is only the first part of "The Riot and the Dance." A second part, focusing on the seas, is currently in production. One wonders if Job's words about Leviathan will come into play.
"The Riot and the Dance" will play at select theaters on March 19 and feature a special fllmed discussion afterward. Find out more at Fathom Events.
*   I had the opportunity to interview both Gordon and N.D. Wilson about the film. Unfortunately, technical difficulties made my audio unavailable to me before I could transcribe them. I'm hoping to recover them before the film is released; I'd love for you to be able to hear them. Lesson learned: When recording interviews via your cellphone, upload them to the Cloud immediately after.