While President Obama was raised by a humanist, Donald Trump had a very different upbringing under the tutelage of his father, Fred Trump.
Woody Guthrie: By Al Aumuller/New York World-Telegram and the Sun (uploaded by Wikipedia user: Urban). Donald Trump: Gage Skidmore.
Indeed, you can think of The Donald as Bizarro Barack.
Fred Trump bankrolled his son Donald as he endeavored to branch out from the lower-middle class housing business his father built. And again when his son's Trump Castle casino was failing.
The money from the Trump family empire was built upon racial exclusion, which shouldn't be surprising considering that Fred Trump was once arrested at a KKK rally.
And as revealed during the presidential primary, the Trump family business was sued by the Justice Department for violating the Fair Housing Act in 1973. They were accused of systematically discriminating against minorities renters in their properties.
The suit was settled by Donald Trump, who had taken the helm of the business by this time. Yet this was far from the first occurrence of racially exclusionary Trump family business practices.
Sadly, the world wouldn't learn of ever-humanistic Woody Guthrie's scathing poems/songs he wrote blasting "Old Man Trump" for not renting to minorities until many decades after his death from Huntington's disease.
I suppose that Old Man Trump knows just how much racial hate
He stirred up in that bloodpot of human hearts
When he drawed that color line
Here at his Beach Haven family project

Beach Haven ain't my home!
No, I just can't pay this rent!
My money's down the drain,
And my soul is badly bent!
Beach Haven is Trump's Tower
Where no black folks come to roam,
No, no, Old Man Trump!
Old Beach Haven ain't my home!

I'm calling out my welcome to you and your man both
Welcoming you here to Beach Haven
To love in any way you please and to have some kind of a decent place
To have your kids raised up in.

Beach Haven ain't my home!
No, I just can't pay this rent!
My money's down the drain,
And my soul is badly bent!
Beach Haven is Trump's Tower
Where no black folks come to roam,
No, no, Old Man Trump!
Old Beach Haven ain't my home!

–Woody Guthrie
The Trump Tower referred to in "Old Man Trump" was not Donald Trump's Manhattan skyscraper. Indeed, it wasn't about The Donald at all, but his father, Fred–otherwise known as Old Man Trump.
Cue the theremin music.
In December of 1950, Woody Guthrie moved into the woefully misnamed, whites-only, Beach Haven apartments, which he liked to call Bitch Haven. Yes, the poet laureate of the Dust Bowl was writing about Trump Tower when Donald Trump was constructing towers out of wooden blocks (or knocking down those built by others).
After all, Twitter was more than half a century in the future.
The building of these apartments–as well as Fred Trump's other residential properties–was financed by the federal government as post-war housing for GIs (of which Woody was one). I wonder if Ben Carson would've approved that now?
A Legacy of Racial Division
"My legacy has its roots in my father's legacy."–Donald Trump.
That legacy was paved with racism and the social Darwinist view of society our new president was raised with by Old Man Trump (as referred to in in President Trump on the award-winning PBS program Frontline).
While it's clear that the Donald is far from religious, he has the sociopath's instinct for pandering to deeply-held prejudices and beliefs.
Yet, there a hopeful side to Trump's cynical opportunism. Though he doesn't seem to care about much beyond himself, that endows him with a finely-honed instinct for self-preservation. If he senses that his false image as a (supposed) billionaire man of the people is being tarnished, he will do whatever is necessary to change the narrative.
Witness Trump's lies about not leaving people dying on the street after Obamacare is repealed.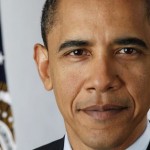 See also:
Barack Obama: Waving Goodbye to the Humanist-in-Chief
Woody Guthrie couldn't shame Fred Trump into changing his discriminatory ways. The Justice Department won their suit, but didn't persuade Donald Trump from running the most racist campaign in modern memory.
But the only thing that can save us from Donald Trump worst instincts is his enormous ego itself.
I will end by giving Woody Guthrie his final revenge against Fred Trump. While the Guthrie Archive lists this excellent video by Ryan Harvey as the official version of "Old Man Trump" set to music, I prefer the above video by the Missin' Cousins. It combines two of Woody's social protest songs, and is set to the intended original melody, Guthrie's great "I Ain't Got No Home," in keeping with Guthrie's very traditional use of old melodies with his own brilliant lyrics.
Take that Old Man Trump! (I'll let you decide which one.)
As Woody Guthrie's guitar famously proclaimed, This Machine Kills Fascists.
---
For as little as $1 a month, you can help feed a starving writer. Please consider supporting my work on Patreon.