Here is my very first meme. Ah, the first time is always so special….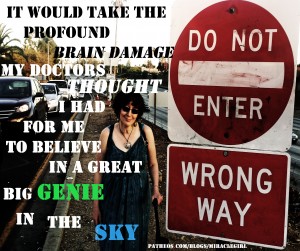 I spent many hours futzing away at this one (though I learned how to create the above design more easily in the process). Still, for my second meme, I decided to go for a bold and simple layout .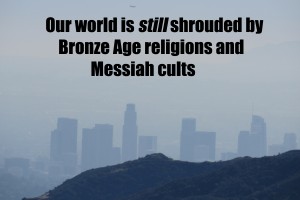 Now, I've never been one for jumping into the trendy. But memes have been around for long enough that they hardly qualify anymore.
At any rate, Patheos bloggers have recently been encouraged to make memes. Many are old hands at this, but I was never tempted to take a dip in the meme pool until now.
I have to admit it's been kind of fun — and certainly creative — to put these together. Though I have a hard time tamping down my compulsive perfectionism while creating memes. (My perfectionist OCD was much worse before my dermatomyositis, strokes, and coma. Now, I'm much more likely to cut myself some slack, and not try to get absolutely everything perfect to a T.)
In any case, many of you are also inveterate veterans at making and/or sharing memes. I'd like to hear your feedback. Let me know what you think about my first two meme attempts and any changes you think I could or
should
make.
Is the text readable? And are the images appropriate? Would a different image or background work better?
What's your favorite Miracle Girl quote (approximately)? Are there any quotes or snippets of mine that you think would make a great meme? Are there any images I've used that you particularly liked?
And speaking of liking, if either or both of these two memes strike your fancy, meme away, meme away.
If you're like me, you're now hearing…
In the jungle,

The mighty jungle,

The lions sleeps tonight.
---
For as little as $1 a month, you can help feed a starving writer. Please consider supporting my work on Patreon.