I don't live in Virginia. Odds are, you don't either. But we all have a stake in the Northam/Gillespie governor's race. You don't have to be a liberal (which Northam isn't). Nor do you need to even be a Democrat. If you're a human being who doesn't want to see Trump's brand of racist politics ascendant you should be rooting for Gillespie to lose.
Ed Gillespie nearly lost his primary to the racist panderings of his opponent, Corey Stewart. The former RNC Chairman learned his lesson. He promptly ripped up his establishment playbook and went all in with the Trumpian creed.
In a very real way, Donald Trump is the third man in the race.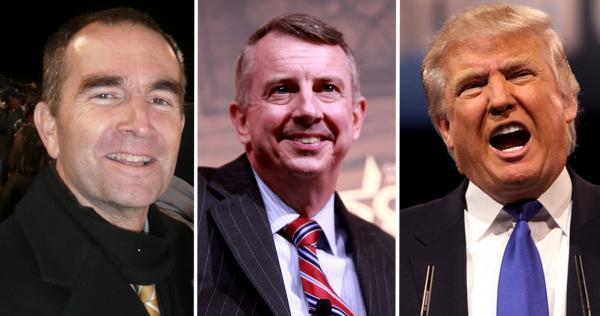 If you saw Gillespie's ads, you would think one of the greatest threats to our country was NFL players taking a knee during the national anthem. Ralph Northam would be setting up sanctuary cities for MS-13 gang members. And encouraging pedophilia, too.
Gillespie claims that Northam supports sanctuary cities where Salvadoran MS-13 gang members would have free reign to rape and murder Virginians. (Gillespie admitted in a debate with Northam that Virginia has exactly…zero sanctuary cities.) And Northam has publicly stated that he opposes sanctuary cities.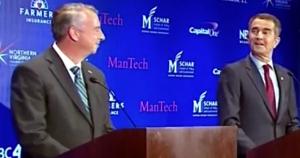 Believe it or not, Gillespie has even accused the pediatrician of being soft on pedophiles. The stance in question is Northam's support of returning voting rights to felons. Gillespie can't very well openly argue against the real issue — the disenfranchisement of African-Americans who have paid their debt to society.
That would too transparently racist even for Gillespie.
Ed Gillespie also took up Stewart's battle cry against the removal of Confederate statues…in a state still healing from the white nationalist violence of Charlottesville. But beyond the tragedy of Virginia falling prey to such retro-racist politics, the real danger is the message a Gillespie win would send to Republicans nationwide. And its wide-ranging effects would reverberate far beyond state politics.
The prospects of droves of Republican congresspeople diving off the electoral cliff like Bob Corker and Jeff Flake were already slim. But what about opposing Trump administration initiatives or criticizing his next comment proclaiming that "some very fine people" participated in a white nationalist and Neo-Nazi rally? And his claims that both sides are to blame for the violence?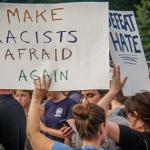 See also:
Racial Tolerance: Charlottesville Was NOT a Total Eclipse of the Heart
Do we really want to see white nationalists further emboldened?
The Northam/Gillespie race has become a proxy fight for GOP and Democratic Party politics and the 2018 midterm elections.
As the Washington Post notes:
Historical trends suggest that if Republicans win the governor's office in Virginia on Tuesday, they will likely keep the House of Representatives in 2018. Ferguson, a Virginia native, points out that the last three times the House has switched power, so did the Virginia governor's mansion a year before. Going back to Lyndon B. Johnson's election, nearly every time one party won the White House, the other party won the Virginia governor's race the next year, he said.
Even more importantly, if embracing Trumpian racial division is successful in Virginia, it will become the new GOP playbook.
Conversely, as WaPo adds:
If Northam wins Virginia's governor's race, Democrats can finally say they ran an anti-Trump campaign on a statewide level and won, a playbook they will try out again and again in next year's key congressional and gubernatorial races. If Northam loses a race that arguably favors him, well, Democrats may have to start from scratch on how to defeat Republicans in the era of Trump.
If Gillespie wins, anti-Trumpism loses.
Northam/Gillespie: Yes, Virginia, Your Election is Really National
I'll have to confess that, until recently, the Northam/Gillespie gubernatorial contest has existed at the edge of my political awareness, like an object barely detected on the periphery of vision. It was the ripple effect that would be set off by an upset Gillespie win that brought the race to the front and center of my attention.
It was no freak event when Hillary Clinton won Virginia by five points. (In fact, it was the only Southern state she didn't lose.) That's because the Old Dominion State has been liberalizing for years.
Virginia is virtually a suburb of Washington, DC. The neighboring state is home to many politicians, bureaucrats, and other federal employees. These factors — plus demographic shifts — mean Virginia is far from a deep-red Southern state. Indeed, the state currently has a Democratic governor, under whom Ralph Northam serves as Lieutenant Governor.
Whatever the outcome, it's certain that the results will be oversold. Even a narrow loss for Gillespie will be spun as a victory for Trumpism. (Just as surprisingly narrow losses in Red State special elections have been seen as a sign of a motivated Democratic base.)
This outcome is entirely possible, despite evidence of an enthusiasm gap favoring Democrats.
Gillespie has narrowed from what looked like a trouncing into a tight race. And he's accomplished his resurrection with culture war tactics dug up from decades past. The ghost of Willie Horton hangs over the Northam/Gillespie race.
It seems, Virginia isn't just for lovers, but haters, too.
We can't let the same be true of the nation at large. The character of our country is at stake.
Update: The tight race showed by polls ended in a surprisingly strong victory. For Ralph Northam.
Now it's the GOP's turn to wring its hands.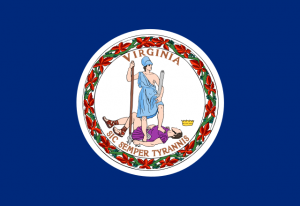 ---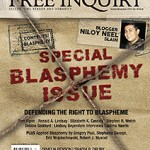 If you like my writing, please consider supporting my work on Patreon. For only $1 a month, you can follow my recovery while you enjoy wildlife, nature, and garden photos, gifs, and panoramas, as well as other exclusive content. A pledge of $5 brings you the pre-publication versions of my Free Inquiry essays. Click here for more rewards: