I should've been rolling my eyes, singing refrains of "I Hate Christmas" along with Oscar the Grouch and nodding as Oscar growls, "That slushy nonsense makes me ill." After all, the theme of this 1978 "Sesame Street" Christmas special discourages skepticism and inquiry, while encouraging blind faith.
Big Bird learns not to question how Santa squeezes down narrow tenement chimneys after he waits on a roof in a snowstorm to find out for himself.
I think I froze my giblets! Big Bird exclaims, laying an off-color Easter egg for the adults in the audience.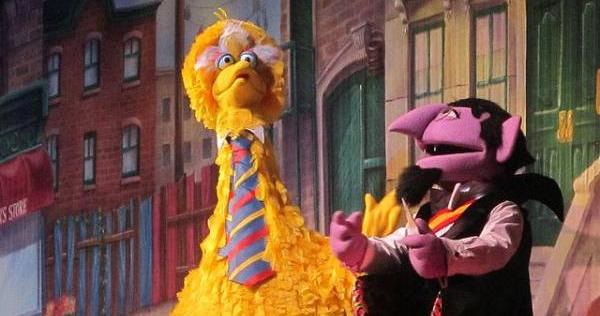 When the cast sings of Christmas decorations as a "True Blue Miracle," surely I should've been agreeing with my fellow Grouch when Oscar later croons of Santa:
I'll tell him where to put his toys.
Instead, I found myself smiling nostalgically as I spent Christmas Eve on Sesame Street* while spinning monotonously on my stationary bike. Like the Silver Age Flash, I traveled back in time as I pedaled, though hardly at superspeed. (Yes, I know Barry Allen used a Cosmic Treadmill.)
Though I was going nowhere fast, time had moved on since the late seventies.
Big Bird is the still the same, of course, if now relegated to second or third fiddle. Mr. Hooper died along with the actor who gave him so much grandfatherly life. "Sesame Street" famously faced Will Lee's death head on. With the aid of psychologists, the show sensitively helped children to cope with the death of a beloved character — and with personal losses they may have to weather in real life.
(I couldn't help tearing up when I watched this scene in "I Am Big Bird: The Caroll Spinney Story." This sweet and moving documentary is must-see TV for "Sesame Street" fans.)
Typical for "Sesame Street," the Christmas special presents acceptance of religious diversity in a natural, non-preachy way, as Bob warmly wishes Mr. Hooper a Happy Hanukkah with a friendly wink. A personal aside: I can't remember if Mr. Hooper's ethnicity was ever explicitly referenced when I was watching the show. But would it have even registered if it was? I was amazed at how very Jewish Mr. Hooper came across (though not heavy-handedly so). How could I have not picked that up? Because I was that ignorant about my heritage then, that's how.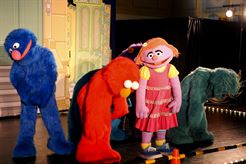 Decades later, however, HBO played the ultimate Grouch — or maybe Lannister? — by canning Bob, Gordon, and Luis when the premium cable channel purchased rights first-airing rights to "Sesame Street." (HBO soon backtracked, saying that they would leave the door open for these beloved original cast members in the newly downsized half-hour episodes.)
Though Sesame Workshop was provided much-needed cash in an era of diminishing Public Television funding, it was the equivalent of Big Bird's nest being converted into luxury condos.
Now, affluent children can watch new "Sesame Street" episodes nine months before poorer children can, unknowingly throwing birdseed at nestlings less fortunate than themselves. That may well be in keeping with the widening inequities of our age, but it hardly fits with the spirit of "Sesame Street."
The show was conceived as a way to provide early learning to inner city children deprived of the preschools children like me attended in our cozy, mostly white suburbs. Oscar would've hated such neighborhoods, with so little trash.
Yet middle class tots like me loved "Sesame Street" every bit as much as the disadvantaged children it was originally aimed at. We didn't care that "Sesame Street" didn't look like ours. We, the pampered, wanted to know how to get to "Sesame Street" anyway (though the air in our neighborhoods was more likely to be sweet).
Though I went to preschool and kindergarten, I still loved to repeat the numbers along with the Count. And I continued to watch well after I left the target age group.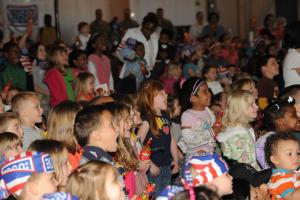 I of course had no idea that I was so much more privileged than the kids "Sesame Street" was aimed at (though we were hardly rich). In fact, I didn't even learn that I wasn't among the intended audience until years later, after viewing a documentary included with "Sesame Street: Old School – Volume 1." The pioneering PBS show for preschoolers was carefully conceived by a group of child psychologists and developmental experts under the direction of the Children's Television Workshop's Joan Ganz Cooney.
"Sesame Street" debuted in 1969, only four years after the formation of Head Start. It should therefore be no surprise that Christmas Eve on Sesame Street was in part brought to by the letter H. I mean, the Department of Health, Education, and Welfare, which became Health and Human Services the year after the special aired.
It seems more in keeping with the spirit of the Age of Trump that the self-proclaimed billionaire currently occupying the Oval Office has made the usual GOP jab at pushing Big Big bird permanently out of his nest so he and his giblets can freeze while Trump feathers his own nest…at his nests.
Good luck with that. There are way too many adults who grew up looking for the way to "Sesame Street."
Nonetheless, I couldn't help feeling a tinge of melancholy alongside my early-childhood nostalgia waddle. Mainly, I think it was the warm, natural air accepting humanism that infused the sweet air of "Sesame Street." The inner cities painted by Donald Trump as hellholes are instead depicted as a place with "friendly neighbors there." Children of every ethnicity are invited to "come and play."
It's an image of interracial inclusiveness we still too often struggle to achieve.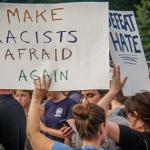 See also: Racial Tolerance: Charlottesville was NOT a Total Eclipse of the Heart
The fact is, the President of the United States, who has generally been considered a role model, is instead the antithesis of every positive value "Sesame Street" promotes. Bob sing as he signs to his deaf girlfriend, as she signs the words to the song in a loving display of empathy and acceptance.
Somehow, Bob refrains from mocking Linda's sign language with callous mimicry of her hand movements, as Donald Trump might have done if she had a visible physical impairment.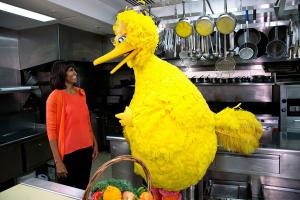 Oscar, however, is more in the spirit of the Age of Trump when he meanly goads the naive Big Bird into thinking that no one will get presents if he can't figure out how fat old Santa Claus can squeeze into those skinny urban chimneys.
Unlike The Donald, however, The Grouch eventually tacitly admits he was wrong when Maria angrily lays out the potentially dire consequences for Big Bird in the middle of a blizzard. Instead of lashing out at Maria, Oscar vows to find Big Bird.
Though I doubt that Melania Trump will one day film a public service announcement alongside our favorite giant canary, I can't help wondering if the First Lady chose bullying as her special cause as a passive-aggressive dig at the Bully-in-Chief? They seem like they have such a close relationship….
While we currently have President Don't Bee, "Sesame Street" has always preferred to promote positive behaviors. They do this in such an invisible, non-preachy way that children don't even realize it.
We couldn't sense the child psychology behind the cute monsters, nor the humanistic values presented as natural as a sunny day sweepin' the clouds away. The show may not have been originally targeted to middle- and upper-class children, but I can't help wondering what effect it has had on shaping their worldviews.
Certainly, a preschool TV show can't on its own counteract racist and ableist lessons taught by parents and peers. After all, many neo-Nazis and white nationalists grew up watching "Sesame Street," too.
Can You Tell Me How to Get to Sesame Street?
As I climbed off the bike, I felt a sense of sadness wash over me. Had I been watching a time capsule of a vanishing multicultural humanism? "Sesame Street" was always an idealized utopia, but had that ideal itself become passé?
Yet every time I start feeling that way, I think about Heather Heyer and all the idealisting young people like her. Heather's mom has spoken movingly of being proud that her daughter died for what she believed in, fighting against hate and injustice.
Whether or not Heather ever watched "Sesame Street," she embodied the show's tolerant, empathetic values.
A few months after her death, Virginia rejected Ed Gillespie's racism-pandering bid for Governor. Weeks later, white suburbanites banded together with black and young voters to reject a divisive demagogue (admittedly, Roy Moore's history of child molestion had a lot to do with it). African-American votes exceeded their percentage of the population in a what would typically be a low-turnout election.
2018 is arriving with a little less dred than 2017…at least for Democrats. With increasing signs of a coming Cookie-Monster-blue wave in the midterm elections, it's beginning to look like everything will be A-okay.
And it won't take a true blue miracle to bring about that sunny day.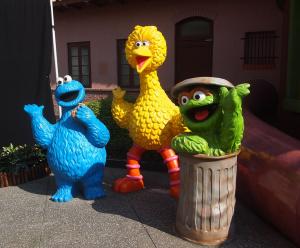 *Yes, this was an unlicensed video. Keith downloaded it from YouTube for our personal Christmas enjoyment, having no other access to this 1978 Christmas special. We're not normally in the habit of watching unlicensed videos. Honest.
---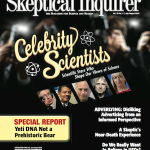 If you like my writing, please consider supporting my work on Patreon. For only $1 a month, you can follow my recovery while you enjoy wildlife, nature, and garden photos, gifs, and panoramas, as well as other exclusive content. A pledge of $5 brings you the pre-publication versions of my Free Inquiry essays. Click here for more rewards: