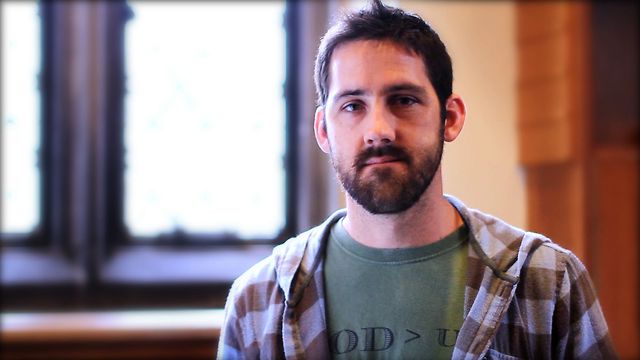 With the Independence Day holiday now behind is and quickly fading into our memories (well, who can forget the San Diego fireworks debacle?), I just want to bring your attention and focus back once again to the question of patriotism and love for God and country (in that order).
I just finished reading Logan Mehl-Laituri's uncommon personal memoir Reborn on the Fourth of July, and I think it's one of the most important books to be published certainly this year and probably in the last 20 years.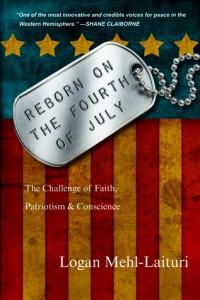 This is a personal testimony of coming to faith in Christ while serving in the military, and Mehl-Laituri's journey to becoming a patriot pacifist and soldier saint. The book is exquisitely written, taking the reader along for the ride in the Humvee and into a battlefield very few of us ever actually witness with our own eyes. But what is really unique about Mehl-Laituri's story is that he was a soldier who wanted to serve his country in the military — just not with a weapon.
Mehl-Laituri attempted to seek the rare "1-A-O" status as a conscientious objector, but he was discharged from the military, instead. He's gone on to form an organization called Centurion's Guild for other military personnel who are seeking a network of support as they grapple with issues of war and peace and how to reconcile their Christian faith with their call to military service.
In the process, Mehl-Laituri has found himself caught in the crossfire between rabid nationalists who would demand he take up arms to defend his country at all costs and passionate pacifists who would demand he renounce all involvement in the military in order to be completely free from the military-industrial complex. Mehl-Laituri's heart was to serve his country in the military, but not to carry a weapon, only to serve and support others who did. He didn't get to have that chance, but his story is a powerful one for those considering those choices today — and possibly seeking a third way.
He describes the rock and a hard place in which he found himself this way, "As a soldier I could never be just human, just a man trying to live a life of faith; I was always either hero or monster to just about everyone I met. The greatest challenge in my life has been simply to find a community of fellow believers who know me not as Logan, 'Combat Veteran,' but as Logan, 'Friend.'"
In the epilogue to the book, Mehl-Laituri quotes Pope John Paul II, who wrote,
"Nationalism is recognizing and pursuing the good of one's own nation alone, without regard for the rights of others, patriotism, on the other hand, is a love for one's native land that accords rights to all other nations equal to those claimed for one's own. Patriotism, in other words, leads to a properly ordered social love."
That's the kind of patriotism I can embrace this time of year (and all year-round).
Mehl-Laituri points out that 17 veterans end their own lives every day. Last year, more veterans died from suicide than died in combat. There is an epidemic of post-traumatic stress disorder (PTSD) cases and moral injury, which our churches and missional communities need to be actively engaged in addressing from a place of love and action.
I'm grateful for activists like Mehl-Laituri and organizations like Centurion's Guild, as well as the important work that the Soul Repair Project that Brite Divinity School is undertaking to create resources for faith communities to address moral injury and serve our veterans in this unique time in history.
Mehl-Laituri's story is uniquely inspiring, especially for those of us in the missional church conversation. He writes,
"What is needed is new energy, a way for churches to join in the movement of the Spirit. … Instead of 'being the change,' the church must participate in the change God is making in the world. … It's not merely about what we are doing, but what God is doing through and with us. Thinking otherwise not only ignores the presence and power of God, but also allows us to assume that our hands and feet are God, and not simply means used by God."
I think that's a healthy missional reminder and just one of the many lessons I learned from reading Reborn on the Fourth of July. I hope many of you will pick it up and read it. You'll be blown away (in a non-violent sort of way).
This post is part of the Patheos Book Club. Read other reviews of this book from Patheos bloggers and check out exclusive videos!