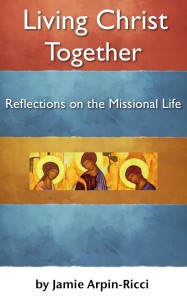 There's certainly no shortage of books on missional church and missional living. And I certainly haven't been able to keep up with all of the new ones that are coming out just about every week. But it's not every day that Jamie Arpin-Ricci publishes a new book, so I get excited when that happens.
Jamie has just released an ebook titled Living Christ Together: Reflections on the Missional Life, and it's available today on Kindle for just $2.99.
What's the book about? Here's the description:
"What does it mean to live a missional life? This unique ebook provides readers with a collection of short chapters that will help them discern just that, both individually and as communities. Using stories, questions and challenging articles, Jamie Arpin-Ricci (pastor and author of The Cost of Community: Jesus, St. Francis & Life in the Kingdom) invites readers to explore the multifaceted missional life in very accessible, yet profound ways. Drawn from over a decade of writing and blogging, re-edited with new content, Arpin-Ricci offers an enjoyable and challenging addition to the missional conversation."
I think folks who are skeptical about the term "missional" will appreciate Jamie's emphasis on the incarnational nature of this whole enterprise. You can check out a preview of the book on Amazon before buying. Take a look and let me know what you think!