In a recent article for the Huffington Post, titled "10 Muslim Women Every Person Should Know," Fazeela Siddiqui writes: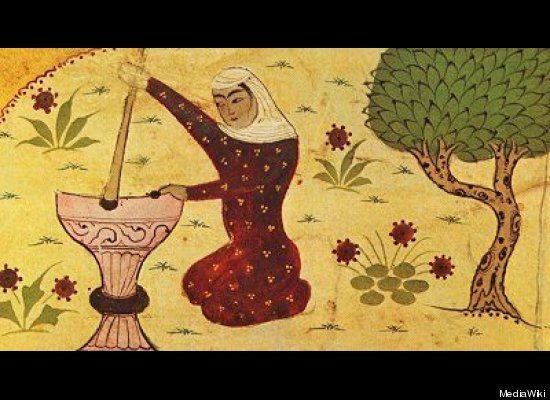 "[I]n recent years, due to the global socio-political climate, the phrase "Muslim woman" might conjure an image of a demure un-empowered woman sheltered by her burqa. Yet this image is not what our history records or what our present reflects. For example, the current Prime Ministers of Bangladesh (Sheikh Hasina Wazed) and Mali (Cissé Mariam Kaïdama Sidibé) are Muslim women. Similarly, the current President of Kosovo, Atife Jahjaga, is the world's youngest female president, as well as her country's first female Muslim president.

Since 1988, Bangladesh, Indonesia, Mali, Pakistan, Kosovo, Kyrgyzstan, Senegal and Turkey have been led, at some point, by a Muslim woman president or prime minister. […]

In honor of Women's History Month, I present 10 Muslim women, from the seventh century until today, that every Muslim (and everyone else) should know about."
The article features a slideshow, with information on ten different Muslim women from different times and places.  The women Siddiqui lists are:
Nusaybah bint Ka'b al-Ansariyah, "one of the first advocates for the rights of Muslim women"
Rabi'a al-Adawiyya, "widely considered to be the most important of the early Sufi poets"
Fatima al-Fihri, "the founder of the oldest degree-granting university in the world"
Sultan Raziyya, "the Sultan of Delhi from 1236 to 1240"
Nana Asma'u, "a princess, poet and teacher"
Laleh Bakhtiar, who wrote "the first translation of the Quran into English by an American woman"
Shirin Ebadi, "the first Muslim woman to receive the Nobel Peace Prize"
Amina Wadud, "the first female imam to lead a mixed-congregation prayer"
Daisy Khan, who "founded the Women's Islamic Initiative in Spirituality and Equality"
Anousheh Ansari, "tthe first Muslim woman in space"
I appreciated that Siddiqui's list, as well as the women that she mentions in the introduction to the slideshow, reflect a wide range of geographic and ethnic origins, which isn't always the case when Muslim women are talked about.  I was, however, disappointed with the photo attached to the description of Nana Asma'u, captioned only as "Fula women" – are they pictured only because they come from the same background as her?  If, as the description of Asma'u states, there are now a number of organisations and schools named after her, couldn't there have been a more relevant picture to include?
I also that U.S.-based women are heavily overrepresented in her list, which means that it's possibly not the greatest reflection of the ten Muslim women most relevant for every person to know.
That said, Siddiqui doesn't frame her list as the top ten Muslim women, ten most important Muslim women, or the only Muslim women that people need to know about, so I don't think we need to try to knock anybody off the list.  They're ten women that people should know about, with the possibility open, of course, for there to be many more.  I'm curious, then, what your own top-ten lists would be: who are the Muslim women, past or present, famous or not, that you think people should know about?