During the past three decades, global perceptions of Somalia have for the most part been shaped by images of the country as a disaster area, ravaged by poverty and war. Somalia seems to appear in the news only in the context of humanitarian assistance appeals or of Al Qaeda-inspired militias carrying out their heinous acts across the country.
Since the outbreak of the civil war in 1991, there has been virtually no central government control in Somalia. The country has been characterized as a failed state, and as one of the poorest and most violent countries in the world. The situation for women in that country could not be worse, according to a 2011 global survey. Ninety five percent of girls, mostly between the ages of 4 and 11, suffer  genital mutilation; only 7% of parliamentary seats are held by women; and only 9% of women give birth in a health facility.
But recently, this image of a nation of despair and devastation is shifting to an image of hope and re-construction, thanks to a number of initiatives and projects by different individuals and NGOs. One of them is TEDxMogadishu, an event organized on Thursday May 17 that focused on bringing life to a dying nation long victimized by human evils and natural calamities. Other recent initiatives that aimed at developing the image of Somalia included "Somalia Speaks", a project by Al Jazeera that aims at structuring a new international approach to solve the Somalia issue.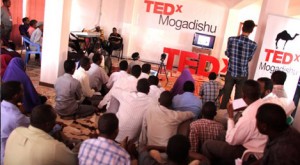 The theme of this year's TEDxMogadishu meeting is "rebirth", which epitomizes the idea of a nation coming to life again after years of bloody conflicts and human suffering. What I found most amazing in TEDxMogadishu is the visible participation of Somali women in the campaign to bring normalcy to their country.
TED (Technology, Entertainment & Design) was born in the US in 1984. Its annual conference attracts some of the "smartest, richest and most talented people on Earth." Speakers have included Bill Clinton, Richard Dawkins, Bill Gates, Malcolm Gladwell, Jane Goodall and Al Gore. Tickets can cost thousands of dollars. The main conference allows one-off gatherings elsewhere under the TEDx label, with other examples in Africa including TEDxSoweto in South Africa's biggest township.
The female speakers' lineup included a number of young entrepreneurs and creative minds, whose ideas could change Somalis' living realities in the close future. Some of them focused on fields such as banking, restaurants and education while others addressed the situation of women and girls.  One of them is Ilwad Elman, who runs the Elman Peace and Human Rights Center in Mogadishu with her mother, Fartun. According to tedxmogadishu.com, Elman's father was an ardent peace activist in the 1990s, spreading the mantra "Put down the gun, pick up the pen" around Somalia, but was assassinated in 1996. Elle returned to Mogadishu three years ago while the conflict was still raging on in the city. She works closely with victims of rape and sexual assault, as well as in rehabilitating child soldiers by teaching them vocational skills.
Another speaker is Amina Hagi Elmi, who is the founder of Save Somali Women and Children (SSWC), an aid organization designed to improve the lives of Somalis through implementation of numerous projects across the country, including employment initiative programs, providing aid, digging wells and supplying clean water.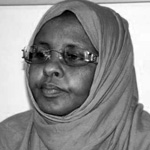 Amina believes that in addition to food and water, dignity is critical for women arriving at internally displaced person camps, according the TEDx Mogadishu website. In her speech, Amina stressed the importance of sharing such ideas with the outside world to change people's minds about Somalia. The situation for women and girls in Mogadishu is 80% better since security improved, according to Elmi.
The last speaker in the category of women and girls care is Suad Ibrahim Habibullah. She is an entrepreneur and teacher who founded an institute for girls and women in Mogadishu to continue their higher education beyond university. Suad plans to offer certificates in fields such as accounting and to help train girls how to start their own businesses.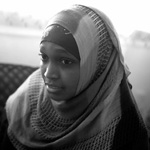 TEDx Mogadishu is not just a meeting of creative minds to gather and share their views on the welfare of the people in Somalia; it is also an opportunity for outsiders to change their perceptions about developments in that country, especially as they relate to women and children.
The meeting was broadcast live on the internet, and the hashtag #tedxmogadishu circulated widely on Twitter on that day, generating wide-ranging points of view and opinions about the event. Such platforms help people in different parts of the world to be witness to how Somalis are making history to change the harsh realities of their country.
Of course, the streets of Mogadishu continue to be unsafe and its neighborhoods insecure.  But the glimmer of hope such gatherings create for the people of Somalia for a brighter future certainly fosters the resolve of Somalis, as well as of the international community, to make that future more achievable.