Several weeks ago, I wrote a brief profile on Zubeida Mustafa, recipient of this year's Lifetime Achievement Award from the International Women's Media Foundation (IWMF).  My initial coverage of Mustafa's achievements was based on snippets I had read from a number of profiles online.  Since then, however, I have had the unique privilege of interviewing her on behalf of Muslimah Media Watch.  Although much of our conversation took place on email and telephone (she resides in the south of the country, while I live in the north), Mustafa's "pioneering spirit and determination to pave the way for women in news media" was clearly evident from the very beginning of our interaction.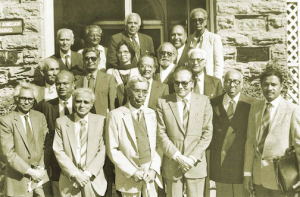 In 1975, when Mustafa joined Pakistan's top liberal daily Dawn, she was the only woman.  During her approximately 33 years as Assistant Editor at the English language newspaper, she was credited with integrating women's issues across diverse topics but also for promoting equal opportunities for women at the newspaper.  Earlier on, as an up and coming female journalist, not only did she find it challenging being taken seriously by her male colleagues in terms of the stories she wanted to cover but it was also a struggle to navigate the oft segregated and conservative societal structure of her native Pakistan.  "I had no choice," she says.  "Both challenges existed and I managed to overcome both to a great extent."  She asserts, however, that colleagues eventually came around to the idea of a woman covering hard-hitting socio-economic and political issues for the newspaper: "I had already worked as a research officer at the Pakistan Institute of International Affairs where I was writing researched articles on international affairs.  Then the feedback on my writings reached my colleagues and my editor and they had to concede that I could write on issues which men had been tackling all these years in Pakistan."  Mustafa gives an example of how her article on the strategic withdrawal of Pakistan from the Central Eastern Treaty Organization (CENTO) brought then British Ambassador to the offices of Dawn to address the foreign policy implications of such an action. (Modeled after NATO, CENTO was comprised of Iran, Iraq, United Kingdom, Turkey and the US and served largely as a Cold War military alliance). 
In terms of navigating Pakistan's conservative structure where segregation of the sexes is culturally accepted and in parts endorsed by the state, Mustafa was able to use it to her advantage.  "You have to become thick-skinned and have confidence in yourself," she states.  "It also gave me the advantage of entering the female quarters in any area where men were not allowed to go."  As a result, Mustafa was able to walk into Afghan refugee camps and speak to women, covering a host of social issues affecting displaced individuals fleeing war-torn Afghanistan.  "All the stories on women's reproductive health became easy for me as I could go up to women and talk to them," she adds.  In this way, not only did Mustafa succeed at reporting on the "big issues," but by doing so she simultaneously paved the way for Pakistani women to actually consider media and thereby journalism as a viable alternative to traditionally acceptable jobs such as teaching and medicine.  "That is why my vision right from the start of my Dawn career was to open the door to as many women as possible. That is where I succeeded and the entry of more and more women into the profession gave me strength."
In addition to facing some level of resistance in terms of content (a breast cancer article deemed obscene; backlash for chastising pharmaceutical companies for unethical practices) Mustafa also recounts an incident where her article criticizing then dictator President Zia-ul-Haq's proposal to build an all-women's university was met with wariness by the editor.  "I was opposed to it (the university) because I felt it would segregate women further and the university would be no more than a second rate institution that would be perennially starved of funds," she says.  The editor eventually conceded and published it a week later.  "Those were the good old days when I began my journalistic profession," she says, referring to the late 70s and early 80s in Pakistan.  "People were not killed for being unconventional.  At the most people ridiculed you or spoke ill of you or started a smear campaign. I didn't let this worry me because I had no skeletons to hide in my cupboard. If you are a person of integrity such talk doesn't upset you."  Eventually, President Zia-ul-Haq, on one of his foreign trips, would also go on to refuse entry to Mustafa into his press entourage on grounds it was a "stag party".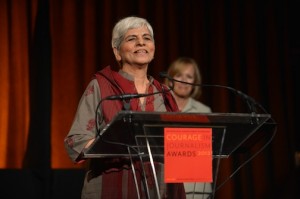 During the interview, I was also able to address a recent Bloomberg Businessweek profile on Mustafa, which revealed that she was divorced.  Actually, the title of the article was "Pakistan Editor Gets Lifetime Award, Loses Husband."  From Mustafa's reaction, it appears I wasn't the only person surprised by the title.  Not only does this unfortunate choice of words perpetuate the narrative of all Pakistani women as victims, but it also takes away from her individual achievements and puts undue focus on her personal life in order to provoke public interest.  Mustafa clarifies that the interviewer (Zinta Lundborg) had basically inquired into her husband's reaction to her working.  "I had told her that initially he was very supportive but when I became too independent, he did not like it and walked out of my life.  Her making it the headline gave me an insight into what sensationalism is all about," she says.  "Actually the problem I had in many interviews in my US trip was that the interviewers seemed to be looking for a sensational dimension which I couldn't supply.  I had no stories of extraordinary bravery to report, such as being threatened or being thrown into prison or being attacked."  Here, however, I may have to disagree with part of Zubeida's statement.  In my opinion, it is her determination to help other journalists navigate a career for themselves in an often times politically unstable environment, battling censors in an increasingly "conservative" Pakistan that suggests a life story of extraordinary bravery.  Additionally, to do so as a single mother (the author has two adult daughters), is both inspiring and speaks of a tenacity that women in Pakistan possess but in some cases are unable to exercise.  Zubeida is also quick to credit her international audiences for "coming around to understanding what made her different – my success in penetrating a man's world quietly without creating a rumpus.  I gently persuaded women as well as men that media can be a place for women too and they can do serious journalism as well."
During our brief exchange, Mustafa was exceedingly gracious with her advice on careers in journalism and the all-important and challenging work-life balance that most women (and many men too, I'm sure) attempt to strive for.  "Follow your gut sense.  Everyone's circumstances are different so it would be dangerous to give 'a one size fit all' advice.  But do ensure that justice and fair play, integrity and dignity remain your guiding framework.  If you can develop a partnership of equality with your husband it makes parenting easier.
Although Mustafa is retired, she still writes a weekly column for Dawn.  She also hopes to use the downtime to return to writing books on subjects she strongly believes in.  Presently, Mustafa is working on 'Making the 'Impossible' Possible: The SIUT Story," a book about Pakistan's foremost hospital and transplant center, the Sindh Institute of Urology and Transplants.