This year saw two publicised instances of Malay Muslim girls in Malaysia, below the legal age of marriage, getting married to boys who were also relatively young. One couple was Nor Fazira Saad (13 years old) and Mohammad Fahmi Alias (19) from Kedah, Malaysia who were married in their kampong in November. Earlier this year in July, a couple identified only as Yana (14) and Syafiq (16) from Pahang, Malaysia, were married in a grand ceremony attended by many guests — with all of the details captured in the professionally-done wedding video (available here).
In 2010, there were also three well-known instances of underage Malay girls being married off, but to older men. In December 2010, Siti Maryam Mahmod (14) married her teacher Abdul Manan Othman (23), in a mass wedding at a mosque in Kuala Lumpur. They met when Abdul Manan was giving religious lessons to her younger siblings, and Siti Maryam defends her decision as being fully aware her choice and had not been coerced by anyone — she had "thought about the responsibilities and the consequences of marrying at a young age."
Earlier that year, Siti Nur Zubaidah Hussin (11) became the fourth wife to Shamsuddin Che Derahman (41), a "religious sect leader". Shamsuddin had talked her parents into sending her to his religious school in another town, and convinced them to let him marry her so that she could be under his care. Her father claimed to be "not fully aware of what was happening" during the illegal wedding ceremony. Siti Nur Zubaidah then went missing for 20 days and was later found abandoned at a mosque in Kepong, in a semi-conscious state, and was consequently hospitalised for shock.
Around the same time, the groom had also married off his own 10 year-old daughter to his middle-aged friend, in a similar illegal ceremony (a nikah that is unregistered with the state is known in Malaysia as nikah koboi, or literally, "cowboy marriage") without the presence of the bride or any witnesses.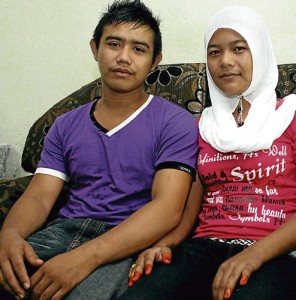 Although all these weddings involved underage Muslim girls, the main differences between the categories of weddings described here are the age difference between the couple and their method of marriage. Although the legal age of marriage for Muslims in Malaysia is 18 for boys and 16 for girls, underage couples may (with their parents' permission) request approval from the state syariah courts on a case-by-case basis. However, there is no minimum age limit and this approval seems to be easily given, according to government statistics of premarital HIV screening tests, which are compulsory for all Muslims just before marriage. Nor Fazira (13) and Mohammad Fahmi (19) appear to have received blessings from their parents and their state syariah courts to marry, and the latter even says that he is "responsible and ready to be a good husband."
Reading the stories of these girls, I try to understand their socio-economic circumstances. Given that they live in a kampong (rural area), where many of their relatives and friends are also married in their teenage years, this is not something that is so out of the ordinary. Furthermore, many girls in rural areas may not continue their education past the elementary level, while boys may already have jobs in their families' farms or local businesses. With clear social roles of men expected to be the main breadwinner and women in charge of housework and childcare, financial ability and physical maturity are taken as more important factors over emotional maturity or romantic notions of childhood.
Youtube user comments on the wedding video of Yana (14) and Syafiq (16) reveal much support for the couple, seeing marriage is a way to avoid maksiat or sexual immorality. Indeed, Nor Fazira (13) and Mohammad Fahmi's (19) wedding seems to have been mostly precipitated by her father's suspicions that they were engaging in pre-marital sex, as Fahmi explains that it was "better for us to get married than do things forbidden by our religion" and Fazira adds that "our actions are not wrong and it's better than being involved in social problems".
On the other hand, supporters of marriages between a girl of 10 or 11 years old and a man above 40 years old simply cannot wave away the asymmetry of power in the name of avoiding sexual immorality or social problems. Such marriages are more probably the result of poverty and the parents' way of trying to ensure that their daughter is taken care of. However,
Ratna Osman, the executive director of Sisters in Islam, points out the issue of seeing marriage as a panacea to social problems
:
"Yet once you do it under the name of marriage, she is no longer a minor? Her body has suddenly transformed into an adult body?" Ms. Ratna said. "You would be charged under the law on statutory rape but get permission from the court and suddenly it's O.K. to have sex with a 12-year-old."
A report by the United Nations Country Team Gender Theme Group also found other reasons for underage marriage. For example, to avoid state policing for khalwat ("proximity", or the Malaysian criminal offense of an unmarried Muslim couple being caught alone in a private or public space), coercion by elders, or pregnancy.
Despite child marriage having popular support, the former Women, Family and Community Development Minister, Seri Shahrizat Abdul Jalil, sees child marriage as abuse:
"A child does not have the choice or capacity to give his/her full consent, and as such child marriages must be viewed within the context of force and coercion; an act that subjects the child to physical, social and psychological trauma and abuse."
It's clear that legislation has little effect on child marriages of Muslims, and that court approval can always be sought. Even so, illegal ceremonies could still be carried out. While there are arguably some young Muslim girls who demonstrate some agency in thinking about what they want in life, our desires and actions are constructed from our surroundings. The socio-economic circumstances of the girls who are in these marriages (low education, rural area, poor) and the prevailing cultural norms (female chastity and family's name as important) are contributing factors to their decisions.
This phenomenon of child marriages also shows the loopholes in the ages of consent, and how a child or adult is constructed in Malaysian society. Although we all hope and expect that laws are formulated to protect the weakest groups in society, this is sometimes not the case. If a Muslim girl under 16 is not legally expected to be able to exercise proper judgment in signing a contract, buying tobacco, or even driving, why is marriage — socially considered a major, life-changing decision — suddenly appropriate?
The dichotomous framing of child marriages as either 1) blanket exploitative abuse, or 2) purely consensual and expressions of the agency of children, often obscures the complexity of the debate. While voices from civil society and the state may unequivocally view both categories of child marriages as abuse (especially due to the gendered risks of early marriage such as poverty, pregnancy complications, or the social stigma of being divorced/widowed), for some underage girls in rural areas, marriage is one of a few life options available for them and which parents sometimes make on behalf of their children.
On the other hand, when popular opinion condones the "Islamic" aspect of avoiding sexual immorality and preferring to instead "pray for their happiness" (as reflected by many comments on the Youtube video), it leaves out the importance of education and financial independence for securing these girls' futures. A campaign against child marriage needs to address the underlying causes of poverty and a lack of access to education and employment in rural areas.
A middle ground needs to be found between recognising the agency of girls living in rural areas and with limited life options, and the protection and foresighted decisions that their parents (or other legal guardians) could and should be making about their children's futures.