In recent months, Indonesia has been appearing in the Asian media every time there is a non-Muslim celebration. I first noticed this with the debates on wishing "Merry Christmas" by Muslims to Christians, on Christians holding Christmas mass, and the accounts of violence done to churches in December 2012. A few weeks ago, the same debates were repeated on the occasion of Imlek, or Chinese New Year, on the mistaken basis of it being a Buddhist tradition, even though it is a national holiday. Now, the latest controversy — which repeats itself each February — is Valentine's Day, deemed a "foreign" and "infidel celebration", and an excuse for teenagers to engage in premarital sex.
Several groups in particular prominently voiced their opposition to Valentine's Day: Nadhlatul Ulama, Indonesia's biggest orthodox Muslim organisation; the hardline Islamic Defenders Front (Front Pembela Islam or FPI), and the Indonesian Council of Ulema (Majlis Ulema Indonesia or MUI), a clerical body that includes the previous groups among others. This year, government officials and clerics from various cities  called for boycotts, and in response, students (even those from elementary schools, which shocked some readers) from several cities and islands across Indonesia organised Valentine's Day protests on 13 February.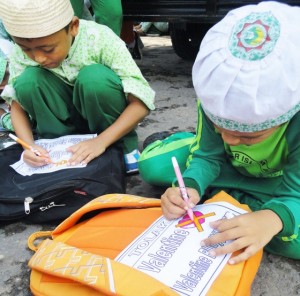 Despite the headlines identifying these calls against Valentine's Day as coming from "conservative" and "radical" "clerics", the accompanying photos all show, without fail, Muslim women with hijab and some in niqab protesting and holding placards.
According to one of the clerics in Aceh's Ulema Council, one reason why celebrating Valentine's Day is wrong is that it is endogenous to Indonesia and Islam, and is thus the same as "promoting faiths other than Islam." Even accepting the idea that to celebrate Valentine's Day is to proselytize for a faith other than Islam, the last time I checked, Indonesia is constitutionally a secular country where promoting any religion is allowed. Despite laws protecting freedom of religion, the growing influence of extreme Islamic opinions and intolerance of the activities of religions other than Islam is becoming increasingly common and visible – as shown by the recent violent incidents (here, here, and here).
Another reason to not celebrate Valentine's Day, according to Depok's deputy mayor, is that "expressing love freely… could lead to forbidden sexual relations." He specifically felt that teenagers should not celebrate it because of their tendency towards having premarital sex. A representative from Nadhlatul Ulama even claimed that teenagers who "express love and affection" on this day would end up in a "sex party". This day has been described as a "channeling of lust between unmarried couples", "promiscuity" and "pregnancies out of wedlock".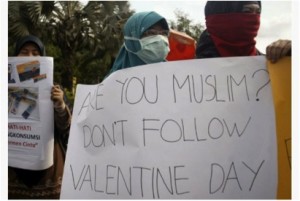 Indonesia's National Family Planning Coordinating Board (Badan Kependudukan dan Keluarga Berencana Nasional or BKKBN) has identified 'free sex' (seks bebas or premarital sex) as a major youth problem alongside drugs and HIV/AIDS. The link made between premarital sex and Valentine's Day shows that "the West" and "Western culture" are  convenient abstract scapegoats for social issues, because 'free sex', or consenting sexual intercourse between unmarried persons is in fact legal, since the law only penalises adultery committed by married persons.
The worries voiced by opponents of Valentine's Day, such as sexually transmitted diseases and pregnancies out of wedlock, reveal  the inefficacy of and confusion surrounding sex education. For example, during last year's protests, one opponent from Hizbut Tahrir Indonesia made the opposite correlation between contraception and "social evils".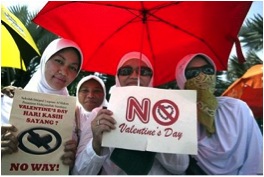 Siti Nafidah, the head of the HTI's provincial women's chapter, said the threat of youths engaging in premarital sex as part of the Valentine's Day spirit was "right before our eyes."
 "There's even a convenience store giving away condoms with purchases of chocolate," she said. She said this could eventually lead to a host of social evils, from unplanned pregnancies and abortions, to the transmission of HIV and other sexually transmitted diseases.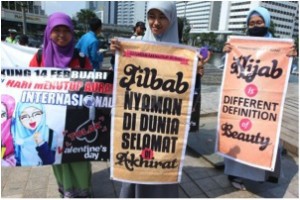 The state of sex education in Indonesia is woefully lacking and there have been calls for more comprehensive sex education in schools — one that teaches the difference between love and sex, diseases, contraception, and what constitutes harassment. The lack of effort to rectify this is shown by the conservative and flimsy response of the Minister for Education and Culture (who had earlier suggested that rape victims enjoy being raped) towards these calls:
"According to our traditions, it is indecent to talk about it, and that is my standpoint. I don't believe we need that yet. (…) I am sorry, mentioning s-e-x is already taboo to me," he said.
One counter-movement to Valentine's Day was a movement for a Cover Aurat Day (the official Gerakan Hari Menutup Aurat Facebook page), started in 2012 by Herry Nurdi, together with a teachers working group. The aim of this movement is to reject Valentine's Day and replace it with Cover Aurat Day in order to fight 'moral problems', denounce (commercial) stakeholders, encourage society to cover up and avoid 'free mixing' and 'free sex'. To achieve this, activists protested on the streets and in groups on motorcylces, handing out headscarves and posters to the public.