This post was written by guest contributor Yasmeen Nizamy.
"Sexual harassment is a crime that's inexcusable!" This is the title of the campaign that HarassMap started recently, coinciding with the launch of their annual report on the latest statistics and analyses on sexual harassment in Egypt (the report is not yet available online, but I was able to get a copy from the founder of the initiative).  HarassMap is an initiative that started in Egypt in 2010 with the mission of ending the social acceptability of sexual harassment. They rely on crowd sourcing to monitor this issue by providing a platform that receives reports on harassment incidents and present them visually on a map.
In the recent campaign, HarassMap asked their followers on social media to send the excuses/myths that they hear often on sexual harassment and in return the HarassMap team will refute them based on their insights into the data that they got from their portal. Many responses flooded to the page, and for every myth, the HarassMap team had an argument to debunk it. Here are some of them (translated from Arabic, with my explanations based on the annual report):
"IF THE REASON FOR SEXUAL HARASSMENT IS SEXUAL FRUSTRATION, WHY IS THE 7-YEAR-OLD HARASSING?"
Based on HarassMap's latest annual report (covers the period October 2011 – October 2012) 39.1% of the harassers were children under the age of 18.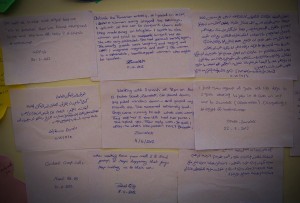 "IF THE REASON FOR SEXUAL HARASSMENT IS SECURITY BREAKDOWN, WHY IS THE POLICE OFFICER HARASSING?"
According to the statistics on group harassments, 9.1% of the harassers were security guards. This explains another figure in the report: out of the 82.6% of the victims who reacted and took actions when faced by harassment, only 1.1% of them asked the help of policemen. Women know that any police officer is a coming prospective harasser.
"IF THE REASON FOR SEXUAL HARASSMENT IS ILLITERACY, WHY IS THE TEACHER HARASSING?"
Schools, universities, and centres for private lessons are locations in which 4.3% of the reported incidents took place.
"IF SEXUAL HARASSMENT ENDS BY IGNORING THE ISSUE, WHY HASN'T IT ENDED AFTER YEARS OF SILENCE?"
Silence is not an option anymore. "Join us as we talk about it, sing about it, share the message, and wear the message": this was part of the invitation on the Facebook page of the latest annual HarassMap event. On that day, many of the attendees shared their stories of harassment either by writing it down on a board or by narrating in an open mic style gathering.
Among the short stories showcased in the event mentioned above, Daily New Egypt picked one titled "They prefer her naked" and translated it to English:
 "Here I am today, proud of being a girl that revolts, chants and screams, getting back her dignity from the clutches of those who touched what it is not theirs…but… what is that? Oh God, let those tentacles go away. What are they doing? Why are they penetrating our ranks so barbarically? They are brutally dispersing us… our screams grow louder… they come closer and closer. Each group captures a prey. I am dragged to a corner. I look at them; maybe they will go away. No one cares. I scream, but my screams dissolve in their noise and their celebration of their prey. I try to resist, but I fail."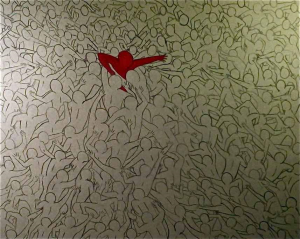 On the HarassMap crowd-mapping site, each sexual harassment report appears on the map as a red dot. While writing this post I tried to play with the map a little bit: I kept zooming in the map by clicking on the dot with the biggest number of reports, delving deeper and deeper the dots took me to the location of the highest number of harassment: Tahrir Square, the heart of our revolution. Do we need more reasons to keep this revolution ongoing?
Some might doubt the impact of such initiatives and think that their echo can never reach any territory outside of social media outlets. They have to think again. Many individuals now take their social responsibility towards this alarming issue seriously and have started to take action. Last week, a new harassment incident was reported in many newspapers: a teenaged girl was sexually assaulted by a group of young guys in one of the most crowded metro stations. As a response, Ahmed Hamed, a journalist who was moved by the incident, created a Facebook event and invited others for a silent stand in that station with lamps to light up the dark places in which harassment often take place.
But wait; it's not only Ahmed who started to make such moves. Some girls have started to take photos of their harassers to defame them online. One of them was in her car when she noticed that the man in the car beside her sends her kisses in the air! Immediately she picked up her phone, clicked her camera button and shared it on a Facebook page created for the purpose of sharing the photos of harassers. No one can stop us now!
Speaking of myself, I feel more empowered now when I walk in the street. Now I can look to any harasser in the eye fearlessly. Many women don't feel helpless anymore; sharing our stories and our ways of dealing with the situations enables us to regard ourselves as having control of the situation instead of surrendering to the typical image of a victim. Anti-sexual harassment initiatives have started the revolution within ourselves, as women, and we are willing to spread it out to whole society in large.