The Afghan parliament has failed to pass an important women's law which would ban violence against women, as many members of parliament deem this particular law to be "un-Islamic."
Two women made the news this week conquering Mount Everest: Samina Baig is the first Pakistani woman to do so and Saudi Raha Moharrak was the first female from her country to accomplish this.
Last week the report Narratives of Conversion to Islam in Britain: Female Perspectives was launched by Centre of Islamic Studies at the University of Cambridge.
The BBC profiles Muslim artist Hannah 'Habibi' Hopkins.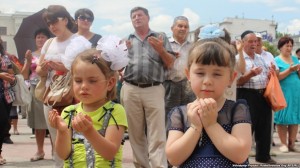 Oman is said to consider to ban women drivers to wear the face veil, as it would represent a hazard.
Mogadishu is home of Somalia's first rape crisis center; despite the fact that the situation is overall improving in Somalia, gender based violence is still rampant, in and outside the camps.
Despite the fact that many Afghan families would benefit of women having employment, many Afghan women face harassment in the workplace, which makes keeping their jobs impossible.
Amnesty International states that the ban on female presidential candidates in Iran contradicts the Iranian constitution.
An alleged marriage between a 40-year-old rapist and his 13-year-old victim has sparked outrage in Malaysia. While the rapist insists that the "couple" agreed to marry in mutual consent, and that this according to Shari'ah law, Malaysian authorities are said to continue with the persecution of the case.
Last decade saw an significant increase of girls enrolled in school in Niger, but still many girls drop out before they graduate in order to get married.
Dutch police have detained a 16-year-old Muslim girl to make sure that she would not leave for Syria to join the fight against the Assad regime.
Ethnic Serb Bosko Brkic and ethnic Bosniak Admira Ismic are known to be Sarajevo's Romeo and Juliet and their death, twenty years ago, has inspired a local band to release a song about their love story.
Marrying within the family has been socially acceptable for a long time in Afghanistan, but the government is now trying to discourage its population from inter-family marriages, due to health concerns for the children of these couples.
Violence against women is part of every day life for many women on the island of Zanzibar, but not many choose to report it, because most local authorities still believe that violence is unavoidable in family life.
A senior female politician in Pakistan, Zara Shahid Hussain, was shot dead last week.
The Islam Presentation Committee in Sana'a, Yemen reaches out to non-Muslims, predominantly migrants and refugees, and educates about Islam and if they convert, it continues to check in on them many years after. Yemen Times shares some of the stories of the (female) converts who have received help through the project.
Authorities in northern Arakan state in Burma/Myanmar have set a two-child limit on Rohingya families and have banned polygyny. High population growth among the Muslims are a main cause for the ethnic violence in the region, say the authorities.
The Nigerian president has ordered to release all the women held due to their connection with "terrorist activity," as demanded by Boko Haram, in hopes to enhance peace efforts.
An increasing number of Indonesian women are making the conscious decision to spend their money on predominantly Indonesian and Islam-related goods and services.
Iqbal El-Assaad is at 20 years old probably the youngest Arab doctor around.