Okay, okay. I know I'm not supposed to write a media analysis this Ramadan. In fact, one of my resolutions this Ramadan is to leave the television off as much as possible for the whole month.
With a few exceptions, of course. For example, I have to switch on the television during sahoor time to watch my favourite Ramadan program, Tafsir Al Mishbah. Professor Quraish Shihab, the central figure of the lecture program, is a very knowledgeable man whose concise explanation of Qur'anic verses can touch my heart. The show comes with hardly any bells and whistles, and the calm demeanor of Prof. Quraish is far from the colourful gestures usually adopted by celebrity ustadsz. But during those one hour-sessions of lecture and discussion, I can experience all range of emotions while listening to the lessons and stories of the Qur'an that he tells. Last year, my husband walked in from his i'tikaf (night vigil at the mosque) only to find me teary-eyed in front of the tube watching Tafsir Al Mishbah. The program is that good. I am – for lack of better words – addicted to it.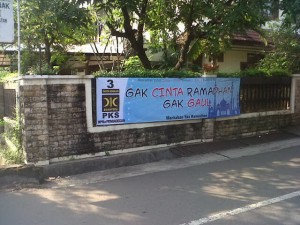 After that, I can pretty much escape television and other media exposure until it is time for me to go to work. This morning, a large banner on a street corner caught my eyes. It said (in Indonesian), "You ain't cool if you don't love Ramadan". A logo of a major Islamist party accompanied the slogan.
Well, now, this party attempts to be cool by putting up a banner that tries to dictate what "cool" is in a not-so-subtle, definitely not-cool-way. It especially ain't cool when the leaders of the party are currently in trouble with the law for money-laundering crimes.
A few months ago, I remember posting on my Facebook a picture of the party's campaign poster when one of its leaders was running for the city's governor. The poster was pasted on a wall, right on top of a sign that said, "Public asset, no vandalizing allowed". Needless to say, the guy didn't win my vote – nor that of millions of other Jakartans for that matter. However, his delinquent posters are still littering many walls around Jakarta; some of them just a few metres away from the banner that I just saw. These guys don't get it: You ain't cool if you don't clean up your act in Ramadan.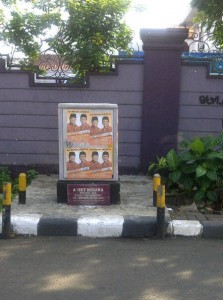 During break at work, I browsed the Internet and checked my Facebook to catch up with friends. However, I got distracted by the plentiful ads promoting all sorts of Ramadan paraphernalia, from the latest in hijab fashion trends to heartburn drugs. On the one hand, I need some of these products and plan to buy them at some point in the future – maybe even this Ramadan. I also understand that the people who hawk these brands have the need to push more sales in anticipation of higher spending in Ramadan and Eid. On the other hand, I don't particularly enjoy having products shoved in front of my face when I'm doing something else, especially in Ramadan, when I need more concentration and focus in doing everything. It makes me wonder: will we ever reach a balance between the material and the spiritual in this realm called Islamic capitalism?
I went home, and while I was preparing the iftar for this evening, I switched on the television for some background noise. More ads, more products. I changed the channel to a news station. A man was being interviewed; the leader of the Islamist party who ran for the governor election was denying any knowledge in his party's embezzlement cases. I flipped the channel again. Different channel, different program, same guy. This time he was giving a pre-iftar religious sermon about how one should always lead by example and be a person who walks the talk.
Maybe I should keep my resolution and switch off the television after all.
For more on MMW's Ramadan series, and to read the rest of this year's Ramadan posts, click here.