Beauty pageants have gotten a bad rap over the years for objectifying women by putting them on parade and privileging their looks over their personality or brains. Some pageants have actively tried to change this idea, by including a talent segment, and making charity work an increasingly bigger part of the winners' duties. One such pageant for Muslim women was the 2011 Indonesian Muslimah Beauty competition, which emphasised women who "don hijab, have Internet and technology capabilities, Qur'an-reciting proficiencies, and accomplishments in sports, academics, and culture."
Miss World is one of the classic beauty pageants, and in an apparent effort to reduce the emphasis on women's external beauty, has dropped the swimsuit component from its competition. In the 2013 Miss World competition, to be held in the Muslim majority country of Indonesia (although not without protests from their ulama), participants would wear sports attire with long pants or beachwear made from a sarong (a traditional textile from the region) during the beachwear segment.
However, earlier this year in July 2013, four Malaysian Muslim finalists were dropped from the finals of Miss World Malaysia. They had competed unnoticed, until the spotlight was shone on them as finalists. Federal Territories Mufti Wan Zahidi Wan Teh had raised the issue of a 1996 fatwa which states that "participating, organising or contributing to any sort of beauty contest is haram and a sin." The reason given for disqualifying them was that as Muslims, they should not "disrespect" or "insult" Islam by joining a beauty pageant.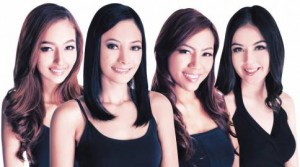 "Insulting Islam" has been used yet again as a reason for people to "control public conduct of Muslims in terms of dress and indecency," according to a local NGO, Sisters in Islam. It has increasingly become a tool of public control, as anyone deemed to be "belittling Islam" can be investigated, then fined or jailed.
Earlier in 1997, two contestants of the Miss Malaysia Petite contest were fined, while three other contestants from the same beauty pageant were brought to trial for violating the same fatwa. They were arrested during the pageant, handcuffed and locked up.
In a similar vein, the four dropped finalists in 2013 were being investigated for criticising the fatwa, which was considered as "disrespecting or insulting Islam," according to an official of the Federal Territory Islamic Affairs Department (JAWI). Under Malaysian laws, anyone found guilty of disrespecting or insulting Islam can be punished with up to two years imprisonment or a fine of 3,000 ringgit (USD900) or both. It was under this pressure that three of the four finalists decided to issue apologies.
The official pageant organiser Anna Lim acknowledged that she knew about the 1996 fatwa against Muslim participation in beauty pageants, but believed it was on the basis of revealing their bodies. Considering that the pageant had changed its rules on clothing to eliminate swimwear,  and that the finals would be held in Muslim-majority Indonesia, she believed that these four women had a chance.
One of the young women, Sara Amelia Muhamad Bernard (20) called the fatwa "outdated". Wafa Johanna de Korte (19) added that she found it disappointing that after 17 years, the perspective that Muslim women should not join pageants "is still out there." The division that these two women have made, pitting tradition against modernity, has not helped the situation because it prevents critics from questioning the very assumptions that underpin these two dynamic concepts.
Despite the attempts at making beauty pageants less about beauty and more about personality, some articles reporting on the incident still focused on the visual beauty of these four women anyway. Following the popular maxim that "mixed kids are always so beautiful," the young women's "mixed parentage" was detailed (German-Iban-British-Malay, Arab-Malay, Dutch-Malay, English-Malay); elsewhere, they were simply called "beauties" (here, here and here) and repeatedly described as "very beautiful."
But I find it interesting that despite their mixed parentage, the "Muslimness" and the "Malayness" of these four women took precedence. Even in Malaysia, where most Muslims are ethnically Malays, and where these two terms are often used interchangeably, these young women were not purely Malay in any case. Even though one's ethnic group or "race" is no longer stated on Malaysian identity cards, the Malay part of their parentage was given precedence in order to justify norms of proper Malay behavior.
Furthermore, being Muslim is described as their primary identity. Their protest at being banned meant that they had to convince others that they were indeed Muslim enough, and that being Muslim and a beauty pageant participant were not mutually exclusive. One of the finalists, Miera Sheikh (19), stated the following:
"To me, Islam will never fade in my life until my last breath because my roots from my ancestors till my parents' generation and mine will still be Islam."
In the bigger picture is the instrumentalisation of religious opinions as state laws. Zainah Anwar of Sisters in Islam (SIS) has previously pointed out that fatwas are giving too much legal power to the opinions of the ulama in Malaysia. In 1997, SIS issued a memorandum to the then Prime Minister, Tun Dr Mahathir Mohamed, as a reminder that the legislative authority to make laws in Malaysia lies with Parliament and the state assemblies, not with fatwa committees:
"We pointed out that in Islamic legal thought, fatwa are mere advisory opinions and do not have the force of law; to make it a crime to challenge a fatwa in force is to equate the opinion of a Mufti to the infallible word of God; the legislative authority to make laws in Malaysia lies with Parliament and the state assemblies, not the fatwa committees; the right to restrict fundamental liberties lies solely with Parliament and thus the provisions in the law that punish indecency amounts to an unconstitutional trespass on federal powers."
The NGO also added that there is the risk of unfairly targeting certain groups:
"Such laws could only lead to select prosecution and victimisation, as they cannot be enforced fully and equally. Don't get me wrong, we can still have a central fatwa-making body to provide guidelines for the people but we don't have to make it a criminal offence to go against a fatwa."
To me, the criminal offence of "insulting Islam" has never made sense. When the organiser of Miss World Malaysia Anna Lim said that "As Malaysia is a multi-racial country, we have to show respect to the Muslim community", I wonder: Do we respect Islam or Muslims? In other words, do we respect an abstract concept or living breathing human beings? And what are we doing in the name of prosecuting those who "insult Islam"?