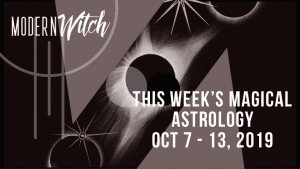 Hello folks! I am back with more astrology goodness after taking a bit of time off to put on a festival! Thank you for your patience and for sticking around. This week looks pretty interesting! I have edited the format to be bit more digestible. Hope you enjoy!
Monday Oct 7, 2019 is going to have a lot of truth seeking and revelation going on with three big events that draw focus to these areas of reality and relationship. Venus squares Pluto which will bring hidden financial and relationship issues to surface. The Moon is in Scorpio which will add fuel to our need to gather all of the facts surrounding something that we are emotionally invested in. The Moon is also in opposition to Uranus which generally brings a bit of discovery and unexpected details tend to come to light. This is a good day for truth workings, justice workings, and magic related to healing emotional wounds. Work with stones and minerals such as Appetite, Dumortierite, Optical Calcite, Hemimorphite, Aragonite, and Jade. Speak from the Brow and Heart Chakras.

Tuesday the 8th is a day to spend time and energy on those who you are close to as well as for maintaining financial accounts and portfolios. The Moon is in balance with Saturn and Pluto today, which should make getting to the heart of what is important a bit easier. Magic for new projects, to create new financial disciplines, and to smooth communication issues will all be done with ease today. Work with minerals such as Tiger's Eye, Chalcedony, Jade, Clear Quartz, Topaz, and Iolite and speak from the Crown Chakra.
On Wednesday, Oct. 9 the Moon moves into jovial Sagittarius and will usher in a day of happiness and good times that will likely bring focus to aspects of life that you want to expand upon. It is an excellent day for magic related to expansion of business, career, and family as well as all workings that surround anti-depression, the easing up on pressure, and the release of tension. Work with Hematite, Pyrite, Lithium Quartz, Dumortierite, Amethyst, Rose Quartz, and Seraphenite. Speak from the Heart Chakra.
Thursday Oct 10, 2019 will bring a lot of "extra" with it as the Sagittarius Moon conjuncts Jupiter on Jupiter's day! With Sagittarius being ruled by Jupiter, that is a lot of Jupiter juju! The bad news is, if you aren't in a particularly peppy mood you may just find yourself being annoyed at everything. So give in, throw caution to the wind, and go with the flow today as the cosmic winds are blowing in your favor. All magic related to growth and expansion as well as for releasing the ties that bind you will be done with ease. Work with stones such as Lapis-Lazuli, Moonstone (especially Rainbow Moonstone), Tourmaline, Carnelian, or Lumerian Quartz and speak from the Crown Chakra.

Friday, October 11, 2019 brings some major "get it done" vibes and the stars line up to make this likely the most productive day of the week. Not only is Friday the day of commerce, but on this particular Friday the moon makes its way to critical Capricorn which will bring an awareness to money matters, especially with the Moon remaining in harmony with Mercury (the mental) and Uranus (the innovator.) Expect to discover new ways of dealing with old issues. Magic related to debt, the home, finances, and future business adventures are all ideal at this time. Work with minerals like Citrine, Opal, Gold, Pyrite, Fire Agate, Ocean Jasper, and Lodestone. Speak from the Throat Chakra.
This weekend is not exactly going to be low key. Expect Saturday, Oct 12 to get off to a work-oriented start that will be fruitful, and task driven with the Moon still in Capricorn but now conjunct Saturn. In the evening take some time to play and play as hard as you worked! There is an all-or-nothing, Fast and the Furious sort of vibe to the day. On Sunday, Oct 13, 2019 the Moon joins Mercury and Pluto in opposition to Uranus so you can expect to experience a bit of an energy hang-over and the cosmos are going to add a little bit of bonus nonsense to the mix. Sunday will be a good day for calamity of the self-imposed kind, so make sure to have a game plan for the day. This will allow you to go on autopilot and will relieve the pressure of decision making later on. Saturday is a great time for magic related to fire, creation/destruction, road opening, and healing. On Sunday however, it is likely best to keep things to divination and astral travel. Warning however, while astral travel will be easier it might be too easy at times so take precaution if you sensitive to such currents. This weekend work with Sunstone, Iolite, Morganite, Prehnite, Granite, Onyx, Obsidian, Black Tourmaline, Amethyst, Angelite, and Apophyllite. Speak from the Solar Plexus on Saturday and the Brow Chakra on Sunday.