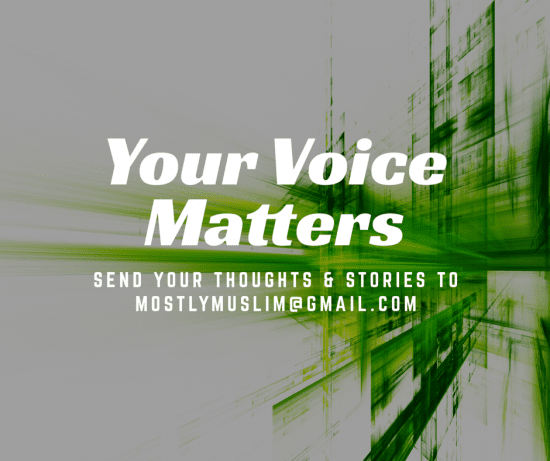 Want your voice to be heard? Share your thoughts and stories with the world! Join our team as a regular contributor or send your guest submission to: MostlyMuslim@gmail.com.
Submissions can be in the form of non-fiction, fiction, poetry, etc. and can include topics such as religion, politics, society/culture, personal narratives, and more. The topic should be relevant to Muslims. Please write your article from your perspective as a Muslim.
All guest submissions should be ORIGINALS which are not published elsewhere. Please keep your submission between 500 and 1500 words.
For the "Letters to the Ummah" series: If you have something that you would like to say to someone in the Muslim Ummah, you can submit it in the form of a letter. This letter can be addressed to an individual (ex: Dear Mother) or small/large group (ex: Dear children of Syria/Dear Black Muslims). The letter should have a salutation and complimentary close. When sending your letter to Mostly Muslim, please specify that it is a "Letters to the Ummah" submission. If you would like your letter to be published anonymously due to its personal nature, please be sure to mention that.
Please send all other inquiries to the same email address. (MostlyMuslim@gmail.com)