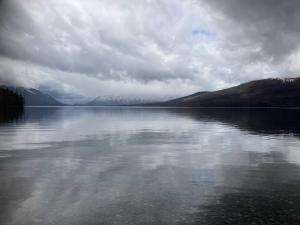 Scripture:        Psalm 48; Jeremiah, chapters 42-44; Revelation, chapter 13
Jeremiah 42:18 – 43:4 (NASB) – For this is what the Lord of armies, the God of Israel says: "As My anger and wrath have gushed out on the inhabitants of Jerusalem, so My wrath will gush out on you when you enter Egypt. And you will become a curse, an object of horror, an imprecation, and a disgrace; and you will not see this place again."  The Lord has spoken to you, you remnant of Juda, "Do not go to Egypt!" You know for certain that I have admonished you today. For you have only deceived yourselves; for it is you who sent me to the Lord your God, saying, "Pray for us to the Lord our God; and whatever the Lord our God says, tell us so, and we will do it."  So I have told you today, but you have not obeyed the Lord your God in whatever He has sent me to tell you. And now you shall know for certain that you will die by the sword, by famine, or by plague in the place where you desire to go to reside.
But as soon as Jeremiah, whom the Lord their God had sent to them, had finished telling all the people all the words of the Lord their God – that is, all these words – Azariah the son of Hoshaiah, Johanan the son of Kareah, and all the arrogant men said to Jeremiah, "You are telling a lie! The Lord our God has not sent you to say, 'You are not to enter Egypt to reside there'; but Baruch the son of Neriah is inciting you against us in order to hand us over to the Chaldeans, so they will put us to death or exile us to Babylon!'" So Johanan the son of Kareah and all the commanders of the forces, and all the people, did not obey the voice of the Lord to stay in the land of Judah.
Observations: The people came to Jeremiah and asked him to inquire of the Lord for them.  They promised to do whatever the Lord told them to do. But once they heard what God told them to do, they refused!  What were they thinking?
To put it simply, they were thinking that God would do what they wanted, rather than them doing what God wanted. They were wrong, of course – just as anyone who expects God to do things their way is wrong. From the beginning, God's plan has been for us to do things His way. Adam and Eve rebelled against God, and did things their way – and it's all been downhill since!
Today's passage gives us yet another example of the consequences of disobedience. Jeremiah warned the people that if they went to Egypt, they would die there – by the sword, by famine, or by plague. But instead of listening to God and obeying, as they promised they would do, they rebelled. They accused Jeremiah of lying to them, in order to trick them into being captured by the Babylonians. When they got to Egypt, Jeremiah warned them about their idol worship.  "Then all the men who were aware that their wives were burning sacrifices to other gods…responded to Jeremiah, saying, 'As for the message that you have spoken to us in the name of the Lord, we are not going to listen to you!'" (44:15-16, NASB, emphasis added).
In fact, the people went so far as to blame God for their troubles!  They claimed that when they were sacrificing to idols, everything was good.  "But we will certainly carry out every word that has proceeded from our mouths, by burning sacrifices to the queen of heaven and pouring out drink offerings to her, just as we ourselves, our forefathers, our kings, and our leaders did in the cities of Judah and in the streets of Jerusalem; for then we had plenty of food and were well off and saw no misfortune.  But since we stopped burning sacrifices to the queen of heaven and pouring out drink offerings to her, we have lacked everything, and have met our end by the sword and by famine" (44:17-18, emphasis added).
They had promised to obey whatever God told them to do.  "Then they said to Jeremiah, 'May the Lord be a true and faithful witness against us if we do not act in accordance with the whole message with which the Lord your God will send you to us" (42:5).  But they didn't. In fact, they didn't just fail to act in accordance with God's commands; they actively refused to obey Him. They would not acknowledge all the good that God had done, and gave credit for it to idols. They blamed God for every bad thing that happened, instead of blaming themselves. And they continued that obstinance right up to the end.
Application:  I'd like to say that such a thing could never happen today, but that would be a lie. Many people claim to seek God's direction and will for them, but refuse to accept what His Word plainly says. Scripture says that in the last days many will only listen to teachers who tell them what they want to hear. No matter the topic, people reject God's standards in favor of their own desires.  Sexual purity? "That's outdated." Fidelity in marriage? "That's unrealistic."  Honesty?  "Everybody bends the truth a little, right?"  Holiness? "We're not capable of that." The discussion always comes back to grace – but too often it's a "cheap grace" like that Bonhoeffer decried. God calls his people to be holy, as He is holy – and He has enabled us to do that.  We are called to surrender to His will, and trust that He will fulfill His purposes in us.  When we don't? That's what we see in our reading for today!
Prayer:
Father, thank you for warning us with the sorry example we see in the remnant of Judah. We criticize them for their refusal to believe and obey. Help us to recognize our own failure to 
believe and obey
. Help us to follow your leading, and to recognize the ways in which we need your continued work in us. Thank you for your grace, which forgives us. Thank you for the call to be holy, which you make possible in us.  Help us to walk in obedience today.  Amen.