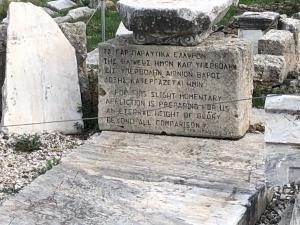 Scripture:        2 Corinthians, chapters 3-6
2 Corinthians 3:1-6 (NASB):
Are we beginning to commend ourselves again? Or do we need, as some, letters of commendation to you or from you? You are our letter, written in our hearts, known and read by all people, revealing yourselves, that you are a letter of Christ, delivered by us, written not with ink but with the Spirit of the living God, not on tablets of stone but on tablets of human hearts. Such is the confidence we have toward God through Christ.
Not that we are adequate in ourselves so as to consider anything as having come from ourselves, but our adequacy is from God, who also made us adequate as servants of a new covenant, not of the letter but of the Spirit; for the letter kills, but the Spirit gives life.
Observations:
Adequate.  In our culture, to call something "adequate" is a back-handed compliment.  "It's okay, I guess."  "It's good enough."  Our culture wants "fantastic," "majestic," "stupendous."  We don't normally celebrate "adequate."
Our adequacy is from God.  If something comes from God, then it must be good, right? Paul says in verse 5 that we are not adequate in ourselves – meaning, "we're not enough on our own."  That's a powerful reminder to us! As we live in a culture that demands perfection, and excellence, Paul reminds us that we're not even "good enough" on our own to do anything. Not that we are adequate in ourselves so as to consider anything as having come from ourselves.
God does not call us because we are "excellent." He calls us because He can make us "enough." Scripture makes this clear over and over:
"When I came to you, brothers and sisters, I did not come as someone superior in speaking ability or wisdom, as I proclaimed to you the testimony of God. For I determined to know nothing among you except Jesus Christ, and Him crucified" (1 Corinthians 2:1-2).
"The Lord is my strength and my shield; my heart trusts in Him, and I am helped" (Psalm 28:7a).
"Do you not know? Have you not heard? The Everlasting God, the Lord, the Creator of the ends of the earth does not become weary or tired. His understanding is unsearchable. He gives strength to the weary, and to the one who lacks might He increases power" (Isaiah 40:28-29)
Our adequacy is from God. God calls us to forget about our strength, our power, and our abilities, and to receive an adequacy from God. Whatever God calls us to do, He will ensure that we are able to do it. And that's enough!
Application:
God is reminding me today that my focus should not be on trying to be perfect.  I certainly should not focus on impressing people! Instead, God calls me to be obedient, and to trust that he will make meadequate for whatever task He has for me. The desire to be recognized by others motivates us to "make an impact" rather than to be obedient to God. We can delude ourselves into thinking that attracting attention is good for the Kingdom, but when we're focused on drawing attention, we're focused on ourselves. Trusting in an adequacy from God is a good remedy to pride.
"Your attitude should be the same as that of Christ Jesus: Who, being in very nature God, did not consider equality with God something to be grasped, but made himself nothing, taking the very nature of a servant, being made in human likeness. And being found in appearance as a man, he humbled himself and became obedient to death – even death on a cross" (Philippians 2:5-8, NIV). Jesus came to glorify God, not himself – and that's the attitude that we should have!
Prayer:
Father, thank you for the reminder that You are enough. Thank You also for reminding us that You can help us to be enough – to be adequate for the work You set before us. Help us today to obey You, and to glorify You.  You will make us adequate for the work of the day.  Amen.