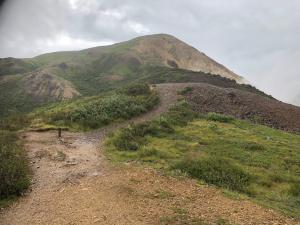 Scripture:        2 Corinthians, chapters 7-10
2 Corinthians 7:1 (NASB):
Therefore, having these promises, beloved, let's cleanse ourselves from all defilement of flesh and spirit, perfecting holiness in the fear of God.
Observations:
Second Corinthians contains several passages that believers cherish. For example:
"Therefore if anyone is in Christ, this person is a new creation; the old things have passed away; behold, new things have come" (5:17).
"And He said to me, 'My grace is sufficient for you, for power is perfected in weakness.'" (12:9a)
"Each one must do just as he has decided in his heart, not reluctantly or under compulsion, for God loves a cheerful giver." (9:7)
But tucked in here at the beginning of chapter 7 is a very important verse which speaks to us about perfecting holiness.  Some people view holiness as a lofty but unattainable goal in this life. Others recognize God's call for us to be holy, but believe that such holiness only relates to the way God views us. This verse makes it clear that we have a part to play in this process of perfecting holiness.
Therefore…Our Participation in God's Work
First, Paul calls for us to make a response to what God has done: Therefore, having these promises.The word "therefore" calls us to respond to what has just been declared:
We are new creations in Christ (5:17)
We are ambassadors for Christ (5:20)
God will dwell among us and be our God, and we will be his people (6:16)
Because of this – therefore – we are to respond by cleansing ourselves from all defilement of flesh and spirit. Paul clearly calls us to act – to identify anything that might defile us and to get rid of it! Scripture clearly identifies some things that defile us, such as the "deeds of the flesh" in Galatians 5:19-21. God may identify other things for us individually – things that might be acceptable for others, but which God wants us to put away. Certainly, all of us who are new creations in Christ should cleanse ourselves from anything which Scripture identifies as sinful. We need to cleanse ourselves from all defilement of flesh and spirit.
Perfecting Holiness
The result of this cleansing is holiness. The only way that we are able to cleanse ourselves is through the work of the Holy Spirit in us. We can choose to put away things that might defile us, but that simply opens the door for the Holy Spirit to cleanse us. We cooperate in that work, but He is the necessary actor in that process.
The word "perfect" – or perfecting in this context – often confuses us. God's work of perfecting holinessin us is an ongoing work. While this work has a definitive "start date" – our surrender to His sovereignty over all of our life – it continues throughout this life as God forms the character of Jesus in us. The use of the word perfecting implies that this work goes on, just as we must continue to cleanse ourselves. As we surrender to God each day, He is at work perfecting holiness in us. He calls us to join Him in that work through our surrender and our commitment to cleanse ourselves.
Application:
I believe that the concept of holiness has often been ignored or misunderstood. The point of God's call for us to be holy as He is holy is not simply to change our behavior. The point is to transform us in the image of Jesus. As we cleanse ourselves by removing those things which defile flesh and spirit, God cleanses and empowers us to live as He has created us to live.
That call is summed up in the command to love God with all of our heart, soul, mind, and strength, and our neighbor as ourselves. Jesus modeled that self-giving love; we cannot achieve it apart from the Holy Spirit's work in us. Because we have the promise of God's presence and power, we respond with obedience and surrender. As He forms the image of Jesus in us, He is perfecting holiness in us – and preparing us for eternity in His kingdom.
Prayer:   Father, help us today to recognize what You call us to do, and to do it. Help us to recognize the things which defile our flesh and our spirit, and to put those things away from us. Lead us in Your way, that we may continue to experience the cleansing power of Your Holy Spirit perfecting holiness in us.  Amen.