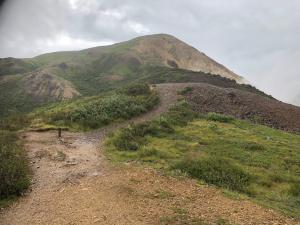 Scripture:
Job, chapters 26-27; Mark, chapters 15-16
Mark 16:1-8 (NASB):
When the Sabbath was over, Mary Magdalene, Mary the mother of James, and Salome brought spices so that they might come and anoint Him. And very early on the first day of the week, they came to the tomb when the sun had risen. They were saying to one another, "Who will roll away the stone from the entrance of the tomb for us?" And looking up, they noticed that the stone was rolled away; for it was extremely large.
And entering the tomb, they saw a young man sitting at the right, wearing a white robe; and they were amazed. But he said to them, "Do not be amazed; you are looking for Jesus the Nazarene, who has been crucified. He has risen; He is not here; see, here is the place where they laid Him. But go, tell His disciples and Peter, 'He is going ahead of you to Galilee; there you will see Him, just as He told you.'"
And they went out and fled from the tomb, for trembling and astonishment had gripped them; and they said nothing to anyone, for they were afraid.
Observations:
Most Bible scholars believe that Mark's Gospel was the first of the gospels which we have in the Bible to be written. Both Matthew and Luke seem to use Mark as a source for their Gospels. As we've read through the Gospels, we've seen that Matthew and Luke expand what Mark said in his Gospel.  That is particularly evident in Mark's account of the resurrection, which I've quoted above.
Most modern translations of the Bible include a note in Mark 16 which indicates that only the first eight verses were part of the earliest manuscripts.  Verses 9-20 appear in later manuscripts and versions of the Gospel, but not in the early manuscripts. I mention that only to explain why I'm not focusing on those verses in today's reflection. Those later additions are still part of the Bible as we have it, so we shouldn't ignore them, but my focus is on the immediate reaction of the women who went to Jesus' tomb on that first Easter morning.
They were afraid.
They went out and fled from the tomb, for trembling and astonishment had gripped them; and they said nothing to anyone for they were afraid. Consider these factors:
            The stone was rolled away
            The body of Jesus was gone
            A young man was sitting in the tomb
            He told the women that Jesus had risen
            He told them to go tell the disciples that Jesus had risen, and was going to Galilee
They weren't expecting any of that when they walked to the tomb that morning, and they struggled to process what it all meant. Jesus was crucified; they had seen him die. He cried out as he died. Now, the young man in the tomb told them that Jesus wasn't dead, and that they needed to go tell the disciples.  What would the disciples think? Would they believe it?
So the women fled, because they were afraid.  And that's where Mark ended his Gospel.
Application:
How do we respond to this story? Do we just skip past it as though it's not there? Those of us who have already come to believe that Jesus has risen probably don't think much about the way these women reacted. After all, they came to faith later, right?
But we should not ignore the impact of such challenges to faith, because Satan is still working to challenge people's faith today. We focus on his attempts to tempt and discourage and attack people who have come to faith, but we cannot forget that Satan also works to keep people from ever responding to Jesus. The trembling and fear and astonishment that these women felt when they heard that Jesus was alive was real – and they had already followed Jesus!  "When He was in Galilee, they used to follow Him and serve Him" (15:41a).
So if people who had seen Jesus and listened to His teaching struggled to understand and accept the news that He was risen, we shouldn't be surprised when people struggle to understand and accept it today. God calls us to make it more believable, by demonstrating the peace and living a life that cannot be explained in other ways. How can we live today to help people believe the good news?
Prayer:
Father, thank you for the good news that Jesus is risen! We know that Satan tried to use fear to keep us from responding in faith: "What if God asks you to do this? What if He makes you stop doing that?" As the enemy tries to use fear to paralyze us, help us to hear you say, "Don't be afraid." Help us to make faith believable for someone today, as they see the evidence of Jesus' life and presence in us.  Amen.