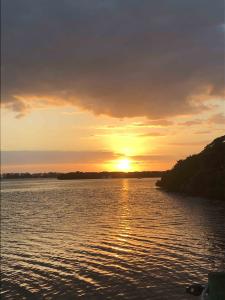 Scripture:        Revelation, chapters 1-4
Revelation 1:1-8 (NASB):
The Revelation of Jesus Christ, which God gave Him to show to His bond-servants, the things which must soon take place; and He sent and communicated it by His angel to His bond-servant John, who testified to the word of God and to the testimony of Jesus Christ, everything that he saw. Blessed is the one who reads, and those who hear the words of the prophecy and keep the things that are written in it; for the time is near.
John to the seven churches that are in Asia: Grace to you and peace from Him who is, and who was, and who is to come, and from the seven spirits who are before His throne, and from Jesus Christ, the faithful witness, the firstborn of the dead, and the ruler of the kings of the earth. To Him who loves us and released us from our sins by his blood – and He made us into a kingdom, priests to His God and Father – to Him be the glory and the dominion forever and ever. Amen.
BEHOLD, HE IS COMING WITH THE CLOUDS, and every eye will see Him, even those who pierced Him; and all the tribes of the earth will mourn over Him. So it is to be. Amen.
"I am the Alpha and the Omega," says the Lord God, "who is and who was and who is to come, the Almighty."
Observations:
One of the great characteristics of the reading schedule which we use (from Divine Mentor by Wayne Cordeiro) is that it "forces" us to read through the Revelation at the end of each year. I use the word "forces" because there are some people who prefer to ignore Revelation. I confess that for a long time I was one of those people. The Revelation can be difficult to read, due to all of the symbolism it uses. We are not familiar with this apocalyptic symbolism, but it was common in John's day. The first people who read the Revelation would not have been put off by this symbolism.
Because we're not familiar with it, we take one of two approaches. Either wen take it literally and try to interpret it, or we simply ignore it. There is a middle path, one that I suggest we take as we read through Revelation this week. That path is to understand the entire book through the lens of its overall message: God wins! We are warned about tribulation and trials to come, and cataclysmic battles at the end of time, but we are assured that God will triumph in the end.
It's Not a Timeline
What the Revelation is not is a roadmap or a timeline for us to try to figure out when these things will happen. Anytime someone says that they have "figured it out," I try to avoid getting drawn into the conversation. My general view is that Jesus told us that no one knows when it will happen – so if someone says they've figured it out, either Jesus was wrong or they are.  No points for guessing which side I'm on!
With that introduction, I want to point out a few things from today's reading. The first verse gives us a reminder that we cannot interpret this book literally, because it says that the Revelation was given to show His bond-servants the things which must soon take place. We're now over 1900 years down the road from John's vision. No human understanding of "soon" would account for this delay; thus, this phrase must mean something else.
I believe that the best way to understand this phrase is that the events would soon begin to take place, not that they would be completed soon. This interpretation (which is certainly not original on my part) emphasizes the certainty that they would occur rather than the timing of the events. This understanding also recognizes that this Scripture must have had a recognized meaning for its first readers, not just for people two millennia later.
Preparation for What Is to Come
The second point that stands out is the blessing of verse 3: Blessed is the one who reads, and those who hear the words of the prophecy and keep the things which are written in it. The entire book is not symbolic prophecy; there is much clear instruction and commands for God's people. The letters to the churches in chapters 2-3 give specific direction to those who are part of the Church.
In connection with that direction, notice how many times Jesus says "I know" in chapters 2-3.
Your deeds (5 times)
Your tribulation and your poverty
Where you dwell
That you have a name that you are alive, and yet you are dead
That you are neither cold nor hot
The call to those in each of the churches – and thus the call to us – is to overcome. Jesus knows what we're facing. He knows where we are, and what we need. He will help us to overcome!
Application:
As we read the Revelation this week, we should focus on specific encouragement and warning that God is giving. The specific thing that I focused on today was Jesus' statement, "I know," and all of the ways that is reinforced in these chapters.
I am the Alpha and the Omega, who is and who was and who is to come, the Almighty (1:8)
I am the first and the last, and the living One; and I was dead, and behold, I am alive forevermore, and I have the keys of death and of Hades (1:18)
I know your deeds, your circumstances, and exactly what you need (my paraphrase of chapters 2-3)
God knows what will happen, and He is preparing us to face whatever comes. We can trust in His direction, because He loves us and is at work for our good!
Prayer:
Father, thank You for reminding us that nothing takes you by surprise. You know all things, and You lead us each day in Your way. Help us to understand what You want us to do today, as you form us in the image of Jesus. Amen.