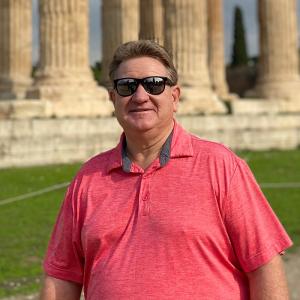 Scripture:        Psalm 117; Psalm 119:81-176; 2 John; 3 John
2 John 5-11 (NASB):
Now I ask you, lady, not as though I were writing to you a new commandment, but the one which we have had from the beginning, that we love one another. And this is love, that we walk according to His commandments. This is the commandment, just as you have heard from the beginning, that you are to walk in it. For many deceivers have gone out into the world, those who do not acknowledge Jesus Christ as coming in the flesh. This is the deceiver and the antichrist.
Watch yourselves, that you do not lose what we have accomplished, but that you may receive a full reward. Anyone who goes too far and does not remain in the teaching of Christ, does not have God; the one who remains in the teaching has both the Father and the Son.
If anyone comes to you and does not bring this teaching, do not receive him into your house, and do not give him a greeting; for the one who gives him a greeting participates in his evil deeds.
3 John 11 (NASB):
Beloved, no not imitate what is evil, but what is good. The one who does what is good is of God; the one who does what is evil has not seen God.
Observations:
Second and Third John are some of the shortest books in the Bible.  (The shortest is Psalm 117, which is also part of our reading for today – just 2 verses.  The longest book in the Bible is Psalm 119; the second part of that psalm is also part of our reading for today.)  I believe that we often overlook these books because they are so short; we zip right through them without giving them much thought. But these two letters, written to different people or groups, focus our attention on the importance of obedience.
Love One Another
The command which "the elder" brings up in 2 John is the command to love one another. That's nothing new; he points out that this is the commandment we've heard from the beginning. But the elder goes on to explain in a bit more detail what it means to love one another. First, this love is not just a nice feeling that we have toward each other. No, we are to walk in this command – it calls for our intentional effort and attention. Because the "love" that we are called to show is an active, self-giving love, it requires a choice and a commitment on our part.
Second, because this love is a choice, it requires our continual commitment. Watch yourselves, that you do not lose what we have accomplished… When we view love as a feeling, we convince ourselves that we have no control over it. That's why people talk about "falling in love" and "falling out of love." When we remember that love is a commitment, we recognize that it doesn't just "go away."  When we commit to love one another, that commitment is not dependent on anything else. It is not based on the response of the one who is loved; we love them regardless of their response. It is not based on our feelings, because we have committed to love. Our wedding vows remind us of this. For better and for worse. For richer and for poorer. In sickness and in health. Till death do us part. That's commitment; that's love.
Real love – strong enough to say "no"
Third, the elder reminds us that loving others does not require living like them or thinking like them. Do not imitate what is evil, but what is good. We can love others without approving of what they do. Love does not require us to go along with evil, because love wants what is best for the other person. We are called to do what is right, and to bear witness to what is right.  That is love, because we want others to see the peace and fulfillment that comes from living God's way.
It's interesting that John talks about "many deceivers" in the world, "who do not acknowledge Jesus Christ as coming in the flesh." People get so caught up in looking for "the" antichrist; John tells us that there are antichrists all around us. The denial of Jesus, the Word who became flesh and dwelt among us, is the defining characteristic of an antichrist. And whether we deny Jesus by our words or by our refusal to follow His example, the result is the same. We are not to imitate what is evil, nor are we to participate in the evil deeds of those who reject Jesus. Real love is strong – strong enough to say "no."
Application:
Obviously, our culture has largely gotten this completely wrong. We have all sorts of ideas about love, and most of them are completely wrong. Love does not mean that I encourage you to do things that are not good for you. It doesn't mean that I have to act like whatever you want to do is good. When I say "I love you," I'm saying that I have your best interests at heart, and I'll do whatever I can do to see those interests come about.
We often think that what we want is good, but too often we've deceived ourselves. We're willing to trade momentary gratification for long-term blessing, and the moments of gratification become more and more elusive. People tell us to "follow our hearts," but our hearts deceive us; they have ever since sin entered the world. At some point, love requires us to say, "Stop!"
That's not popular, of course, but our call to love one another is not a call to popularity. Jesus loved the people of his day, even the religious leaders who sought to stop him. He refused to stop loving them, to stop telling them the truth, even though he recognized that it would cost him his life. "Greater love has no one than this, that a person will lay down his life for his friends" (John 15:13, NASB).
Prayer:
Father, thank You that Jesus loved us so much that He laid down His life for us. Thank You for loving us so much that You sent Jesus to be God-with-us Emmanuel, to reveal Your love for us. Help us to walk in Your commandment to love one another. Teach us when to speak, and when to be silent, that Your love may be revealed to those around us. Amen.