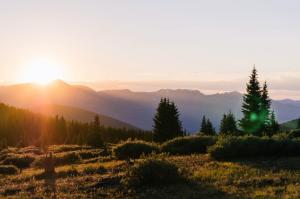 Sometimes we're too eager to fight, rather than listening for God's direction.  Today's passage reminds us: The battle is not yours, but God's!
Scripture:
2 Kings, chapters 6-7; 2 Chronicles, chapter 20; 1 Timothy, chapter 3
"And now see what the armies of Ammon, Moab, and Mount Seir are doing. You would not let our ancestors invade those nations when Israel left Egypt, so they went around them and did not destroy them. Now see how they reward us! For they have come to throw us out of your land, which you gave us as an inheritance. O our God, won't you stop them? We are powerless against this mighty army that is about to attack us. We do not know what to do, but we are looking to you for help."
As all the men of Judah stood before the Lord with their little ones, wives, and children, the Spirit of the Lord came upon one of the men standing there. His name was Jahaziel sone of Zechariah, son of Benaiah, son of Jeiel, son of Mattaniah, a Levite who was a descendant of Asaph.
He said, "Listen, all you people of Judah and Jerusalem! Listen, King Jehoshaphat! This is what the Lord says: Do not be discouraged by this mighty army, for the battle is not yours, but God's. Tomorrow, march out against them. You will find them coming up through the ascent of Ziz at the end of the valley that opens into the wilderness of Jeruel. But you will not even need to fight. Take your positions; then stand still and watch the Lord's victory. He is with you, O people of Judah and Jersualem. Do not be afraid or discouraged. Go out against them tomorrow, for the Lord is with you!"
Observations:
"The Battle Is not Yours, but God's"
As I read this passage today, several things stood out to me. The overall theme is in verse 15: the battle is not yours, but God's.  That's important for us to remember! So many people get caught up in trying to plan how they will fight the battles. They plan and mobilize; they assume that God is with them because they think that God has led them to prepare. However, I fear that many times we are fighting battles that are not even on God's radar!
Because the battle is not yours, but God's, the planning is also God's. Now, there's no question that God sometimes calls us to fight. But some of the greatest victories that we find in the Old Testament involve God's people watching while God fights for them!  Consider:
            The defeat of the Egyptians in the crossing of the Red Sea (Exodus 14)
            Gideon's victory over the Midianites (Judges 7)
            In our other Old Testament passage for today (2 Kings 7), God's routing the Arameans
These are just a few examples of victories that God won for his people, and we should never forget that the battle is not yours, but God's!
"March Out Against Them"
But the fact that the battle is God's does not mean that we don't have a part to play. In this passage, God told the men of Judah and Jerusalem to march out against them. They demonstrated their faith in God by their obedience. Their enemies still had a mighty army. The men of Judah hadn't suddenly multiplied in number or in strength. The only thing that changed was God's command and God's promise.
The command was to march out against them. God's promise was you will not even need to fight. God backed up his command with concrete information. He told them where the enemy would come, and where they would find them. And when they went where God told them, they found everything just as God had said!
"You Will Not Even Need to Fight"
I fear that sometimes we are too eager to fight, thinking that God needs our help. My experience is that when I wait and listen for God's direction, he makes things work out just right. When I think he needs my help, I usually mess things up!
Jehoshaphat and the leaders of Judah had their priorities straight. When they realized the problem they faced, they prayed.  They acknowledged that "you alone are the God who is in heaven" (verse 6). They confessed God's power and might. God had given the land to their ancestors (verse 7). Then they said, "We can cry out to you to save us, and you will hear us and rescue us" (verse 9).
After they prayed that, they asked God for his help. We are powerless against this mighty army… We do not know what to do, but we are looking to you for help (verse 12). It's not really helpful, or a demonstration of faith, to say we need God's help and then take matters into our own hands. In fact, that's the opposite of faith! That's giving lip-service to God, in an attempt to get God to bless our plans. Our plans are never as good as God's!
Application:
"The Battle Is not Yours, but God's"
God gave Jehoshaphat and Judah the victory He had promised. He caused their enemies to fight among themselves, and they ended up killing each other instead of attacking God's people. "Not a single one of the enemy had escaped" (verse 24).
That didn't happen because Jehoshaphat had a great plan. The army of Judah didn't win this victory. God did. And God did it because His people followed His plan, and trusted him. They marched out, knowing that they could not win the battle without God's help. And then they watched as God did his work!
We need to remember that the battle is not yours, but God's. He has a plan already! Nothing that the enemy can do takes God by surprise. We need to remember God's faithfulness, just as the people of Judah sang as they marched out.  "Give thanks to the Lord; his faithful love endures forever!" (verse 21). Whether we fight or not is up to God, not to us. He calls us to just walk in obedience each day.
Prayer:
Father, thank you for reminding us that the battle is not ours, but yours. Help us each day to confess our utter dependence on you, and to trust you with the battle. Your ways are always right! When you tell us to march, help us to march boldly. When you call us to watch, help us to watch carefully. In all things, strengthen us so we may faithfully do your will each day. Amen.