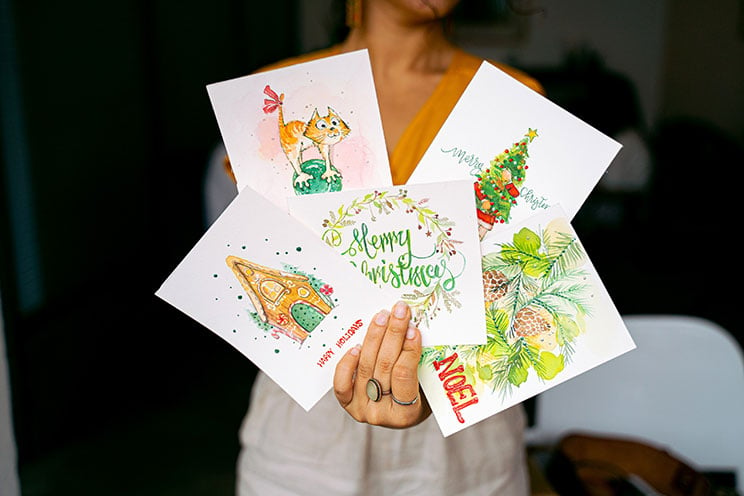 Growing up, my parents spent a week in December writing and addressing Christmas cards.
My dad usually went to the card store and brought back boxes of cards. Then, my mother would have her address book ready. My mother has had an enormous address book/diary for as long as I can remember. She updates it every single year and guards it like treasure.
They would usually sit at the dining table after dinner and spend a few hours handwriting Christmas cards. My parents always made sure they included friends and family. They tried never to forget those who had lost loved ones, especially widows and single ones. My mother would update her list every year. They tried hard to make sure they never missed anyone.
Once all the cards were written, I was often tasked with sticking the stamps. The stamp booklets in Oman, where I grew up, were not the sticky kind we get now. So, each stamp had to be torn off gently, and one had to use glue to stick them. It was a painstaking effort to make sure the stamps went on straight and did not have globs of glue all over them.
My dad would take them the next day to his office, where they would be mailed. Throughout December, we would come across friends who mentioned receiving their cards. Of course, everyone loved receiving a Christmas card.
Fast forward to 2022 and Christmas cards. I love when people text or call me saying they got our card. It makes me smile! I love receiving Christmas cards. But I do not love the entire process before the card gets mailed.
When I first started sending Christmas cards in the United States back in 2007, I usually bought boxes of cards at Walmart, Lifeway, or Walgreens. They had and still carry lovely cards at a very reasonable price. So, I would buy a few boxes, spend a few days writing Christmas wishes, and pop them in the mailbox.
But when I received cards in return, they were not the kind you purchased at Walmart or Walgreens. Instead, these were photo cards or family picture cards.
These were cards bulk printed at Shutterfly, Minted, Vistaprint, or the myriad options. These were not cards with pictures of the three kings, shepherds, or Joseph, Mary & Baby Jesus on them. These were cards where the families looked "picture perfect"!
Everyone looked terrific on these cards! The outfits were coordinated, the smiles were delightful, everyone looked happy, the couples were so much in love, and the weather looked amazing in every snap!
I decided then that I wanted those cards! I wanted to send my friends and family pictures of us! I wanted them to see how much my children had grown and how gorgeous we all looked!
So, I started scheduling our family pictures well ahead, finding the perfect day with the ideal weather and location. I drew the line at coordinating clothing because my husband was already annoyed at this level of planning. I didn't need to add to it.
I desired to have magazine-worthy pictures for our yearly cards; at first, it seemed easy. The children were little, and I could control their clothes and appearance. But as time passed, finding the perfect location, getting the perfect hair, makeup, light, and even smiling was challenging! I have lost track of how many family pictures my husband and I had fought but still pasted on the perfect smile for the camera.
I desired perfection. I wanted people to see my Christmas card and complement my family. But it was no longer about Christmas wishes. I wanted those who received my card to approve. I wanted the golden sunsets, the perfect breeze which tossed your hair, the loving smiles of a spouse, and the utter delight of children basking in their parents' adoration. I knew this approval meant I was part of an inner circle. Even if the process was laborious and sometimes insane, the result was worth it. I did not care if the means did not justify the ends.
Is it possible that not every family goes through the painful rigamarole of taking pictures? Yes, many people may get it done simply and straightforwardly with the least, if any, no conflict. But I would wager that those are rare and usually happen when your children are older and can smile on command. At least, those are my experiences. I would also wager that one has in mind the check we have signed for photographers taking the pictures because they are not cheap! If anything, family pictures have had a massive demand over the years, and photographers schedule their clients months in advance. So, when paying a small fortune, you make sure those pictures are perfect!
With young children, one needs to schedule carefully. With my spouse, who traveled for work, weekdays were off the calendar, and we could only ever squeeze it into a Saturday.
We started with free family pictures offered to us by the community center at the apartments we lived in and, over the years, graduated to professional photographers.
I have smiled through the flu, allergies, and bitter arguments at home. One year, we could barely find a single picture of our teenager smiling as we had fought in the car the entire way to the location. Another year the wind was so awful even the photographer could not find a halfway decent picture. Finally, in the year of Covid, I hated how I looked in my jeans and was frustrated with my hair which I had not seen my hairdresser in months.
But there have been many where we all look fantastic. Once, we even had fun during the session, and the pictures were a testament to that. But, of course, an Indian outfit gets attention during a photo shoot, and I got some great validation that year.
You would tell me that you don't take Christmas card pictures for people's approval. I would agree with you. But I would also tell you that you might not like it if no one commented on your pictures on social media. You would not like it if no one texted you and said," thank you for the card, and your family looks gorgeous."
It is human nature to want approval. We want Likes on our social media posts. We want the dopamine hit!
But often in life, when we desire something, we don't want to admit that to ourselves, let alone others. We often desire something with a passion, and when we get it, it's not what we expect. Maybe it's too much of a desire. The desire can make us sick in our hearts. It causes perhaps pride when we see others who did not get it right. But, then, we can tell ourselves; our family is perfect simply because our images look good. We do an excellent job of denying ourselves the results of our desire.
About six years ago, our family pictures did not turn out well. So, I ended up buying cards from Walgreens and handwriting them. It was a long and detailed process. It was not as easy as sticking a printed and prewritten card into an envelope with the addresses also preprinted.
It took me time, energy, pens, and a shoulder ache from scrawling Christmas wishes inside every card. But it also made me stop and think of every single person as I personalized the message for every family. I named the family members, I sometimes added a joke, I added a verse I thought someone might need, and the whole process felt like a purging of my soul during Christmas. In other ways, it felt like the liturgy of Christmas cards.
People commented; they called or texted and said things. I have not done that since then. I went back to my habits of family picture cards which usually take me a few hours a week since it does not require much of me. I can even pay extra to have the card company mail them.
It is December 3rd as I write this, and I do not have my family picture cards yet. However, I know from my USPS email that cards are already on the way to our family. So, I am eager to see if someone has sent me a regular or picture card.
I write this not to berate those who take the time for family pictures. I do love receiving your cards and seeing your lovely faces. But I would love for us to take the time to think about the process, our intentions, and our efforts.
Last year when our family visited India, I noticed that my parents had a bunch of cards ready to be posted the week before Christmas. They were still buying cards at the local store and handwriting them. Addresses were international and domestic, and my father enjoyed walking to the post office to figure out the postage. By the New Year, they were getting phone calls from friends worldwide. Friends whom they had not spoken to for months or years.
If we have time this season, I encourage us to examine the hearts behind this age-old tradition. Christmas cards are unique. We can use this season to reach out to those we might have lost touch with. We could add new friends to our list and take the time to make the cards personal. We could reach a friend with whom our relationship is strained.
The art of writing them could be the refining of our soul, and Christmas's hope, love, peace, and joy would fill our hearts and embody what we bring to others this season.