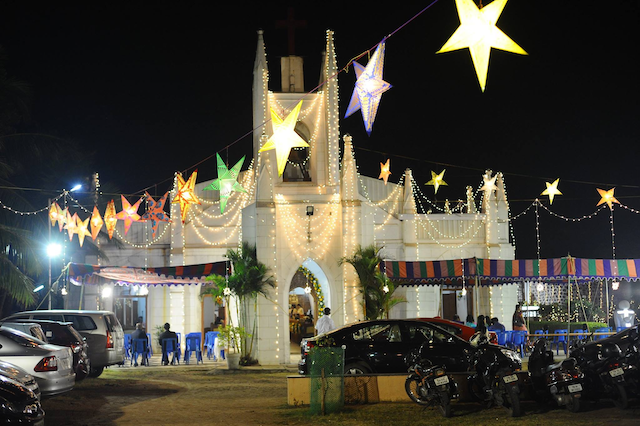 If I told you that going to church for Christmas would be the weirdest tradition I had ever experienced, you would probably call me crazy.
But I should make it more specific. Going to church for Christmas is not crazy. Going to church at 11:30 pm on Christmas eve to midnight mass like millions across the globe is not crazy. Going to church on Christmas morning is not crazy, either.
But going to church at 3 am on Christmas Day is probably the craziest thing ever!
Growing up, my parents took me to the midnight service for Christmas. Our service usually began at 11:30 pm and ended by 1:30 am. Afterward, we would wish our friends and usually head home to bed.
But once I got married, I discovered that my husband's local church family attended Christmas service at 3 am at their local church. I found this not only strange but also extremely hard!
Let me tell you what the run-up to this 3 am service looked like. For the majority of the 24th, we got things ready for the big Christmas lunch. The week leading up to December 24th would also have been filled with caroling. In India, we go to the homes of church members and friends and sing carols for every family. This usually began at 6 pm and ended close to 2 am. So, most people started December 24th being sleep deprived. The extra activities of the 24th, which included last-minute shopping for gifts and clothing, made for an exhausting day. We did not focus on Jesus. It was mainly about celebrating.
Dinner on Christmas eve was always with extended family and cousins. Everyone then hustled home around 8 pm to grab a few hours of sleep. Most women would barely get a couple of hours of sleep; in South India, women dressed in their finest silk sarees for Christmas. They also wear a lot of gold jewelry and fresh jasmine in their hair. Getting dressed in such finery often needed extra time. So, they would usually be up by 1 am.
The lucky men usually only threw on a suit or a sports jacket, so they managed to get extra shut-eye.
The other challenge posed for this 3 am service was that it is historically one of the most well-attended services in the church calendar. Even those who never show up for church on a regular Sunday would attend on Christmas Day. So, if you did not show up on time, you would not get a seat. Instead, you would have to sit outside the church and follow along with the screens. Because of the enormous crowds, communion could take over an hour.
If you had children, you often dressed them in their sleep and took them with you. Parents would trade off the children with each other as their heads were heavy with sleep. Not only did the children nod off, but I have seen plenty of adults nodding off during the entire service. It always made me wonder, why struggle so much to attend a 3 am service when all you were doing was sleeping in the pews? Wouldn't a 9 am service make better sense?
We would finally make our way back home around 6:30 am and try to get some sleep before breakfast. Then, when we finished Christmas lunch, everyone would be ready for a long afternoon nap!
I never understood the 3 am service for many years. Then, in 2016, on a trip to India for Christmas, I insisted we attend service at 9 am on Christmas morning to make things comfortable. Not everyone agreed with me, but they went along. With a good night's rest, we walked into the church to find that apart from our family of 15, there was barely anyone there. It felt like the good Christians celebrated at 3 am, and the lazy ones showed up at 9 am!
It felt like a personal service for our family. I selfishly enjoyed it because I could focus and celebrate the birth of our Lord. However, I know that not everyone enjoyed it because it did not feel like Christmas to them, probably because they were not sleep-deprived or jostling for space in a crowded church!
In 2021 we found ourselves in India for Christmas and once again were at the 3 am service. Of course, we were wide awake thanks to jetlag and time zone changes, but it made for an exhausting day. I have wondered over the years if the feeling of exhaustion was what my family longed for on Christmas Day. Did it not feel like celebrating the birth of our Lord unless we were all collectively sleep-deprived?
So, while I have spent many years whining and complaining about this tradition, I wonder where this originated. I knew attending midnight Mass was a Catholic tradition, but why 3 am? What was the reason for that?
So, I did some research and discovered that historically there were reasons for multiple Masses on Christmas eve. There has been a longstanding tradition of celebrating Christmas with three different Masses. The liturgy of each Mass was designed to emphasize a specific part of the Christmas story.
First is the Midnight Mass or Angel's Mass
This service celebrates the hour Christ was born—using the gospel from Luke:1-14, it centers around the angel's announcement to the shepherds in the field. Then, as the angels appear during the darkest midnight, it reveals the lack of Light in humanity before Jesus was born.
Second is the Mass at Dawn or Shepherd's Mass
The message from Luke's gospel continues here in Luke 2:15-20. Here we read about the shepherds hurrying to meet the new Messiah and praising God for this miracle. This service focuses on the Light that Jesus brings and invites us to share the good news of His birth just like the shepherds did.
The third is the Daytime Mass or King's Mass
The liturgy now turns to the gospel of John 1:1-18. Here we again see the imagery of Light in Christ's birth and also the mystery of the incarnation of the King of Kings.
After reading these descriptions, I better understood the liturgy behind these services. There was profound truth to every one of them. Christmas always reminds us of traditions, and we have so many rich ones.
Going to church at 3 am was always weird and uncomfortable. It was inconvenient. I wonder if my attitude and that of others would have changed if perhaps we had been told the different meanings behind each service, the purpose behind the liturgy, and various ways that we could celebrate the birth of Christ truly and completely.
It does not make us lesser Christians if we do not attend a service we are bound to by tradition. But it is a blessing to celebrate the birth of our Lord with great joy and jubilation.
What was once a weird tradition to me is now more evident, and I eagerly wait to celebrate Christmas and praise God for the Light of the world sent down for us.