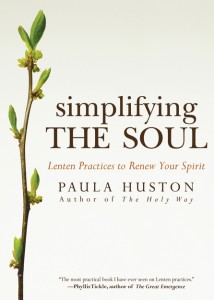 Simplifying the Soul: Lenten Practices to Renew Your Spirit by Paula Huston (Ave Maria Press:2101)
Paula Huston suggests that humility is the key to Lenten practices and the grime hidden behind my otherwise clean refrigerator might, just might, be a metaphor for what is deep and hidden in my own spiritual life. My first reaction to this? "how dare her!" My second reaction to this? "ok. She's right."
Huston is right. The experience of keeping a holy Lent is one of growing not in spiritual greatness, but growing in humility. Humility is Huston's goal here, inviting her reader to see that, far from self-abasement, "truly humble people are grounded in reality; they neither preen under illusions of greatness nor suffer agonies of self-hatred." Her compilation of daily spiritual practices for Lent is a perfect guide for keeping a Lent which is holy and built on humility.
Each day offers a short reading from a Saint followed by a "meditation" – short, lovely personal stories of her own, then a suggested practice is offered, ending with a scripture passage. It's the perfect package.
Her suggestion for the 2nd day of Lent: "physically scrubbing out a dirty corner, especially one that is hidden, can be a helpful reminder of our preference for life on the shining surface. And the humility required to get down in the muck…points us to the life of the Spirit."
What I love about this idea as a Lenten practice is that it takes the relatedness of our physical and spiritual lives seriously. What I do not love about this idea is that she adds "When you're done – here's the tough part – resist the temptation to point out your hard work to anyone, especially your spouse." She's right. Again. But that doesn't mean I like it.
Almost all of her suggested practices like a day without the internet, seeking a place of quiet in your home, sitting for an hour in total silence, were inviting but some readers not of the Roman Catholic persuasion might find one or two of the practices a bit alienating, like praying the rosary or attending morning mass. My suggestion would be: suck it up. You never know how God might be present to you in something uncomfortable and less familiar.
You do that. And I'll clean under the fridge and try…try and not point it out to my husband. And I'll meet you on the other side of Easter.
(Check out the Patheos Book Club for more on Simplifying the Soul.)