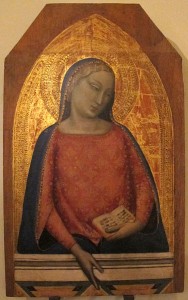 The first time I celebrated Advent I had no idea what was going on. I'd been married to a Lutheran seminary student for just a week when we moved to Eugene, Oregon for his internship at a small, Lutheran church. United Lutheran sat on a little grassy hill in a neighborhood dotted with 1940 bungalows – one of which would serve as our one bedroom home for a year while Matthew tried out being pastor-y with a group of real live church-goers.
What I remember most about that Advent in 1996 was singing Vespers. I had never sung evening prayer before and all I knew of Vespers or Matins (morning prayer) was that monks and nuns in movies about medieval Europe had to keep a strict schedule of prayer. If they were late or disruptive, their stern Mother Superior (or whatever the monk version of that would be) would scold them and make then scrub the scullery floor. I'm unclear if this image came from The Flying nun, The Name of the Rose, the Brother Cadfael Mysteries on PBS, or the early scenes of the Sound of Music, but that was the extent of my knowledge. I really had no idea that people in modern times ever did things like pray Vespers or Matins, or that they did these things without having to wear robes and habits.
But Advent Vespers at United Lutheran Church in Eugene, Oregon was one of the most beautiful things I'd ever experienced. A small group, perhaps 20 of us, would gather at 7p on Wednesdays sanctuary of the church to sing our prayer. We all seemed to enter church by unwrapping our scarves as though needing the light and warmth of the Advent candles to warm the skin on our necks before we could relax enough to sit still. The greenery of the Advent wreath gleamed by the shifting light of the candles placed around the room. And there we gathered, in a silence particular to the time of year when the days are so, so short.
In those soft evenings, the quiet of late December surrounded  me – but my life itself was loud. I did not know how much I needed to settle for 45 minutes into song and silence and hear someone sing about the angel Gabriel and Mary. The first time I heard, you have cast the mighty down from their thrones and uplifted the humble of heart…you have filled the hungry with wondrous things and left the wealthy no part I thought that it was the most radical and beautiful thing I had ever heard. I did not know that it was lifted straight from Luke's gospel, and not just some Leftist songbook, and I cried the first time I sang it. At the time, I was employed to cook meals for folks with HIV. We had a lovely little cottage called the Acorn Center where HIV positive men and women could come and be with their fellows and eat a warm meal. In the day I would feed emaciated junkies and gay men, many of whom were at the mercy of a heartless government system to meet their needs and on Wednesday evenings I'd sing of a God who fills the hungry and uplifts the humble and singing that made the rest of my week make more sense. I'd soon learn that people all over the world were singing this song of Mary's and that the Magnificat has always been sung at Vespers, and that when I sang it that Advent, I sang it with all who had come before, all the monks and nuns and faithful of every age, as well as all who gathered, as I was doing, to pray in the Winter of 1996.
All of that is to say, to experience the liturgical year is to sing the story, live the story, be re-oriented by the story and to do it all with others…all who did this before, all who do it now and all who will do it after we have gone. It is to have duel citizenship in the now and the not-yet. To celebrate the church year is to be sewn into the story of Jesus in a way that allows the fabric of our lives and our world to take on a holy texture. It allows a newly-almost-Christian young woman to see Jesus in the ravaged body of a man dying of Aids because earlier that week she had heard Jesus' mom sing about how God fills the hungry and uplifts the lowly. And having sung the song Jesus' mom had sung, that young woman started to see Jesus.