Today I am honored to offer you a guest post written by my wife, Casey. I asked her if she would be willing to share this here. We offer it to you in the hopes that it encourages many of you in different situations. We offer it as part of our story, the perspective of a wife, my wife. We do not claim to speak for everyone, or believe that our story should be everybody's goal. The point is about learning to let God write your story and watching the beauty and joy that occur when we do.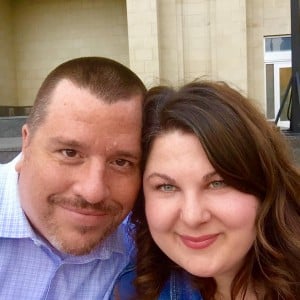 "Get that pervert out of our Christian school; he has no business being around or teaching our kids. You should fire him!"
"We need to wash our sheets that he slept on because we don't want our family to get AIDS."
"Dan, do not talk about your past with people here because you and I both know the minute you do, your ministry here is over."
"Don't you wish he lusted after women? Wouldn't you want that?"
"You know he'll never amount to anything important in the Southern Baptist Convention because of his past. There will be so many churches who will never have him on staff because of this."
"It's tough in a normal marriage with normal kids… I can't imagine how hard your marriage is and add on to that having six adopted kids (so issues there)."
"I feel sorry for women in marriages like that (where one spouse struggles with SSA), I wouldn't know what I would do if my husband didn't love me."
"Dan, if you would just love Jesus more than you love yourself then you would stop being same-sex attracted today."
All of these statements were said to us or about us by well-meaning Christians… believers who I call friends and family. Thankfully God has surrounded us with a ton of amazing people who see through the lens of the Gospel and who have come along side of us and who speak life-giving truth and grace over our lives and marriage. I do not share these so that you will feel sorry for us or be offended for us. Rather, I want to point out that, while these statements aren't ones I'll soon forget, and they do hurt, I know that often they stem out of fear and a man-centered view of life.
I wanted to take some time to blog about my marriage. Not to set anyone straight or to prove anything but just in hopes that it will encourage you where you're at in life, especially when that life doesn't look anything like you once thought it would.
I'll never forget our first date when Dan shared with me about his recent departure from a life that involved having a boyfriend and an identity that was wrapped up in his sexual preferences. We both knew that neither of us was ready to pursue something serious at that time, and I'm so glad that God gave us the next four years to cultivate a friendship that would be the bedrock of our marriage to come. I remember journaling one time during those four years… "while marriage might not be in our future it's clear that God's hand is obviously on this guys life and I can't wait to watch it unfold."
God was gracious and gave us chemistry together. But I will say over and over that it was our walk with God that ignited our hearts and pulled us together. Chemistry without a Greater Love is something that can fade and prove weak when it comes to weathering the storms and temptations life throws at us.
On our wedding day, we went into marriage with eyes wide open and hopeful hearts. We didn't know what would come our way by way of trials and temptations…. honestly, we didn't fully know how the experience of intimacy would go. I think we just trusted that God was leading us into a covenant, and He was big enough to handle all of our fears and whatever marriage together would bring. Both of us had taken the time to pray and seek wisdom when it came to getting married, and neither of us felt pressured into getting married to prove anything.
Now, like most marriages, I think we went into marriage with great optimism and hopeful that our sin struggles wouldn't rear their poisoning heads. BUT of course, marriage is fertile soil for conflict, selfishness, and unmet expectations. Both of us have struggled with sexual temptations. I would be lying if I said that Dan's same-sex attraction hasn't impacted our marriage because it has. But, so has several of my ingrained patterns of sin. Often sexual sin gets the spotlight while self-righteousness or laziness or a host of other sins slips under the radar of others looking in. When left unchecked, oh how that can do great harm to marriage as well. However, the problem is not when sin is involved but when the heart is hardened to the Holy Spirit or lacks the belief that we have a Savior, who wants us, in all our sin and shame, to run to Him. When we choose to identify with him because of being united with him, we begin to experience not the absence of struggle but joy giving freedom in the midst of it! As we continue to say yes to Christ, our yes to each other deepens and our covenant with Christ is the basis of our ongoing covenant with each other.
Every day we have to choose each other, say yes to each other. Every day we have to die to ourselves. Every day we have to see marriage for what it truly is; a shadow, a temporary shadow of what is to come. You see, marriage isn't ultimate. It's not the end all. It's not a mark of Christian maturity. It's not better than singleness and it's not forever. It's a daily outworking of a true and better picture that will one day be our eternal reality. It's a catalyst for refining and accountability and togetherness. It is a matrix for joy and pleasure! Dan and I find that when the focus is Christ in our marriage then those blessings abound. God transforms our natural desires for pleasure, for comfort, for ease, for a life that makes much of ourselves into desires that find pleasure in holiness and putting others before ourselves, that finds fulfilment in the struggle of living out a life that isn't primarily about our needs and wants, that finds great comfort in trusting the sovereign creator of marriage and abundant joy when every aspect of our lives strive to make much of our Savior!
I didn't marry the kind of man my parents prayed I would, I didn't marry the kind of man I prayed to marry. Because I didn't pray that I would marry a sinful man who would teach me what it looks like to fall on his face in repentance. I didn't pray that I would marry a man who would be tempted in a way that would force him to battle shame and guilt with the truth of the gospel (where there is NO place for shame or guilt). I didn't pray to marry someone who we feared if churches or schools would shun him if they knew his story of coming to faith and his ongoing struggle for purity and holiness. I didn't pray to marry someone whose story and call to ministry would give me eyes to see the marginalized and outcast.
I'm so glad God didn't give me exactly what I prayed for. He gave me so much more! The theme of loving the giver of all good things instead of idolizing the actual good things started with my marriage and has resounded again and again in grief, in parenting, in ministry and in so much of my day to day walk with Jesus.
I'm sure we will get plenty more of well-meaning questions and concerns in the years to come. Hopefully, it's not by our wisdom, or any system of sanctification we've found, or by our experience that we will respond. Rather, we will respond that it's God's wisdom, and sovereignty, and His power that we can stand and say that He was made strong in our weakness. He made beauty in the brokenness, His mighty hand lifted us out of the darkness and into the light, He made sense of the confusion, He gave us an identity that is rooted in something far greater than any identity we could take on otherwise!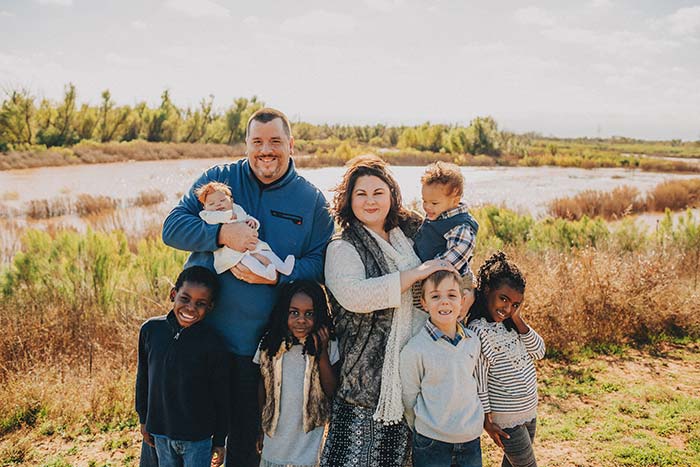 Now, I know that many reading this might be in marriages where your spouse.. or you isn't finding your identity in Christ. That their/your sexual desires are out of control and causing great harm to your marriage. Everything in them/you says this marriage isn't what you were made to feel/experience and that it feels more like a prison than a place of happiness. Please know that I don't minimize the impact that same-sex attraction or having a homosexual orientation has on a relationship. But I do know there is hope. And that hope is found in a body of believers who will point you to the only One who can change hearts and make sense of the brokenness. You need people in your lives who will not place shame and guilt upon you or your marriage and will speak the gospel into your life. You need a family who will be there when things fall apart or when plans go so painfully opposite from what you ever dreamed. If you don't have that kind of church…. contact us through the Identify Network. We want to be here for you and point you towards His Gospel and His People!